Main content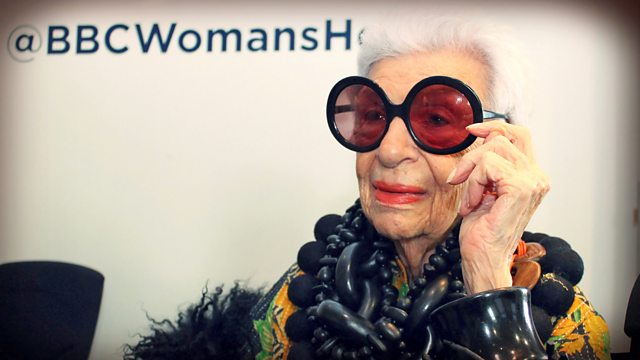 Iris Apfel, Risking it all for an affair, Living with early onset Alzheimers, Vocal fry
Fashion icon Iris Apfel, why some linguists believe 'vocal fry' undermines women, living with Alzheimers, and 'having it all' and risking it for an affair. Jenni Murray presents.
Ninety-three year old Iris Apfel is celebrated for her flamboyant style and her trademark giant glasses. She's the subject of a new documentary and she joins Jenni to discuss her impatience with banality, ageism in fashion and her love of accessories; why some people who "have it all" risk it all by being unfaithful, with journalist and novelist Rosie Millard and Susanna Abse from the Tavistock Centre for Couple Relationships. A year ago Wendy Mitchell was diagnosed with early on-set Alzheimers disease. Since then she's started a blog to "write all my thoughts before they're lost". She describes living with the disease. Vocal Fry, so called because it causes the voice to sound hoarse and dried out, is the latest trend in the speech patterns of young women. But is it undermining them and causing them to be taken less seriously? With author and journalist Naomi Wolf and Professor of World Literature at Oxford University Dr. Elleke Boehmer.
Presenter: Jenni Murray
Producer: Caroline Donne.
Chapters
Iris Apfel

Duration: 14:27

Adultery - Why are some people unfaithful?

Duration: 07:33

Living with Alzheimer's Wendy Mitchell

Duration: 09:55

Vocal Fry + Speech patterns in Young Women

Duration: 09:33

Iris Apfel

Ninety-three year old Iris Apfel is celebrated for her flamboyant style and her trademark pair of giant glasses. She ran a very successful textile business with her husband until her retirement in the 1990s. It wasn't until The Costume Institute at the Metropolitan Museum of Art in New York put on a collection of her clothes, ten years ago, that she became a well-known public figure. She's the subject of a new documentary , 'Iris', released tomorrow. She joins Jenni to discuss style, her impatience with banality and ageism in fashion. 
Iris is released in cinemas on Friday 31st July. Directed by Albert Maysles

Adultery - Why are some people unfaithful?

We talk about "having it all"; the perfect family, house, job but what if it's not enough? Why is it that for some people having it all includes being unfaithful? Psychoanalyst and chief executive of the

Tavistock Centre for Couple Relationships

Susanna Abse and

Rosie Millard

, whose new novel is about the racy indiscretions of wealthy North London residents discuss what drives people to risk it all for an affair.

The Square by Rosie Millard is published by Legend Press in August. 

Living with Alzheimer's Wendy Mitchell

This time last year Wendy Mitchell was diagnosed with early-onset Alzheimer's. Since her diagnosis she's started a

blog

so she can "write all my thoughts before they're lost" She talks to Jenni about the strategies she's developed to help her live with  the condition and how her life has changed over the last twelve months. 

Alzheimer's Society Memory Walk

Vocal Fry + Speech patterns in Young Women

'Vocal Fry' may not be new – think Mae West in the 1933 film She Done Him Wrong, but it's the latest in a line of speech patterns popularised by celebrities such as the Kardashians, Scarlett Johansen, and Lena Dunham. Best described as a guttural lowering of the voice at the end of sentences, it's a manner of speaking which some linguists believe undermines women, and causes them to be taken less seriously. Joining Jenni to discuss the feminist implications of 'vocal fry' are the author and journalist Naomi Wolf, and Professor of World Literature in English at the University of Oxford, Dr Elleke Boehmer. 

Credits

| Role | Contributor |
| --- | --- |
| Presenter | Jenni Murray |
| Interviewed Guest | Iris Apfel |
| Interviewed Guest | Rosie Millard |
| Interviewed Guest | Susanna Abse |
| Interviewed Guest | Wendy Mitchell |
| Interviewed Guest | Naomi Wolf |
| Interviewed Guest | Elleke Boehmer |
| Producer | Caroline Donne |