Main content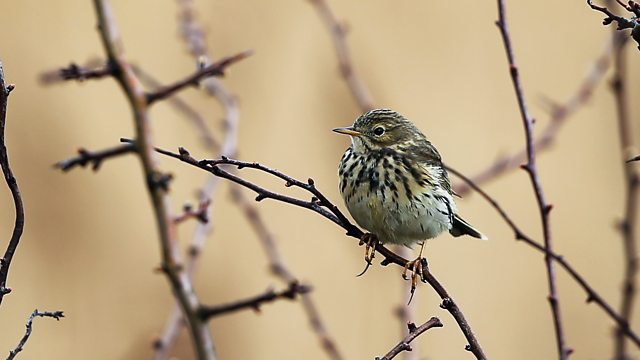 Blithe Spirit - The Skylark
A sequence of poetry, prose and music inspired by the skylark, with readers Carolyn Pickles and Adrian Lukis. With Shakespeare, Shelley, Herrick, Hughes and Vaughan Williams.
As Radio 3 is inspired by birds today, this edition of Words and Music hails Shelley's "blithe spirit" - the skylark. This rather nondescript little brown bird fills the skies with the most extraordinary torrent of sound, and has inspired poets and musicians throughout the centuries. Rising vertically from the ground he remains high in the air, fluttering and dropping his "silver chains of sound", before plummeting back down to earth - a "singing firework" as Edmund Blunden put it. How apt that the collective noun for larks is an "exultation".
Carolyn Pickles and Adrian Lukis are the readers - there is poetry from Shakespeare to Shelley, Herrick to Ted Hughes, with lark-inspired folk music, art song, chamber and orchestral music and of course some well-known Vaughan Williams...
Music Played
Timings (where shown) are from the start of the programme in hours and minutes
Shakespeare

"Venus and Adonis" (excerpt), read by Adrian Lukis

William D''Avenant

"The Lark now leaves his watery nest," read by Carolyn Pickles

Robert Herrick

"To the lark, read by Adrian Lukis

Cecil Day-Lewis

"The ecstatic," read by Carolyn Pickles

Rev''d Charles Alexander Johns

"The Skylark," read by Adrian Lukis

Edmund Blunden

"Lark descending," read by Carolyn Pickles

Arabella Buckley

The Skylark and her Enemy (excerpt), read by Carolyn Pickles

Diana Hendry

"Skylark Researcher", read by Carolyn Pickles

John Bunyan

"Upon the lark and the fowler," read by Carolyn Pickles

Seamus O''Sullivan

"Lark''s Song," read by Adrian Lukis

Gerard Manley Hopkins

"The Sea and the Skylark," read by Adrian Lukis

Isaac Rosenberg

"Returning we hear the larks", read by Carolyn Pickles

Percy Bysshe Shelley

"To a skylark" (excerpt), read by Adrian Lukis

Thomas Hardy

"Shelley''s Skylark", read by Carolyn Pickles

Ted Hughes

"The skylark came," read by Adrian Lukis

Mary Oliver

"The Lark," read by Mary Oliver

George Meredith

"The Lark Ascending" (excerpt), read by Adrian Lukis

Producer Note

A summer's evening edition of Words and Music hails Shelley's "blithe spirit" – the skylark.

This rather nondescript-looking little brown bird fills the skies with the most extraordinary torrent of sound, which has inspired poets and musicians throughout the centuries. Rising vertically from the ground he remains high in the air,  fluttering and dropping  his "silver chains of sound"  before plummeting back down to earth – "a singing firework" as Edmund Blunden put it.  How apt that the collective noun for larks is an "exultation".

The lark is the symbol of the early morning, bombarding the sun with music, which is beautiful and inspiring to most of our poets who concentrate on the song and the soaring, the paeans to the morning. But it's not effortless – you'd expect Ted Hughes to notice that.

The lark is an inspiration to lovers as well. Herrick is one, seeing it as a minister, a priest, officiating at his prayers to his beloved, or in the jazz standard "Skylark", it's a hoped-for guide in the search for love.

And the lark represents freedom from our world of pain – singing above the battlefields, above the tempest and the mess of human life; to the extent that Shelley believes the bird must be a spirit, not of this world, inhabiting some other reality. But in our world the lark is as vulnerable to pain as any living creature, despite Bunyan's best efforts to warn it away from the fowler's net - Seamus O'Sullivan sings the song of the caged bird.  And in fact Diana Hendry reminds us that many people have not seen or heard a skylark at all…Have you?

My music choices range from settings of poetry, including W. E. Henley's profound "A Late Lark" with music by Delius, folk songs, chamber music, music on the theme of flight, but more than anything else, violin music –obviously the instrument of choice for composers inspired by lark song.

And as for the song itself – a challenge for any poet to emulate in words – Gerard Manley Hopkins and Cecil Day Lewis can do verbal ecstasy – and so can George Meredith, who inspired the climax of this sequence of words and music – Vaughan Williams' "The Lark Ascending"…




Producer  : Elizabeth Funning

The hidden history of plant-based diets