Main content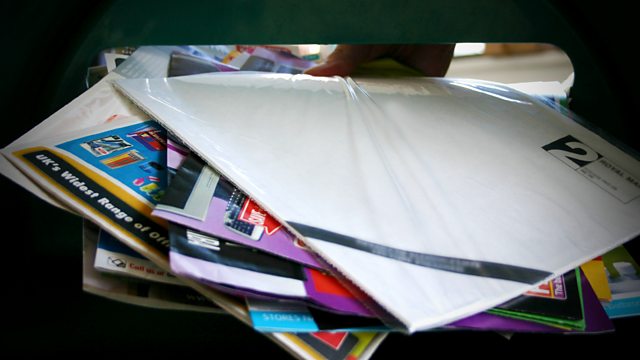 Charity Mailing Lists Investigation
You and Yours investigates how charity donors have their information shared and end up bombarded with letters. And Unicom is fined for mis-selling phone contracts.
You and Yours investigates how some charities share their donors' details with each other and how it can lead to older people being bombarded with letters. We ask the Fundraising Standards Board if the rules need to be changed.
The communications regulator Ofcom has fined Unicom for mis-selling phone and broadband contracts to small businesses.
The Green Deal - the coalition's flagship energy saving policy has been scrapped. The government has announced an independent review of energy schemes. Which of them are working for consumers and which are not? We speak to Peter Bonfield, who is leading the review. If you would like to contribute to his review by sharing your experience then email: energyefficiencyreview@decc.gsi.gov.uk
The student who was promised she would receive a loan to cover her tuition fees at university is told half way through her first year she won't be getting it. It leaves her £9000 in debt. How many other students are affected?
Producer: Lydia Thomas
Presenter: Winifred Robinson.
Chapters
Charity Mail

We investigating the way charities trade the names and addresses of people who donate

Duration: 10:50

Heating

It's summer, but do you have the heating on?

Duration: 02:16

Living Wage

Small businesses say the living wage means they won't be able to employ as many people

Duration: 05:21

Energy Efficiency Schemes

We speak to Peter Bonfield, the man tasked with reviewing energy saving in the UK

Duration: 07:05

Student Finance

Student Loans Company gives wrong advice to student, leaving her in financial difficulty

Duration: 06:30

Unicom

Phone and broadband provider Unicom fined £200,000 by regulator for misleading customers

Duration: 04:32

Energy Efficiency Schemes

Peter Bonfield has spoken to You & Yours about the independent review that government has asked him to conduct; looking at energy efficiency schemes. If you have had negative or positive experiences with any scheme designed to save energy in your home you can get in touch with Peter Bonfield at this email address - energyefficiencyreview@decc.gsi.gov.uk