Main content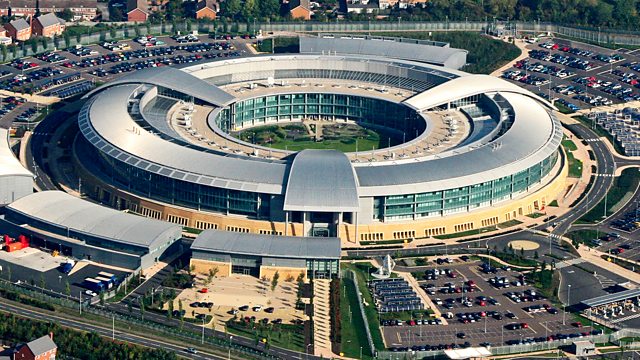 The Good Listener: Ghost in the Machine
By Fin Kennedy. At GCHQ, Henry Morcombe's team are tasked with gaining access to the phone network of a European ally, without their knowledge.
A new episode of The Good Listener returns to GCHQ where agents are devising ways to gather data from millions of mobile phone users - from friends and foe alike. A major phone company of a European ally has become the target.
Documents released by whistleblower Ed Snowden refer to an 'Operation Socialist', suggesting that UK's spy agency GCHQ were behind a cyber attack on Belgacom, Belgium's largest phone company. The operation was intended to gather data from millions of mobile phone users around the world. The 'malware' that was subsequently found on the Belgian phone provider's systems is one of the most advanced spy tools ever seen.
Ghost in the Machine follows fictional characters inside GCHQ in a story inspired by this operation. The team need to devise ways to deal with a changing digital world but not everyone is happy with the agency's approach.
Written by Fin Kennedy
Sound design by Alisdair McGregor
Produced and Directed by Boz Temple-Morris
A Holy Mountain production for BBC Radio 4.
Last on
Credits
| Role | Contributor |
| --- | --- |
| Henry | Owen Teale |
| Jacqui | Charlotte Randle |
| Siddiq | Ashley Kumar |
| Alison | Alison Newman |
| David | Richard Maxted |
| Gerry | Dominic Hawksley |
| Actor | Louis Brady |
| Actor | Dash Dirickx |
| Actor | Poppy Temple-Morris |
| Actor | Madeleine Kelly |
| Actor | Lois Ashley-Lynch |
| Writer | Fin Kennedy |
| Producer | Boz Temple-Morris |
| Director | Boz Temple-Morris |
Broadcast