Main content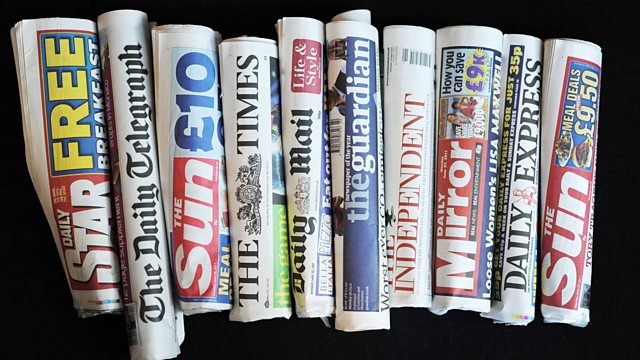 Nikkei buys Financial Times, ITV and Sky results, Al Jazeera journalists' retrial, Press regulation
Steve Hewlett with the Nikkei group's purchase of the FT. Plus ITV and Sky results, Egypt's verdict on Al Jazeera journalists and chair of press regulation panel David Wolfe QC.
The Japanese Nikkei group has bought the Financial Times from publisher Pearson for £844 million. Pearson has also confirmed it's now in talks to sell it's 50 per cent stake in the Economist. Steve Hewlett talks to Douglas McCabe from Enders Analysis about the sale and to David McNeill, the Independent's Japan correspondent and Economist writer about how east-meets-west cultural differences might impact on editorial standards.
ITV has reported strong half year profits, despite also reporting its lowest audience numbers for at least 15 years. The group, which is home to shows including Downton Abbey and The X Factor, said its share of Britain's television audience fell 4 per cent to 21 per cent. Despite this, profits rose by 25 per cent. Steve Hewlett asks media consultant Mathew Horsman how this has happened, and finds out more about Sky's results, which are also out today.
An Egyptian court is expected to issue a verdict tomorrow on the retrial of three Al Jazeera journalists Mohamed Fahmy, Baher Mohamed and Peter Greste who were imprisoned for more than a year. They were originally sentenced for spreading false news and supporting the Muslim Brotherhood. Sue Turton was charged in absentia and sentenced to ten years. She talks to Steve about the retrial and why her sentence has forced her to give up her job as correspondent for Al Jazeera English
The Press Recognition Panel - the body which will look at applications from any press self-regulators who want to apply for recognition under the Royal Charter - has been asking for views on how it can put the Leveson criteria into practice. It's hoping to be able to take applications from September. Chair of the panel David Wolfe QC joins Steve to explain where they're at with the process.
Chapters
Sky and ITV Results

With media consultant Mathew Horsman

Duration: 05:33

Sue Turton, ex Al Jazeera English journalist

Sue Turton, ex Al Jazeera English journalist

Duration: 03:41

Press Regulation

With David Wolfe QC, Chair of the Press Recognition Panel

Duration: 06:54

FT Sale

Analyst Douglas McCabe and Independent's Tokyo correspondent David McNeill

Duration: 10:45