Main content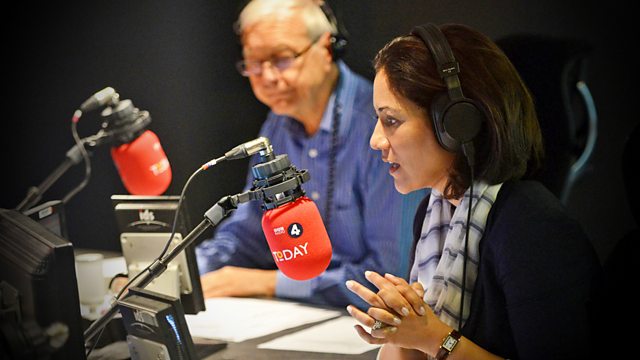 29/07/2015
Morning news and current affairs. Includes Sports Desk, Weather, Thought for the Day.
Clips

Today's running order
0650
New research claims reduced street lighting in England and Wales has not caused an increase in crime or road accidents. We are joined by Dr Phil Edwards, senior lecturer in statistics at the London School of Hygiene & Tropical Medicine, who led this research.
0655
A 22 year old Muslim man from Wembley is missing and his family fears he has travelled to Turkey and plans to join the so-called Islamic State group in Syria. Barry Gardiner, Labour MP for Brent North has been in touch with the family.
0715
Two years after the end of the Liverpool Care Pathway proposals for how people should be supported in the last days and hours of their lives in England are being published today. We hear from Rob George, professor of palliative care at Kings College London and president of the Association of Palliative Medicine
0720

Tomorrow morning an Egyptian court is expected to give the verdict in the retrial of two Al-Jazeera journalists, Mohamed Fahmy and Baher Mohamed. We hear from Mr Fahmy, Former Cairo Bureau Chief for Al Jazeera English.
0730
Thousands of Britain's biggest firms will be forced to reveal whether they have taken action to ensure they do not use child or slave labour under plans set out by the Prime Minister. We are joined by Aidan Mcquade, director of Anti-Slavery International and Kevin Hyland, the UK's first independent anti-
slavery commissioner
0740
Conservationists are asking people visiting Britain's coast this summer to help them record sightings of the Common Blue butterfly. We hear from Matthew Oates, National Trust Wildlife Specialist. 
0750
Operation Stack remains in place this morning with the M20 coast bound J8 to J11 closed Peter Whittlesea reports from Calais, and we hear from Christophe Premat, socialist MEP for French residents in northern Europe and Damian Collins, MP for Folkestone and Hyde.
0810
Proposals for how people should be supported in the last days and hours of their lives in England are being published today.  We are joined by Tony Bonser, one of two lay members of the review of the Liverpool Care Pathway, and Mark Baker, Clinical Practice Director of the National Institute for Health and Care Excellence.
0820
A US dentist who killed a well-known lion in Zimbabwe says he regrets shooting the animal and insists that he thought he was on a legal hunt. We hear from Dr Andrew Loveridge of the Department of Zoology at Oxford University, who was involved in a research project involving Cecil the Lion, and Dominic Dyer, the policy advisor for the Born Free Foundation for the protection of wild animals.
0830
New research published today shows that public understanding of antimicrobial resistance is still lacking. We hear from Dame Sally Davies, chief medical officer, and Mark Henderson of the Wellcome Trust, who commissioned the research.
0840
Windows 10, the biggest update Microsoft has ever made to its computer software, launches this morning. Our contributors are Bryan Glick, editor-in-chief of Computer Weekly and Kate Russell, Technology reporter for BBC Click.
0850
Grandmaster Flash and the Furious Five were the first Hip Hop act to be inducted into the Rock N Roll Hall of fame. He's in the UK to play the Brooklyn Bowl in London tonight, but he's been telling our entertainment correspondent Colin Paterson that he has a problem: his car has been stolen, with his precious records in the boot.
0855
Today descendants of Vincent Van Gogh will gather in Auvers-Sur-Oise, a village north of Paris where he died 125 years ago.  We are joined by Maite Van Dijk, curator of paintings at the Van Gogh Museum, and Martin Bailey, author of a recent book on the Sunflowers.
All subject to change.