Main content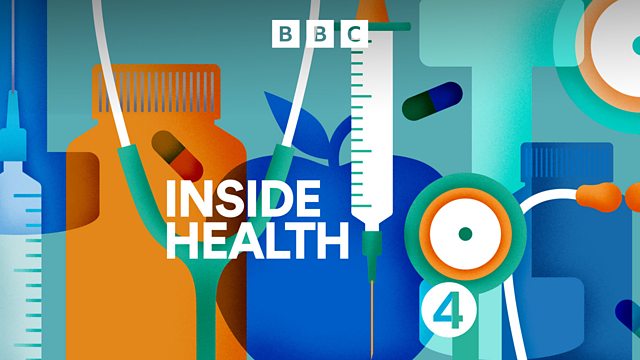 Off-patent Drugs Bill, Pre-diabetes, Sepsis, All-cause mortality
Dr Mark Porter looks at the Off-patent Drugs Bill to prevent people missing out on life-saving treatments, pre-diabetes, early diagnosis of sepsis, and all-cause mortality.
The Off-Patent Drugs Bill aims to prevent people missing out on life-saving treatments, but doctors can already prescribe drugs off-licence so why do we need a new law? Pre-diabetes - a new label that could apply to as many as 1 in 3 British adults, but is it a useful to know this? The importance of diagnosing sepsis early and how to recognise the key signs. Plus Dr Margaret McCartney and Dr Carl Heneghan explain the meaning of the phrase 'all cause mortality'. Presented by Dr Mark Porter.
Last on
Programme Transcript - Inside Health
Downloaded from www.bbc.co.uk/radio4
THE ATTACHED TRANSCRIPT WAS TYPED FROM A RECORDING AND NOT COPIED FROM AN ORIGINAL SCRIPT.  BECAUSE OF THE RISK OF MISHEARING AND THE DIFFICULTY IN SOME CASES OF IDENTIFYING INDIVIDUAL SPEAKERS, THE BBC CANNOT VOUCH FOR ITS COMPLETE ACCURACY.
INSIDE HEALTH
Programme 8. - Off-patent Drugs Bill, Pre-diabetes, Sepsis, All-cause mortality
TX:  28.07.15  2100-2130
PRESENTER:  MARK PORTER
PRODUCER:  ERIKA WRIGHT
Porter
Coming up today:  Pre-diabetes – a new label that could be applied to as many as one in three British adults. But how valid is it?
Clip
One of the problems with pre-diabetes is that there are three doors in, there aren't actually any doors out, there is no official way I've discovered of being undiagnosed with pre-diabetes.  Now if all three measures correlated 100% there would be no problem but in fact they overlap very weakly.
Porter
And sepsis – one campaigning charity believes over 12,000 lives could be saved every year in the UK through earlier diagnosis and better management of a condition which can rapidly lead to shock, multiple organ failure and death.
Clip
It was the junior anaesthetist that was walking past to start his shift – everything's a bit hazy for me at this point but my mum said he even still had his rucksack on – and was asked for his opinion.  It was that man that turned out later to save my life.
Porter
More on Anna's story later. But first a new bill – The Off-Patent Drugs Bill – recently re-introduced to Parliament amid concerns that people are missing out on life saving treatments because the NHS is not using some drugs outside their licensed indications. Doctors can prescribe off licence, but are often wary of the repercussions.
Dr Margaret McCartney is in our Glasgow studio. Margaret, what sort of treatments are we talking about?
McCartney
Well one that listeners may well have heard about relates to a study published a few days ago, it was a very interesting study, a big analysis looking at a very cheap commonly used, an old class of drugs which up till now have been used in women who have got thin bones or osteoporosis to try and strengthen them and this study said here's a new use, if we use this in women with certain types of early breast cancer it can help to prevent spread later on into the bones.
Porter
So effectively this is calling upon doctors to use a treatment that's got one licence indication for another indication, what's the problem there?
McCartney
That's right, the bottom line is that this is a different use of a commonly used and cheap generic drug, so the medicines and healthcare regulatory authority have not put a rubber stamp on this drug to say this has a licence for use in this particular situation in women who've had breast cancer.
Porter
And does that rubber stamp matter, I mean if this paper's been published in The Lancet, in this case, why can't I start using this drug in patients of mine with breast cancer?
McCartney
Well that's a really good question and I don't think there is a reason for you not to start on it if you felt it was appropriate for your patient in her circumstances.  So the issue is now whether NICE will endorse this and tell doctors widely to start using it but if they do this will be a drug which is not licensed for that specific use.
Porter
But if NICE doesn't recommend unlicensed drugs do they get used?
McCartney
Well should they get used, I suppose is the bigger issue, so licensing is a kind of safety net, it's to try and stop doctors prescribing drugs wildly where they shouldn't be used, where there's no evidence of use and where it actually may do net harm to patients.  But the problem is that getting a licence for a drug company costs a lot of money, they have to submit trials which are usually big and expensive to do to the medicines and healthcare regulatory authority to then get a licence.  So in general pharmaceutical companies will want to be making a return on that, they don't want to lose all the money on it and when you've got these very cheap off-patent old drugs there's no incentive for any pharmaceutical company to go and do lots of big trials because they've already been done in order to try and make money out of this because it's a generic drug, these drugs cost pennies.
Porter
Well let's go back to your example of this bone drug being used in women with breast cancer.  One of the charities estimate that something like 34-35,000 women every year are missing out on this treatment because it's not licensed and therefore doctors are reticent to use it.  How is the Off-Patent Drugs Bill going to help, assuming NICE does not issue guidance, how is this new bill going to help them?
McCartney
Well in essence it has many good points to it and the bottom line is that it intends to put into UK law a duty on the government to step in where there's no incentive for a pharmaceutical company to obtain a licence for an old product.  So it's asking the government to act in the public interest and obtain a licence so that an off-patent treatment could become licensed for a new use.  And this would be done via NICE driving NICE to do a technology appraisal, which you would them to assess the evidence and make a judgement as to whether or not a drug could have a particular licence.
Porter
Playing devil's advocate here, could the drug company themselves not look at this new indication and think ooh if we apply for a licence we can patent that and make more money?
McCartney
Well again this is something that I think I would be a bit concerned about, always unintended consequences do happen.  I think it's fair to say that the law around intellectual property rights is complex and I'm clearly not an expert in it.  But I am told that this has been looked at fairly thoroughly and that there are revisions to the bill which is going to be presented to parliament later this year.  We haven't seen the full text of it yet and I'm sure that the lawyers will be all over it trying to work out any pros and cons that may result, particularly unintended consequences.
Porter
Thank-you Margaret and, as usual, you will find some useful links on Margaret's blog – details are on the Inside Health website.
Now a new variant of diabetes – well, sort of. Pre-diabetes is already well established in America and now the label has arrived here and could be applied to as many as 11 million adults across the UK.
Using one of three measures – a person's fasting blood glucose level; how they react to drinking a sugary drink; or an HBA1c test that gives an idea of glucose levels over weeks – it is possible to identify people with borderline normal readings. And it's this grey area between diabetes and normal that is being called pre-diabetes, with research suggesting that as many as 1 in 10 people so labelled will go on to develop full blown Type 2 within a year.
But the new label remains controversial, not least because opinion differs as to what is normal and what's not, and how you test for it. Edwin Gale is Emeritus Professor of Diabetic Medicine at the University of Bristol.
Gale
To explain the story of pre-diabetes I should first of all say that everyone's blood glucose tends to rise as you get older.  Now there are three ways of defining a blood glucose.  So one of the problems with pre-diabetes is that there are three doors in, there aren't actually any doors out, there is no official way I've discovered of being undiagnosed with pre-diabetes.  Now if all three measures correlated 100% there would be no problem but in fact they overlap very weakly.  For example, fasting blood glucose overlaps by only about 30% with the definition of diabetes in terms of a glucose tolerance test.  So the result of having this very wide net is that you're catching an awful lot of fish and you're not necessarily catching the people you want to catch.
Porter
So it's quite possible to get two different results, you could be told you have pre-diabetes on one and be told you're perfectly alright on another?
Gale
Absolutely, in fact quite a few people who terms in HPA1c have pre-diabetes don't on strict glucose criteria, so you're going into a semantic circle as to what exactly you've got.
Porter
We're picking a lot of people up with pre- so-called pre-diabetes.
Gale
Well of course you are, I can speak to that personally because I'm 70 so I guess I class as elderly and I also have pre-diabetes in terms of a mildly elevated blood glucose.  But so do most people over the age of 80, in fact over the age of 80 74% of women and 55% of men have diabetes or pre-diabetes, so it's a normal ageing phenomenon.  And we're left with a question of what's disease, what is normal ageing process.  If you put that label upon someone what evidence have you got that you can actually help them?


Porter
Well that's my next question.  So if somebody's coming in who is 78 and otherwise fit and well and is found to have sugar levels in this borderline range and have pre-diabetes I can see the diagnosis might not be – putting a label on might not be that useful.  But if they're 40 and they're six stone overweight, they're a smoker and they've got lots of other risk factors it might just be useful in terms of galvanising some action, both on behalf of the doctor and the patient.
Gale
Well here you come absolutely to the nub of the issue.  Telling someone they've got a blood glucose that's high at the age of 30 is actually something that makes a huge difference to their life and which they can do a lot about.  But there's in fact no evidence at all that in the elderly person, as against the young person, that that intervention will be helpful.
Porter
So pre-diabetes may not be useful at the age of 90, at one end of the spectrum, it probably is very useful in your mid-20s, it's the grey area in between which is actually where a lot of these people are being picked up, so it's middle age and older.
Gale
I think my grouse there is that we have a diagnosis and a guideline based on a one size fits all number, it's ludicrous to give a single number to every member of the population.  And I think that's the entire problem.
Porter
Well listening to that in the studio with me is Simon O'Neill who's director of health intelligence at Diabetes UK and Dr Margaret McCartney is in our Glasgow studio. 
First of all Simon, what do you think of the term pre-diabetes?
O'Neill
Diabetes UK doesn't really like it and when we've spoken to people who are at risk of diabetes the problem is they seem to think that means they're diagnosed with diabetes, they're just diagnosed a bit earlier and it's sort of inevitable that they'll go on to develop diabetes.  And of course that's not the case, only 5-10% of people who would fall into a pre-diabetic range will actually develop Type 2 diabetes in the following year.  We wonder that therefore that actually makes them think because it's inevitable I might as well just not do anything and let it happen.  However, I think there is a really important thing that people in this early stage where their blood glucoses aren't quite working properly – if they're overweight, if they're not very active – they can do something to actually reduce that risk.  Therefore we prefer the term to be at high risk of Type 2 diabetes.
Porter
Margaret, do you use the term pre-diabetes in your consulting room?
McCartney
No I don't and I have to say I'm very suspicious of the medical industry's desire to start categorising more people with having pre- something.  We've seen it with pre-dementia, we've seen it with pre-hypertension and this, I think, is yet another instance of criteria being brought down, more people being caught in the net and the question is how many of those people will benefit from an earlier diagnosis of something that may never happen to them.
Porter
Simon, let's pick up on Prof Gale's concerns.  Firstly the cut offs – are you confident that we've got the cut offs in the right place?  Looking on the Diabetes UK website I mean they talk about a fasting plasma glucose 5.5 -7 means that you've got pre-diabetes.
O'Neill
Yeah I mean I think this is a really good question Mark.  There are lots of different people saying different things and that's where the confusion lies.  So we talk in the UK about an HPA1c, that long term blood glucose, being over 6, in the States they talk about being over 5.7.  If you look at the population of the UK at 5.7 that's puts eleven and a half million people at high risk.
Porter
As do those criteria that I mentioned for the fasting.  So one in three adults…
O'Neill
Whereas if you move it to 6, which doesn't seem a big move, that drops it down to four and a half million people.  And I think it's really – actually working out who is going to best benefit from being told they're at high risk of diabetes and who is actually going to best be able to do something to prevent that happening and prevent the long term complications.
Porter
So what's being done about that because I know that you're involved in the Type 2 prevention programme, a national programme?
O'Neill
We will be defining at criteria that works in terms of meeting the highest risk patients who are most likely to benefit.  So it will be a slightly different cut off point I'm sure than ones we've had before but hopefully it will refine that into the most high risk.  That doesn't mean that those who are the sort of lower level, especially if they're overweight, shouldn't be being encouraged to become more active and lose weight.
Porter
Margaret, let's pick up on Prof Gale's other concern and that was that there's no age adjustment.  Given that this to some extent is a natural process, as we get older all of our sugar levels creep up a little bit, it's surprising that the diagnostic criteria don't reflect age as one of the criteria for interpreting it?
McCartney
Well I think that GPs will often use discretion but the problem is that we're judged by guidelines, we're judged by QOF points in terms of what we're meant to do, it's meant to be a one size fits all to a certain extent.  And I think we need much more leeway in order to have a bit of flexibility about how we interpret the data really when it comes to asymptomatic older people especially if those older people are frail.  I think the medical industrial complex is really all for diagnosing things earlier, faster but we very rarely I think consider the harms that we do when we do that at the same time.  And for older people I don't think we accept what normal is enough.
O'Neill
I think we have to be very careful about how we interpret this and not over-medicalise, exactly as Margaret says. 
Porter
It may be normal for them.
O'Neill
Exactly.
McCartney
Absolutely.  I mean you're trying to pick up people who don't have any symptoms from diabetes, so people who are otherwise well.  What you're really trying to do is prevent complications that will happen over decades if a diabetic state is left untreated.  And if you're already 75 or 80 it might take a couple of decades to start developing complications so the benefits that you might get from treatment are pretty low.
Porter
Okay, so the last of Professor Gale's concerns and that's the three different tests that we're using, I mean I have to write them down every time because I forget the figures, I'm sure you've committed them to memory, but it is confusing, are we going to go with the one test?
O'Neill
Personally I think the HBA1c test is probably where most people are going but it is confusing and I'd hate to be a GP out there trying to decide what's the best thing to do.
Porter
Simon O'Neill from Diabetes UK.  And, if you are one of those GPs or nurses, then the type of test - and the thresholds that are going to be used for the national Type 2 diabetes prevention programme, that Simon mentioned there - should be announced over the next month or so.
Now what do you think might be wrong with Anna because her doctors didn't know?
Anna
It started on the Monday morning, I just had general sore throat, coldy type symptoms and that evening sort of loss of appetite.  The Tuesday I had extremely high temperature.  On the Wednesday I spoke to an out-of-hours doctor who prescribed me anti-sickness tablets over the phone because I had quite bad sickness and diarrhoea. I found myself wandering round the house aimlessly at night.  By the Friday, so this is five days later now of having these symptoms, I'd spoken to two triage nurses and a GP, came out in a rash all over my body, more of a mottled skin rash and at this point I started to struggle to breathe.
Porter
Anna had developed sepsis – a condition that claims as many as 40,000 lives every year in the UK. It's typically triggered by infections like pneumonia but in many cases the underlying cause is never identified. But whatever the trigger, time is of the essence – people with sepsis can rapidly progress from feeling unwell to developing shock and multiple organ failure within hours. Dr Ron Daniels is a Consultant in Critical Care and Anaesthesia and Chief Executive of the UK Sepsis Trust.
Daniels
In sepsis it's the response of the body to an infection.  Most commonly chest infections, water infections and problems in the abdomen like a burst ulcer or a gallbladder infection.  But a cut or a scratch or a bite can also quite easily lead to sepsis.
Porter
Now those sorts of infections, I'm thinking of chest infections particularly, are very common and most people who get a chest infection will not get sepsis.
Daniels
So it's not the infection that causes the damage and ultimately the organ failure, it's the way the body responds.  So it's the immune system kicking in.  Now we'll all be familiar with some of the common signs of infection like having a fever but when that becomes more marked we start to see some unusual symptoms creeping in.  So people might have what we call rigors, where they're shivering uncontrollably and if these go on for a very long time that can be a hallmark of something more significant.  They might notice that their breathing becomes laboured and fast and of course with a chest infection we might notice that but if it becomes more marked then it might be a hallmark that something else is going on.  People can develop changes in their skin colour, they can develop a mottled skin or a marbled skin or they might start to feel very faint or indeed collapse.  And these are all signs that the circulation is beginning to fail and that the situation's becoming very much more critical.  But a far more common sign that's reported to us is something that's really quite soft, that either patient reports I have never felt this unwell or their relative says to us, that I've never seen this person behave like this. 
Porter
But the immune response is generally regarded as a good thing, it's what protects us, it's what keeps us alive, it's what stops the bacterium getting a foothold in us.  So what's going wrong in sepsis if the immune response is part of the problem?
Daniels
Thinking about the immune response, if we can consider what happens when we cut ourselves – it becomes swollen and red and inflamed, the area around – and that's because the body's trying to deliver more blood to the area and it does that by opening the blood vessels up, hence the redness.  But the good stuff that's going to fight the infection and help to cause a blood clot to stop any bleeding is then going to be stuck inside the blood vessels, so the blood vessels become leaky in order to allow the good stuff to leak out into the fatty tissues and into the skin to fight the bugs and to help to cause the clot. 
Porter
Which is a great thing if it's happening locally in your finger.
Daniels
Absolutely and that's an adaptive response.  But of course in sepsis this becomes overwhelming, this becomes uncontrolled, and it happens throughout the body.  So all of the blood vessels open up and all of the blood vessels leak which starts to cause a drop in blood pressure which then starts to cause a compromise in the blood supply to organs and that's why we see organs starting to fail in sepsis.
Anna
I was then put in an ambulance and they said don't worry you'll be fine, when you get to hospital they'll sort it out because they were so stumped by my symptoms, they had no idea what was wrong with me.  It was then a junior anaesthetist that was walking past to start his shift and was asked for his opinion and it was that man that turned out later to save my life, who had treated someone the week before and knew all of the symptoms and said this young girl is extremely poorly she needs to be transferred to intensive care.  And then he went on for the next 12 hours to look after me in that unit.
Singer
I'm Mervyn Singer, I'm Professor of Intensive Care Medicine at University College, London.
Porter
How good are we at managing serious cases of sepsis now?
Singer
Well at the moment it's very much literally as the name on the door says "intensive care", so we're propping up the patient in the hope that they can get through this acute illness and recover thereafter.  So it's very much supportive care.  The strategy is two-fold.  One is obviously to recognise and jump on them quickly because clearly the earlier you can identify them the quicker you can institute what you hope will be the right therapy – antibiotics, surgery, whatever's needed to correct the problem.  But very much it's propping up the organs, we don't at the moment have the wonder drugs, the therapies, that can actually reverse the process or speed up recovery.
Porter
If you had a hundred patients with sepsis come in what proportion would you expect to survive?
Singer
For every hundred patients about 20-30 will die in the intensive care unit, a further 10 or so will not actually leave hospital and another 10-20 even may die in the next year.  We've had one patient who was with us a year and a half, he got married on the unit, he was so debilitated by the organ failure that followed on from the sepsis that it took a year and a half before he could get home and he was man in his forties.
Anna
They still don't know what I caught sepsis from, there's still a big question mark over how I got it.  I left the hospital with one word and that was sepsis.
Sweeney
So sepsis is the presence of whole body inflammation in response to an infection and infections are not the only things that can do that.
Porter
Tim Sweeney is a postdoctoral research fellow in immunity, transplant and infection at the Stanford School of Medicine in America and working on a new genetic test to differentiate sepsis triggered by infection from similar reactions that mimic it.
Sweeney
What we see all the time is people after a major injury like a car crash or gunshot wound or after major surgery or a burn can also have this massive inflammatory response.  And the two look the same, there's no easy way to tell inflammation due to an infection from inflammation not due to an infection.  And so it's often thought that the safest thing in some cases is just to give antibiotics, which is to say to just treat as though there were an infection present.  The problem with this is that if you give antibiotics to somebody who doesn't need them that person can experience complications from the antibiotics themselves, it opens the door to opportunistic infections such as CDiff, it also increases the rates of antibiotic resistance.  We don't want to just go around treating everybody with antibiotics, we want to be judicious.
Porter
But equally it's vital that you give those who need the antibiotics prompt treatment, so you've got to differentiate them quickly.
Sweeney
Absolutely, so that's the other thing, right, is that a lot of studies now have shown that a delay of even one hour of administering antibiotics to somebody who does in fact have sepsis can increase the mortality rate.
Porter
In a hospital like yours what sort of proportion of people who appear to have sepsis might actually have this sterile response, where there's no bacteria, they don't need antibiotics?
Sweeney
Well the hard thing is that we don't have a good way to tell because typically the way we diagnose an infection is we draw some blood and we send that off to the lab to be cultured to see if any bacteria or fungi grew out of it.  And we can do things like take a chest x-ray to look for pneumonia or take some urine culture to look for a urine infection.  But there is no definitive test that says early on this patient does or does not have an infection.  And so those sorts of numbers are sort of hard to come by because there's always an argument about well how do we know for sure.
Singer
Currently for example to grow a bug you have to take the blood, put it in a culture medium bottle, send it to the microbiology lab and if you're lucky you may get a result 30% of the time after 24 hours, if not longer.  Only about 30% of very sick patients can we actually find the bug in the blood.  How many bugs do you think per mil of blood?
Porter
A lot.
Singer
Have a guess, how many?
Porter
I have no idea.
Singer
You've got anything up to one to 10 per mil of blood.
Porter
Which is a tiny number.
Singer
The actual bacteremia per se isn't the major problem.
Porter
So terms that I would have been brought up with at medical school, I mean I'm going back to the eighties, so septicaemia, blood poisoning…
Singer
They're a bit passé I'm afraid, sorry.  I think…
Porter
I'm getting to that age now.
Singer
Yeah I know.  Because of these newer insights we're recognising that many of our long held precepts are actually wrong.
Sweeney
Well one of the things that I set out to answer was can we establish a blood test that we can draw that can right away tell us does this person have an infection or not. 
Porter
And what did you find?
Sweeney
So we found that there are in fact a large number of genes whose expression levels are significantly different between patients who have sepsis and patients who have inflammation that is not due to an infection.  And we used a way to select a sub-set of just 11 genes.
Porter
You make it sound simple but it sounds like a very complicated test, is it something that would translate easily into, what I imagine, is going to have to be a bedside test used by doctors and nurses and read pretty quickly to be useful?
Sweeney
The translation won't be easy, although we can distinguish between persons with infection in large data sets, it took us several months to do it and physicians are going to need results in absolutely under an hour.  And so one of the things that we're working with some partners on is developing some technologies that can assay gene expression in the blood in a very fast manner.  Somebody else may come along with a better set, what we've shown is that there is diagnostic power in the gene expression space.  I think it's likely that a decade from now the way that we diagnose infections will be different than the way that we do it today.
Porter
Tim Sweeney.  In the meantime awareness and vigilance remain our best defence against sepsis - whatever the trigger.  And there are some useful links on our website for healthcare professionals and the general public, just type sepsis and Inside Health into your search engine and it should take you there.
Now to our final instalment in our series on statistical terms with Carl Heneghan -  Professor of Evidence Based Medicine at the University of Oxford - and Inside Health's own Dr Margaret McCartney. This week it's mortality and while death may be the great leveller, not all deaths are equal.
McCartney
Ah so this is the difference between all-cause mortality, which means death no matter what the cause of it was, and disease specific mortality.  And we get this a lot in press reports and in the media.  And it's the difference between dying at all – that's your all-cause mortality – and dying of a particularly type of disease – like heart disease or cancer.  And for me this is all about the frying pan and the fire, you can avoid dying from one thing but you'll die from something else anyway.  And that's why it's really important, especially in screening programmes, we've talked about this before, how important it is to make sure you're looking at all-cause mortality, death no matter what.  And that's because some treatments are harmful.
Porter
So what we're saying, let's use breast cancer screening as an example, that breast cancer screening may reduce your chances of dying from breast cancer but it's possible it could increase your chances of dying from something else.
McCartney
Yeah, so to use an analogy.  Imagine for example you've got an intervention that can stop people dying from shark bites, so that's great, it's a special big boat that you send out into the ocean.  But the problem is that boat will sink within 30 minutes of getting on to it.  So you can reduce your shark or your disease specific mortality with one intervention but the problem is that the intervention you use to try and treat that it will cause you to drown anyway.  So you have to be really careful when you're doing any screening programme that involves an intervention that your intervention isn't worse than the disease that you're trying to prevent in the first place.
Porter
So Carl when I'm looking at the results of a study published – in the lay media, I'm talking about now, is all-cause mortality something I should be asking for?
Heneghan
Yeah certainly and I think you should just ignore the disease specific mortality.  It's a sort of ruse to try and capture your attention.
Porter
So stats introduced by chance of dying of a heart attack or stroke and do they stop my chances of dying or delay my chances of dying?
Heneghan
Correct and that's really important, particularly in cancer treatments because some of the cancer treatments can be toxic in a word.  They work by making toxic cells and killing cells, the key is they may kill you at the same time.  So you may have a certain treatment that improves the cancer specific mortality but has no effect on all-cause mortality.  And at the end of the day all deaths are the same, it's an objective measure, but what you want to do is improve the all-cause mortality.
Porter
So look for all-cause mortality.  It's not always mentioned though is it?
McCartney
It's not always mentioned and not all studies…
Porter
… and there's a reason for that.
McCartney
And there is a reason for that.  I mean I think of people – the classic one is bowel cancer screening, so there's lots of studies that have been done that says that bowel cancer screening reduces your risk of dying from bowel cancer but there are also really good studies that say it also does not reduce your all-cause mortality.  So people will die at the same rate at the end of the day…
Porter
But of something else.
McCartney
…just not as often from bowel cancer.  So you have to be really careful – is your screening programme overall giving you a benefit or is it not giving you a benefit.
Porter
And that's the key, the difference between mortality and all-cause mortality is all-cause mortality – if that's reduced you're getting overall benefit.
McCartney
That's right.
Porter
And that's what we're after.
McCartney
That's right, that's the key.
Porter
Margaret McCartney and Carl Heneghan.
This is the last in the current series of Inside Health but we are already working on the next run. So if there is an issue you think we should be investigating please do get in touch.  You can e-mail insidehealth@bbc.co.uk or tweet me @drmarkporter.
We are not off air for long and will be back at the beginning of September. So, until then, goodbye.
ENDS
Broadcasts