Main content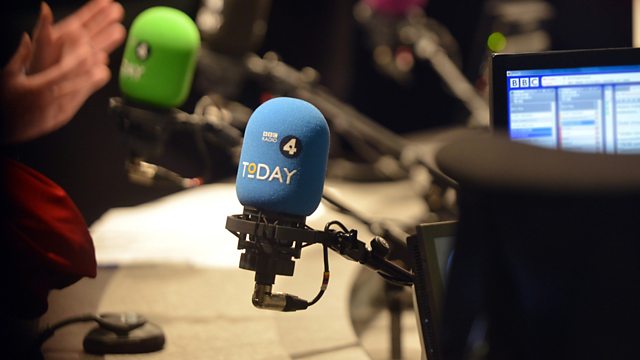 28/07/2015
Morning news and current affairs. Includes Sports Desk, Weather, Thought for the Day.
Last on
Today's running order
0650
There's been a big rise in the number of nurses coming to work in the UK from other parts of Europe in recent years, while the number of overseas recruits from other parts of the world has fallen. We hear from Peter Carter, chief executive of the Royal College of Nursing.
0710
The public inquiry into undercover policing that opens today will look back at nearly 50 years of operations. Peter Francis is a former undercover officer in the Metropolitan Police and 'Alison' has a relationship with an undercover officer.
0715
China's markets have stabilised a bit after suffering the second biggest fall in their history yesterday. We hear from our China editor Carrie Gracie.
0720
A woman has been awarded more than £160,000 from her dead mother's estate even though the mother expressly stated in her will that she did not want her child to receive a penny. Clive Coleman is our legal correspondent.
0730
There's been a big rise in the number of nurses coming to work in the NHS from other parts of Europe while the number from other parts of the world has fallen. Our health correspondent Jane Dreaper reports.
0740
Spy machines: we hear about the way in which the founder of a private Swiss company helped British and American spies during the cold war. Security correspondent Gordon Corera reports.
0750
NATO will hold a rare special meeting of its North Atlantic Council at NATO HQ in Brussels. The meeting has been called by Turkey amid heightened concerns over its security both regarding IS and PKK Kurdish separatists. Yasin Aktay is ruling AK Party Vice chairman in charge of foreign affairs. Dr Liam Fox is former foreign secretary.
0810
Police are investigating allegations that the senior peer, Lord Sewel, took drugs with prostitutes. Lord Hill is previous leader of the House of Lords.
0820
Zoe Conway reports on the terrible weather that has hit the country, spoiling many holidays.
0830
Later today Barack Obama will become the first American president ever to address the African Union. Our Africa Correspondent Alastair Leithead is following President Obama on his trip around Africa and reports from Addis Ababa, the headquarters of the AU.
0840
Conservationists from the Wildfowl and Wetlands Trust are trying to save Britain's most threatened duck. There are just 35 breeding pairs of common scoters in the whole of the UK, and that already tiny population has halved in the last two decades. Victoria Gill reports.
0850
A rediscovered Dr Seuss book comes out in the US today, called "What Pet Shall I Get?". Meg Rosoff is a US-born children's author living in UK, who wrote the award winning "How I Live Now".
Broadcast