Main content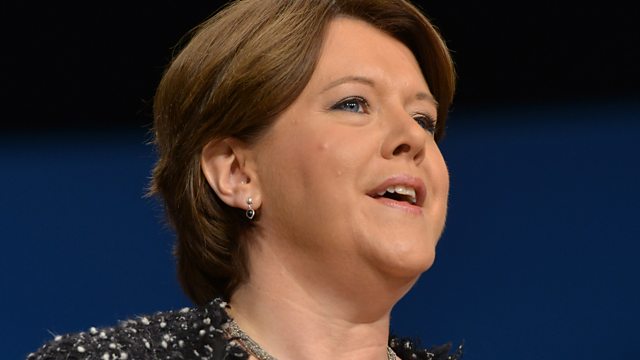 Maria Miller, Life in Squares, Male weight loss
Presented by Emma Barnett. Featuring Maria Miller, chair of the new Women and Equalities Select Committee, Amanda Coe on her new drama Life in Squares, and family estrangement.
Maria Miller, chair of the new Select Committee for Women and Equalities talks about launching their first inquiry.
Writer of a new TV series about the Bloomsbury set, Amanda Coe, discusses Life in Squares.
We hear about what its like to become estranged from your family.
We discuss the male weight loss club and why men might feel they need different help to lose weight.
And, why is it still so difficult for women of colour to buy the make up they want?
Last on
Chapters
Maria Miller

Duration: 11:14

Make-Up For Women of Colour

Duration: 07:48

Men's Slimming Clubs

Duration: 05:11

A Life in Squares

Duration: 08:56

Family Estrangement

Duration: 08:42

Maria Miller - Women & Equalities Committee

There is just one male MP on the newly created Women and Equalities Committee. Its remit is to scrutinise the role of the Government's Equalities Office, which is responsible for equality strategy and legislation across government. The committee's remit is broad, covering age, disability, gender reassignment, marriage and civil partnership, pregnancy and maternity, race, religion and belief, sex, and sexual orientation. The former Women and Equalities Minister Maria Miller is its new Chair. She joins Emma Barnett to discuss the details of their first inquiry and the priorities ahead. 




Make-Up For Women of Colour

How representative is our high street makeup in 2015? Luxury brands tend to stock 'base make-up' – foundations, concealers, blushers - in a range of tones catering to all ethnicities. But the same isn't true of high street ranges. So what do you do if you don't have a lot to spend on make-up and you don't live in a big city? Joining Emma to discuss high street beauty for women of colour are the writer and journalist Reni Eddo-Lodge, and Senior Beauty Editor at Marie Claire, Anita Bhagwandas.

Men's Slimming Clubs

Do men need their own slimming clubs? Until now men have always joined mixed groups but there's research to suggest that they might do better in single sex groups. Emma Barnett is joined by male slimmer Andrew Shananhan who set up the website Man v Fat, and by Professor Kate Hunt from Glasgow University, who was behind a landmark study to help men get fit!

Life in Squares

What is the enduring legacy of the Bloomsbury Group; the gang of artistic friends who lived, worked and loved together in the early 1900s? Was it their modernist art, literature and economics, or their sexual freedom and triangular love affairs? The writer Amanda Coe has told the story of Virginia Woolf, her sister Vanessa Bell and their Bloomsbury contemporaries in the BBC Two drama Life in Squares. She joins us to discuss their importance.

Family Estrangement

Tension within families is nothing unusual, but what happens when the conflict becomes so bad that you cut all ties, essentially 'divorcing' them? Or what if you are the one that has been disowned? Emma Barnett talks to writer Shaheen Hashmat and Dr Jason Robinson, a psychologist specialising in family estrangement.

Credits

| Role | Contributor |
| --- | --- |
| Presenter | Emma Barnett |
| Producer | Ruth Watts |
| Interviewed Guest | Maria Miller |
| Interviewed Guest | Amanda Coe |
| Interviewed Guest | Reni Eddo-Lodge |
| Interviewed Guest | Anita Bhagwandas |

Broadcast

Podcast

Women's voices and women's lives - topical conversations to inform, challenge and inspire.