Main content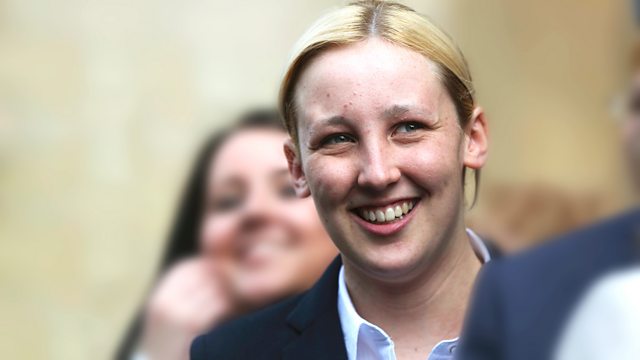 Mhairi Black
In this episode the focus is on Mhairi Black, Britain's youngest MP at the age of 20, whose maiden speech attacking austerity has been watched more than 10 million times online.
Mhairi Black was yet to graduate when she was elected to the House of Commons in May - the youngest Member of Parliament for over a century. She overturned a 16,000 majority and ousted the veteran Labour MP Douglas Alexander to win Paisley and Renfrewshire South for the SNP.
She's packed a lot in to the past few weeks: taking her seat in Parliament; sitting the final exam of her politics degree (dissertation subject: the rise of the SNP); attending her graduation ceremony; and making her maiden speech, in which she attacked the Conservative budget with the observation that she was the only 20-year-old in the whole of the UK who the Chancellor was prepared to help with housing support. The seven minute speech has been viewed online an astonishing 10 million times.
Mhairi Black emerged as a political starlet during the referendum campaign on Scottish independence in 2014. She caught the eye of the former SNP deputy leader Jim Sillars, who invited her to play a central role in the Yes Campaign, and who also advised her to stand for Parliament. She was expected to give Douglas Alexander a run for his money, but the real target was Holyrood in 2016.
Now she's at Westminster, where an eager press is watching her every move. Her candid teenage tweets have been exhumed and her eating habits have been put under the microscope (even her best friends worry about her appetite for chips and Irn Bru). And she'll have less time to use her Partick Thistle season ticket. But Mhairi Black has her sights set for the top. "She will be a significant leader of a left-wing position in Scottish politics," says Jim Sillars.
Presenter: Adam Fleming
Producer: Tim Mansel.