Main content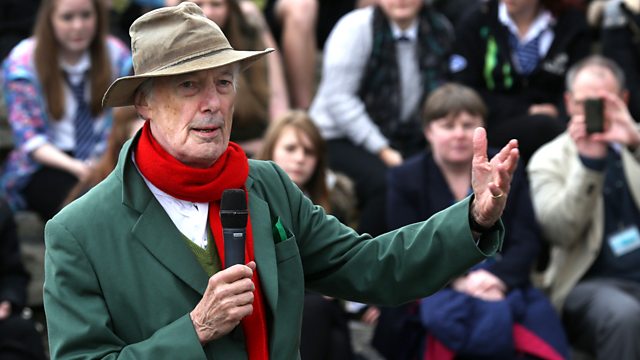 The Landscapes of Charles Jencks
Landscape architect Charles Jencks talks to Anna Magnusson about the inspiration behind his extraordinary landscapes.
The Gallery of Modern Art in Edinburgh, with its two substantial buildings, is set in extensive grounds. As you approach Modern One, a surprising vista awaits. The lawn to the front opens onto a sweeping, serpentine mound, with curving terraces shaped from the grass. These terraces are reflected in three crescent-shaped pools of water. You pause, compelled to gaze at this dramatic work, drawn to its strange beauty and serenity.
It was designed in 2002 by architect and writer Charles Jencks who at the age of 50, with his wife Maggie Keswick, started to design what he called 'landforms', landscapes that are themselves a work of art, a mixture of 'landscape plus architecture plus urbanism'. It was Maggie who, after being diagnosed with cancer, started the Maggie's Centres, where Jencks has played a guiding role. Since her death, he has spent the last twenty years designing and creating extraordinary landscapes across Scotland - with one in China.
In this Interval, recorded on the summer solstice, writer and broadcaster Anna Magnusson travels to Dumfries on the west coast of Scotland to meet Charles Jencks as he guides her through his latest creation, the Crawick Multiverse.
Jencks creates contemporary settings with the organic grandeur found in Neolithic temples and stone circles and Crawick he describes as "a landscape worthy of the ancients". His landforms explore how we as humans are connected to this, physically and spiritually. He discusses the philosophy behind these very distinctive works, detailing his fascination with the patterns displayed in nature.
Producer: Caitlin Smith
Photo credited to David Cheskin.