Main content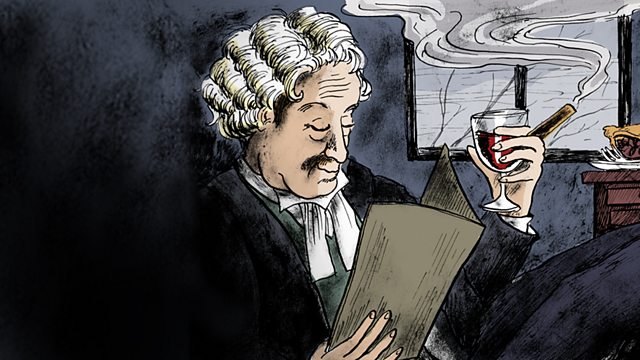 Rumpole defends Tony Timson, charged with the attempted drowning of his wife while sharing a bath. Stars Benedict Cumberbatch.
Benedict Cumberbatch stars as Rumpole in a story by John Mortimer, and adapted by Richard Stoneman.
Tony Timson finds himself in hot water when charged with the attempted drowning of his wife April, while sharing a bath with her. Rumpole not only defends Tony but also protects Judge Guthrie Featherstone QC as he upsets women everywhere with sexist pronouncements about their proper place in the tub.
Rumpole and Tony Timson have a conference in Brixton Prison where Timson explains that April had been planning to wear outrageous clothes to a party on the night in question. The party was at the home of a friend, Chrissie. One of the party guests would be Peter 'Peanuts' Molloy. Molloys vs Timsons equals Montagues vs Capulets. Tony Timson says that April wound him up by suggesting Peanuts was more virile than he was.
Cast:
Horace Rumpole … Benedict Cumberbatch
Hilda Rumpole … Jasmine Hyde
Claude Erskine-Brown … Nigel Anthony
Tony Timson … Stephen Critchlow
Guthrie Featherstone … Julian Rhind-Tutt
Charles Hearthstoke … David Shaw-Parker
Phillida Erskine-Brown … Cathy Sara
Directed by Marilyn Imrie
Produced by Catherine Bailey
A Catherine Bailey production for BBC Radio 4
Credits
| Role | Contributor |
| --- | --- |
| Horace Rumpole | Benedict Cumberbatch |
| Hilda Rumpole | Jasmine Hyde |
| Claude Erskine-Brown | Nigel Anthony |
| Tony Timson | Stephen Critchlow |
| Guthrie Featherstone | Julian Rhind-Tutt |
| Charles Hearthstoke | David Shaw-Parker |
| Phillida Erskine-Brown | Cathy Sara |
| Director | Marilyn Imrie |
| Adaptor | Richard Stoneman |
| Author | John Mortimer |