Main content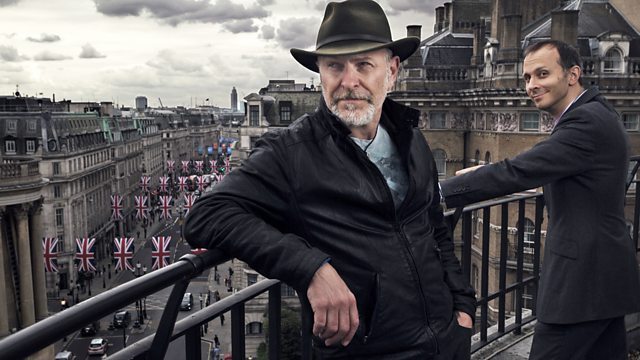 A comedy lecture on the economics behind addictive commodities. Just how harmful is a coffee addiction? From July 2015.
Comedian Simon Evans returns with a new series about the economics of some of the goods - or bads - we are addicted to.
If you crave your daily coffee, can't get by without a cigarette, feel that mid-afternoon slump without your sugar-fix, or can't face an evening without a glass of wine, you are definitely not alone. But have you ever thought about the economics that has made your addiction possible? Who does it profit? And would you want to make some canny investments that take advantage of our human weaknesses?
In this series, Simon Evans looks at the economics, history and health issues behind these oh-so-addictive commodities.
This week it's coffee. How much are we now drinking as a nation? And how much of the price of a cup of coffee is actually the coffee beans? Are we giving coffee growers the best deal when we buy Fairtrade coffee or should we be seeking out Direct trade coffee? And could this be the least harmful of all addictions? Perhaps even a positive addiction, with the coffee shop being, as Steven Johnson said (in his recent 'Where good ideas come from' TED talk), 'a place where ideas can have sex'?
Simon speaks to specialist coffee experts Onny Loisel and Michael Cleland. He is also joined by economics guru, More Or Less host Tim Harford and the Queen of investment know-how, Merryn Somerset-Webb, as he walks us around the economics of this very familiar commodity and pokes fun at our relationship with it.
Presented by Simon Evans, with Onny Loisel and Michael Cleland, Tim Harford and Merryn Somerset Webb.
Written by Simon Evans, Benjamin Partridge and Andy Wolton.
Produced by Claire Jones.
Credits
| Role | Contributor |
| --- | --- |
| Presenter | Simon Evans |
| Interviewed Guest | Onny Loisel |
| Interviewed Guest | Michael Cleland |
| Interviewed Guest | Tim Harford |
| Interviewed Guest | Merryn Somerset Webb |
| Writer | Simon Evans |
| Writer | Benjamin Partridge |
| Writer | Andy Wolton |
| Producer | Claire Jones |