Main content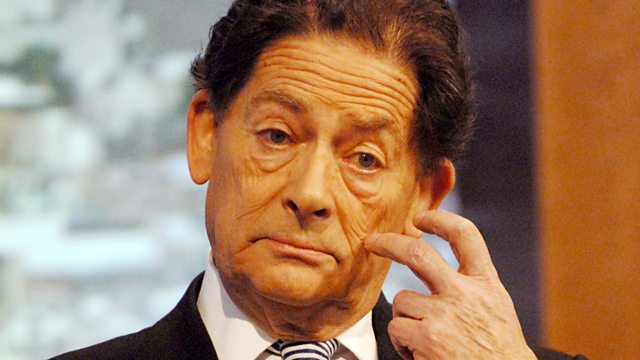 Peter Hennessy talks to Nigel Lawson, the former chancellor of the Exchequer, about his transition from an enjoyable existence at Oxford, via journalism, to front-line politics.
In this series, Peter Hennessy, the historian of modern Britain, asks senior politicians to reflect on their life and times. Each week, Peter invites his guest to explore the impact of formative influences, experiences and people in his or her life.
In this programme, Nigel Lawson, a self-proclaimed Tory radical and a key ally of Margaret Thatcher in challenging and reforming the post-war economic consensus, discusses his transition from an enjoyable existence at Oxford to journalism and eventually to front-line politics.
Lawson joined the Financial Times in 1956 and five years later became City Editor of the new 'Sunday Telegraph'. His appetite for politics was whetted in 1963, when he was recruited to work in Number 10. After the Conservatives lost power, he returned to journalism and in 1966 became editor of 'The Spectator'. He narrowly failed to win election to parliament in 1970 and finally entered the Commons in 1974.
Lawson found that his radical economic ideas chimed with those of Margaret Thatcher, who won the Conservative leadership in 1975. He became a key architect of Tory economic policy and after the 1979 election was appointed to the Treasury. But it was as Chancellor in the 1980s that Lawson made his greatest impact by extending and entrenching Thatcher's reforms with dramatic cuts in income tax rates, an ambitious programme of privatisation and extensive de-regulation. However, he opposed the poll tax and then in 1989 resigned over the role of Thatcher's special adviser, Alan Walters.
Lawson now sits in the House of Lords. His radicalism on the economy and Europe extends to what he sees as a misguided consensus on global warming policy, of which he is a trenchant critic.