Main content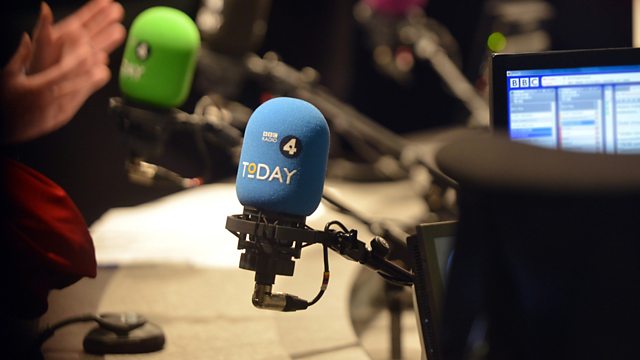 20/07/2015
Morning news and current affairs. Including Sports Desk, Weather and Thought for the Day.
Last on
Today's running order
0650
China's deputy Finance Minister has told the BBC that the Shanghai stock market has risen too fast over the past year. Louise Cooper is a financial columnist for The Times.
0710
George Osborne has called on Labour to back the government on welfare, including the cutting of tax credits for bigger families. Helen Goodman is Labour's former shadow minister for welfare reform.
0715
The Prime Minister is expected to warn young Muslims about the dangers of joining IS in a major speech on Islamic extremism today. Sima Kotecha reports.
0720
Fifa president Sepp Blatter is set to announce his plans to reform football's crisis hit governing body later today. Dan Roan is sports editor.
0725
Second World War tunnels, which have lain forgotten under the cliffs at Dover for nearly 40 years, will open to the public today. Virginia Portman manages the White Cliffs for The National Trust.
0730
The NHS says the number of people receiving organ transplants fell by 5% last year compared with the previous 12 months. Daniel Adeyemo had 18 months to find a liver transplant donor, before finding one this year. Sally Johnson is director for Organ Donation and Transplantation from NHS Blood and Transplant.
0740
Language experts say the distinctive Scottish rolling "R" is being lost as younger Scots no longer pronounce the letter as forcefully. Dr Eleanor Lawson, is sociolinguist at Queen Margaret University.
0750
It is more than six months since British troops left Helmand province in southern Afghanistan. Afghan troops are now facing a determined attempt by the Taliban, who control much of the north of the province. Clare Lockhart is co-author of "Fixing Failed States".
0810
The Prime Minister will today set out his approach to what he will call "the struggle of our generation" - defeating Islamist extremism. We speak to Home Secretary Theresa May.
0820
One of the remarkable things about that Royal home movie showing the apparent Nazi salute is how it made it into the hands of the Sun. We know for certain is that it wasn't released by the official Royal Archives at Windsor. Karina Urbach is author of Go-Betweens for Hitler. Robert Lacey is a historian and Queen's biographer.
0830
The House of Lords is to vote on an amendment to the Charities Bill today that would make it mandatory for all independent schools to open up their facilities to pupils from state schools. We hear from Labour peer Baroness Dianne Hayter and Julie Robinson, general secretary of the Independent Schools Council.
0835
Thousands of brain tumour patients in the UK are struggling to cope financially and emotionally in the face of ignorance about the disease, says a report out today from the Brain Tumour Charity. Lewis Thorne is a consultant neurosurgeon and Heather Dearie had surgery to remove a brain tumour in 2011.
0840
In Greece, banks are reopening today after three weeks, although capital controls remain in place. Konstantinos Kollias is president of the Economic Chamber of Greece.
0845
Nigeria's commercial capital Lagos badly needs new transport infrastructure. A new railway has been promised for decades, but it's only recently that the project has actually taken off, with more than a little help from China. Will Ross reports.
0850
A new BBC Drama is to tell the story of the Bloomsbury group. We speak to director Simon Kaijser and Virginia Nicholson, Great-Niece of Virginia Woolf and grand-daughter of Vanessa Bell.
All subject to change.
Broadcast