Main content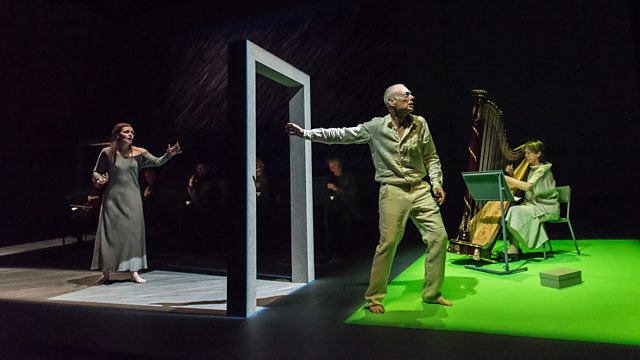 Birtwistle: The Corridor and The Cure
Tom Service presents Birtwistle's chamber operas The Corridor and The Cure from the Linbury Studio Theatre at the Royal Opera House. With Elizabeth Atherton and Mark Padmore.
Classical myth's archetypes, elemental symbolism and pitiless laying bare of the human condition have long spurred Harrison Birwistle to produce some of his greatest music, at once multi-layered and direct, violent and tender.
In Birtwistle's two recent chamber operas, the tragic moment when Orpheus turns to look at Eurydice is the subject of The Corridor (2009), while in The Cure (2015) Jason implores his sorceress lover Medea to help his ailing father, Aeson.
Behind the production are some of Birtwistle's most trusted collaborators: librettist David Harsent, designer Alison Chitty, soprano Elizabeth Atherton and tenor Mark Padmore.
Recorded at the Linbury StudioTheatre, Covent Garden and presented by Tom Service in conversation with Harrison Birtwistle.
Harrison Birtwistle: The Corridor; The Cure
Eurydice/Medea..... Elizabeth Atherton (soprano)
Orpheus/Jason/Aeson...... Mark Padmore (tenor)
London Sinfonietta
Geoffrey Paterson (conductor)
(Co-commissioned and co-produced by the Aldeburgh Festival and The Royal Opera, with additional support from the London Sinfonietta)
Photo (c) Clive Barda.
Sir Harrison Birtwistle, filmed at his Wiltshire home, talks about his creative career

Harrison Birtwistle and John Tomlinson discuss Tomlinson's roles in Birtwistle's operas