Main content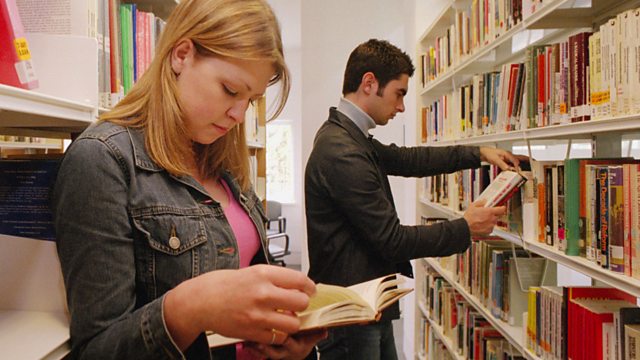 Open Book: Why We Read
Mariella Frostrup and guests discuss why people read and the pleasure that this strange and solitary activity has given millions.
Mariella Frostrup and guests discuss why we read, and the pleasure that this strange and solitary activity has given millions. Mariella and her guests John Mullan, Naomi Alderman, Damian Barr and neuroscientist Joe Devlin, will be investigating the history of reading, and the impact it has on our brains and asking what would happen if we didn't read fiction. Clive James will reveal the Book He'd Never Lend and Sarah Dillon will be exploring the pleasures of close reading.
Why Our Listeners Love to Read
"From the earliest age I found that books allowed me to be in other places with other people.  In my life I've been on holiday in Bognor with the Stevens family in R.C. Sherriff's The Fortnight; stood with the Aubreys watching the salt supernaturally spill in their London Kitchen in Rebecca West's The Fountain Overflows;  shared an air raid with Cassandra Swann in Barbara Pym's So Very Secret; and I still spend an afternoon from time to time in One End Street with the Ruggles family. 
You can be in a book where you can never be in the real world."
.....
"The way I read has changed over time, and currently I am reading less fiction than during other stages of my life, being drawn to layman's science books and history in an attempt
to develop a further understanding of a complex and incomprehensible world
."
.....
"As a child living in North London in the fifties in a council flat with my alcoholic dad, mum and younger brother, there were no books. The very first story I read was Little Women by Louisa Alcott bought for me by an Aunt for Christmas. I can still remember the comfort and pleasure I got from this book. To this day I have always read and feel lost if I have not got another book waiting in the wings.
I will always, always, read."
.....
"One of my earliest memories is when, aged 4, I was taken to join Barnes library by one of my brothers.  I can recall the huge sense of importance I felt as I was given my two buff coloured library tickets with my name written on them. We had books at home too - it was a large family, six of us, and quite hard to get noticed among all the siblings.
I think I retreated into the world of literature as a way of finding a space for myself."
.....
"My love of reading came from my mother reading to all of us every night - 4 children crammed into one bed.  We started with Wind in the Willows and went on to The Hobbit, Lord of the Rings and Watership Down - I will never forget the excitement every night waiting for the next chapter and I can never thank Ma enough - I hope she is listening."
..... 
"I have passed my love of reading and writing onto my children and my four-year old grandson and hope to teach creative writing to prisoners thanks to an MA in the subject...  It brings so much pleasure, something I really want to pass on."
Credits
| Role | Contributor |
| --- | --- |
| Presenter | Mariella Frostrup |
| Interviewed Guest | John Mullan |
| Interviewed Guest | Naomi Alderman |
| Interviewed Guest | Damian Barr |
| Interviewed Guest | Joe Devlin |
| Interviewed Guest | Clive James |
| Interviewed Guest | Sarah Dillon |