Main content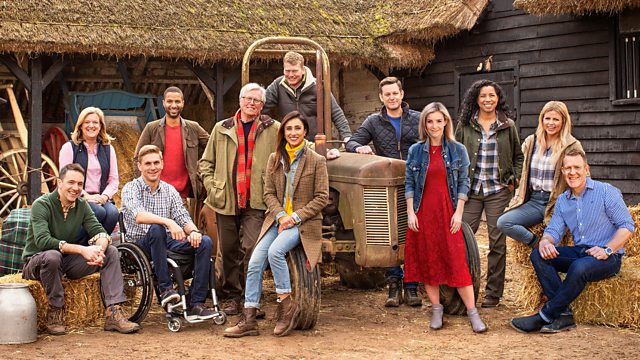 Cornwall
In Cornwall, Matt Baker tests his sea legs on the hunt for basking sharks. Ellie Harrison gets up to her knees in stinging nettles to dispel their bad name.
Countryfile is in Cornwall, where Matt Baker tests his sea legs on the hunt for basking sharks. He finds out about the many and varied species of shark that live in these waters and scours the shore line for shark egg cases.
Ellie Harrison is on the stunning Cornish headland finding out about Operation Neptune, a project set up fifty years ago by the National Trust to map the entire coastline of the UK. Today a very different map is being produced charting the sounds of the shore. Ellie also gets up to her knees in stinging nettles to dispel their bad name.
John Craven explores the partnerships between local Cornish food producers and the Eden Project. Tom Heap is also in Cornwall, finding out about how quarrying the rich underground resources there could threaten precious marine life. And Adam Henson meets some African agricultural experts learning new skills in the UK.
Basking sharks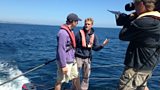 Matt Baker is in Cornwall this week to meet the various groups working to protect one of our most enigmatic sea creatures – the shark. Matt takes to the water with local marine biologist Dr Matthew Witt. He is part of a new tagging project set up to learn more about the second largest fish in the ocean, the Basking shark. Together they cruise along the stunning Cornish coast keeping their eyes peeled for this giant of the deep and hoping to spot one. The question is, will they?
Operation Neptune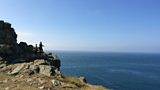 50 years ago the National Trust began a ground-breaking project to map and preserve the entirety of Britain's coastline. This project is called Operation Neptune and Ellie Harrison heads to the Lizard Peninsula to meet husband and wife team Dave and Pam Pinder. They mapped this stretch of coastline and share their stories about this rugged coastline has changed. This isn't the only mapping work going on along our coastline. Ellie also meets Joe Acheson a sound artist, who is working on creating a soundscape for the Lizard. Later this year Joe will be the Lizard's resident sound artist combining audio from the natural and working landscapes to create a unique piece of audio art. His work will be shared online as part of the Sound of our Shores project.
The Eden Project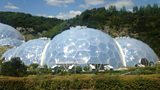 The Eden Project has been a major tourist attraction since its doors opened in 2003. As well as the famous domed greenhouses, the Project also supports various local producers and community projects. John Craven heads down to see how local suppliers are involved in the project's day-to-day operation. He meets Pete Lawrence who runs Canara Farm and provides the Eden Project restaurants with its tasty salads. Then Ken Radford, director of 'People and Gardens', tells John about this not-for-profit business which uses the Eden Project's nurseries to help give people with learning difficulties paid work in horticulture. This gives them the independence they need to forge their own careers and helps them stand on their own two feet.
African students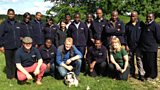 Adam Henson joins some of the movers and shakers of African agriculture on his farm. Thirteen high flying and influential representatives from all over Africa are in the UK to learn all there is to know about British farming.  They are part of a special educational programme designed to help farmers from developing countries. During a ten week course the students get to visit different types of farms and agricultural businesses and see first-hand all sort of British farming techniques.   And what they learn on the farm they take back home to their own countries.  So Adam show's them some of his rare breeds and gives tips on animal husbandry.  But it's the dry-stone walling that really scores a hit. 
Quarries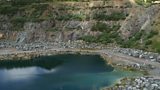 There are 1300 quarries across the UK producing £3 billion worth of products every year. The rock helps build our homes and roads, while many mined minerals are used in manufacturing cars, fridges and magazines, to name a few. But with around 200 million tonnes of aggregates alone being mined every year, concerns about the environment can arise. Tom Heap visits a controversial quarry in Cornwall that may be used to mine stone for the world's first tidal lagoon in Swansea. Locals there are concerned that renewed excavation of stone, plus the infrastructure around it, will be bad for the local environment and could threaten an area of marine conservation. 
Nettles and cheese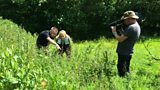 We all have childhood memories of these pesky pricklers, but there is more to nettles than just a sting. As Ellie discovers they are particularly important in Cornwall. She meets butterfly expert Richard Fox to find out how the humble nettle is vital to the health of certain species. She also discovers nettles are not only important for wildlife when she visits a local dairy which uses nettles to wrap the famous cheese, Cornish Yarg. Ellie then takes the plunge to see what nettles plus cheese actually tastes like!
The Great Eggcase Hunt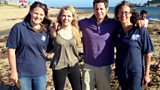 After search for giant Basking Sharks, Matt heads to the beach to find out more about other species of shark that are native to the British coastline . Cat Gordon from the Shark Trust tells him all about 'The Great Eggcase Hunt'. It aims to get the public involved in shark conservation by having them hunt for the egg cases of sharks, skates and rays. These 'Mermaids' Purses' as they're known can be found on beaches all over the country. Ellie joins Matt and group of local schoolchildren on the hunt, but how many will they find?
Find out more about the Great Egg case hunt and how to get involved
Credits
| Role | Contributor |
| --- | --- |
| Presenter | Matt Baker |
| Presenter | Ellie Harrison |
| Presenter | John Craven |
| Presenter | Adam Henson |
| Presenter | Tom Heap |
| Executive Producer | William Lyons |
| Series Producer | Joanna Brame |