Main content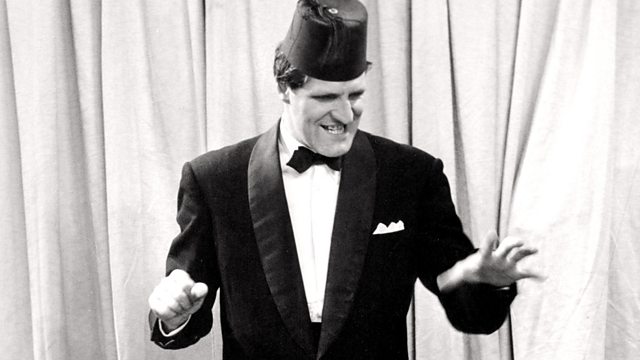 Pete Firman's World of Magic
Made for 4 Extra. Magician Pete Firman drops in on the Magic Circle to explore the wonderful world of illusion with contributions from Paul Daniels, David Blaine and Derren Brown.
From Ancient Egypt to the modern day, the act of conjuring has captivated audiences for centuries. It's a world of secrecy and intrigue that deals in incredible acts of wonder and stunning feats of deception. For magician and comedian Pete Firman, it's a world that has enchanted him since he was an 8 year old child watching Paul Daniels on TV.
In this compilation Pete makes a pilgrimage to the Magic Circle in London to dig deeper into the history of the art's colourful past. Assisted by president Scott Penrose they trace the roots of modern day illusionism from Harry Houdini, The Maskelynes and Chung Ling Soo through to contemporary kings such as Derren Brown and David Blaine. They also delve into the world of trick inventors, go behind the scenes with theatrical illusionists and get a crash course in performing street magic.
From the simplest acts of sleight of hand to high profile stunts, join Pete on a journey through the world of magic that's set to confound and inspire in equal measures. Featuring:
* The History Of Magic (BBC Radio 4 - 1997)
* Houdini - Great Lives (BBC Radio 4 - 2009)
* Box Jumpers (BBC Radio 4 - 2004)
* Spoon, Jar, Jar, Spoon - The Two Sides Of Tommy Cooper (BBC Radio 4 - 2009)
* The Backstreet Business (BBC Radio 4 - 2008)
* Magic In The Theatre - Front Row (BBC Radio 4 - 2010)
* Passing The Hat (BBC Radio 4 - 2009)
* David Blaine - Steve Wright In The Afternoon (BBC Radio 2 - 2003)
* The Science Of Magic - All In The Mind (BBC Radio 2 - 2011)
* Derren Brown - Chain Reaction (BBC Radio 4 - 2012)
Made for BBC Radio 4 Extra by BBC Radio Scotland.
Last on
Broadcasts