Main content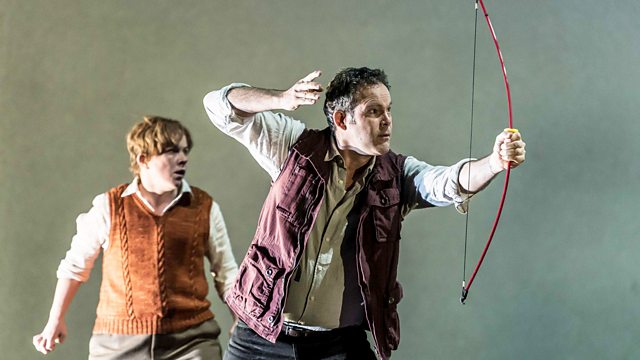 Rossini's Guillaume Tell
Live from the Royal Opera House, Covent Garden, a performance of Rossini's final opera Guillaume Tell, with bass-baritone Gerald Finley in the title role. Antonio Pappano conducts.
Live from the Royal Opera House in London, Rossini's last opera, and one of his greatest masterpieces, Guillaume Tell, with Gerald Finley in the heroic title role, Malin Byström as Mathilde, John Osborn as Arnold, and Nicolas Courjal as Gesler. Set in Austrian-occupied Switzerland in the Middle Ages and based on Friedrich Schiller's play, the opera is an ode to the fight against oppression and tyranny. Sir Antonio Pappano conducts the choir and orchestra of the Royal Opera House in a new production by Damiano Michieletto, who makes his debut in the main Covent Garden stage. Ivan Hewett presents.
Guillaume Tell.....Gerald Finley (Bass-Baritone)
Arnold Melcthal.....John Osborn (Tenor)
Mathilde.....Malin Byström (Soprano)
Walther Furst.....Alexander Vinogradov (Bass)
Jemmy.....Sofia Fomina (Soprano)
Hedwige.....Enkelejda Shkosa (Mezzo-soprano)
Gesler.....Nicolas Courjal (Bass)
Melcthal.....Eric Halfvarson (Bass)
Rodolphe.....Michael Colvin (Tenor)
Ruodi.....Ji Hyun Kim (Tenor)
Leuthold...Samuel Dale Johnson (baritone)
Royal Opera House Chorus
Royal Opera House Orchestra
Antonio Pappano (Conductor).
Synopsis
ACT I
The Swiss patriot Guillaume Tell broods on his country's suffering under the oppressive Austrian regime, while his fellow villagers enjoy a communal celebration. The respected Swiss elder Melcthal officiates at the celebration. Tell attempts to persuade Melcthal's son Arnold to join in a rebellion against the Austrians, but Arnold has divided loyalties: he has fallen in love with the Austrian princess Mathilde.
During the festivities, Tell's son Jemmy wins an archery  competition. Leuthold, a herdsman, arrives and asks the group for help – he has killed an Austrian soldier who attempted to rape his daughter. Tell offers to take Leuthold to safety. The Austrians arrive and prepare to sack the village in revenge for Leuthold's escape. Rodolphe, henchman of the tyrannical governor Gesler, takes Melcthal hostage.
ACT II
The voices of huntsmen and Swiss villagers are heard singing in the distance. Mathilde waits impatiently for Arnold. When he arrives, Arnold and Mathilde vow to find a way to marry, despite their being on opposing sides. Arnold is so much in love with Mathilde that he is prepared to fight with the Austrian army to win her.
Mathilde leaves as Tell and his fellow patriot Walter Furst arrive. Tell and Walter once more urge Arnold to join their rebellion against the Austrians. Arnold is initially reluctant, but agrees when he hears that his father Melcthal has been executed. The Swiss rebels gather, and affirm their willingness to fight to the death for the freedom of Switzerland.
ACT III
Arnold tells Mathilde that he must fight for the Swiss cause, and therefore their love is impossible. The couple bid each other farewell. The Austrian governor Gesler orders festivities to mark 100 years of Austrian rule, and demands that the Swiss people pay homage to him and acknowledge his power. Meanwhile Austrian soldiers eye up the Swiss women and force them to dance. Tell refuses to pay Gesler homage, and is recognized as the man who helped Leuthold escape. He and his son Jemmy are arrested.
Gesler commands that Tell show his skill as a marksman by shooting an arrow through an apple placed on Jemmy's head. Tell hits the target, but is re-arrested when he confesses that he intended to kill Gesler with a second arrow. Mathilde  ntervenes and demands that Gesler release Jemmy into her care. Secretly, she vows to get Tell released. Gesler allows Mathilde to take Jemmy with her, but leads Tell away with the Austrian soldiers. The Swiss villagers vow vengeance.
ACT IV
Arnold swears to have revenge for his father's murder and Tell's capture, and determines to lead the Swiss uprising. He shows the Swiss conspirators where Tell and Melcthal had hidden a cache of weapons, and leads the men away to attempt to rescue Tell.
Hedwige, Tell's wife, laments her husband's imprisonment. Mathilde arrives with Tell's son, Jemmy. She tells Hedwige that she is prepared to offer herself as a hostage to the Swiss to persuade the Austrians to release Tell. In a terrible storm, Tell manages to escape his Austrian captors and kill Gesler. Arnold is reunited with Mathilde, who declares that she will join the Swiss freedom fighters. The Swiss fighters and their women hail the dawn, the beauty of nature and the return of liberty.