Main content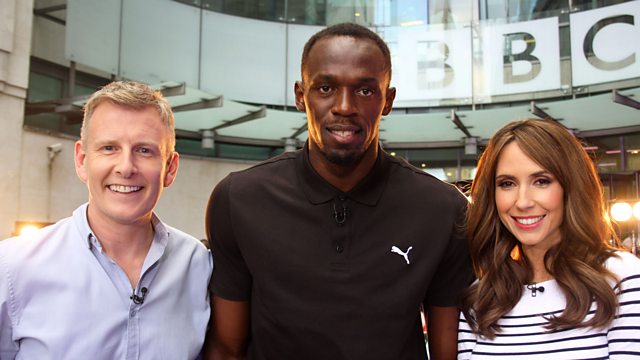 17/07/2015
The One Show is going out with a bang, as Alex and Patrick are joined by Usain Bolt to talk about racing in London. Plus a live performance from Martha Reeves and the Vandellas.
Beat the Pro - Caribbean Curry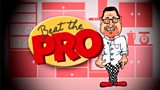 Carl's Recipe : Caribbean Curry
Serves: 2
Total cooking time: 3 to 3 1/2hrs
 
Ingredients:
3 lbs boneless goat meat, chopped in cubes - serves 2
1 1/2 tbsp all purpose seasoning
1 tsp black pepper
3 1/2 tbsp curry powder
4-6 cloves garlic, chopped
1/2 of a small scotch bonnet pepper, finely sliced and discard seeds (handle with care)
4 cups of water
1 large sprig thyme chopped
1 large sprig fresh rosemary chopped
3 carrots chopped
1 medium onion, sliced
10 cherry tomatoes
 
Method:
Mix together boneless goat meat, salt, black pepper, all purpose seasoning, 3 1/2 tbsp curry powder, 1 medium onion sliced, 3 chopped carrots, 10 cherry tomatoes, 4-6 cloves garlic chopped, rosemary and thyme, 1/2 of a small scotch bonnet pepper (finely chopped remove seeds). Cover meat and place in the fridge overnight (or at least 5 hours) to marinate.
 
Use a large saucepan and place the marinated meat and vegetables and place the water in the pan too, making sure it covers the meat and place a transparent lid on saucepan. Let it simmer on a low heat for 2 1/2 to 3 hours until meat is soft and tender. Check every 30 minutes making sure that the pot doesn't dry out. You may have to top up the saucepan with water now and again.
 
You can enjoy this with rice, couscous or quinoa.

Ricky's Recipe : Caribbean Curry

Ingredients
Diced mutton
Chopped onion
Diced uncooked potatoes
Cumin seeds
2 teaspoons of curry powder
2-3 cloves
Small handful of allspice berries
Bay leaf
Cinnamon stick
Chopped de-seeded tomatoes
Chopped garlic
Scotch bonnet chilli
Spring onions
Handful of fresh thyme
Small carton of coconut milk
Coconut oil for frying
 
Method:
Toast the cumin seeds, cloves, and all spice berries in hot dry pan before grinding to a fine powder in a spice grinder. Heat the coconut oil in another pan on a high heat and brown the mutton pieces. Season the mutton with salt and pepper. Add chopped onions, garlic and ginger and when softened slightly, add your spice mix and a couple of teaspoons of curry powder. Next, throw in a cinnamon stick a bay leaf and then some lamb stock. Finally add a chopped scotch bonnet chilli (you can use a milder chilli if you don't like your curry too hot). Let the mutton simmer for 1 hour. After an hour add some de-seeded chopped tomatoes, diced potatoes, spring onions, thyme and coconut milk. Let it simmer for 2 hours.
British Athletics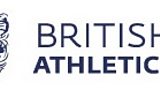 The World's Fastest Man and other top athletes will all be competing in London as part of the Anniversary Games.  For more information about this and other events in and around the UK, you can visit the
British Athletics website. 
Credits
| Role | Contributor |
| --- | --- |
| Presenter | Alex Jones |
| Presenter | Patrick Kielty |
| Interviewed Guest | Usain Bolt |
| Performer | Martha Reeves and the Vandellas |
| Editor | Sandy Smith |