Main content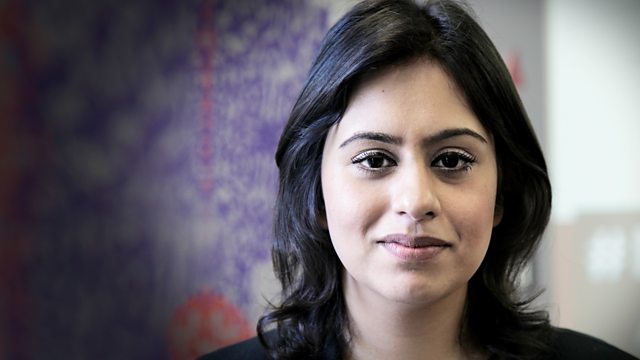 Sara Khan, The power of Angela Merkel, Dorothy Bohm
Woman's Hour Power List influencer Sara Khan discusses tackling extremism and gender inequality. Plus a look at Angela Merkel's role in crisis talks with Greece. With Jane Garvey.
Sara Khan, number 10 on the Woman's Hour Power List of influencers for 2015, talks to Jane about her work empowering women to challenge extremism and gender inequality.
We discuss Europe's most powerful women - how has Angela Merkel handled the Greek financial crisis and what does Europe make of her?
According to a recent international study the UK is one of the happiest countries for family relationships. We look at how family life has evolved and what makes a happy family?
Jane hears about the working lives of two women bank managers.
And, we hear about the life and work of photographer Dorothy Bohm.
Presenter: Jane Garvey
Producer: Ruth Watts.
Chapters
Woman's Hour 2015 Power List: Influencer Sara Khan

Duration: 09:54

Female Bank Managers

Duration: 09:11

Family Life

Duration: 08:21

Angela Merkel

Duration: 07:18

Dorothy Bohm

Duration: 06:54

Woman's Hour 2015 Power List: Influencer Sara Khan

Sara Khan is the director and co-founder of Inspire, a counter-extremism and human rights organisation and was number ten on the Woman's Hour Power List; Influencers. She joins Jane to talk about how women should take the lead in tackling extremism, and how to redress the gender imbalance in Muslim communities.

Dorothy Bohm

Dorothy Bohm came to the UK in 1939 as a 14 year old girl escaping Nazi Germany. She went on to build a remarkable photography career and co-founded The Photographers' Gallery. She is taking part in a new exhibition, 'Out of Chaos', which celebrates hundred years of émigré history in London. She talks to Jane about how her experience of immigration and 20 years of separation from her family influenced her work.

Female Bank Managers

After BBC Two aired a new documentary offering a close up look into the everyday workings of a leading high street bank; we meet two of the women who starred in The Bank: A Matter of Life and Debt. Claire Atkinson is Branch manager and Claire Blakey is Deputy Branch Manager of NatWest Huddersfield, and they join us to talk about what they do, and how they don't quite fit the traditional bank manager stereotype...

Family Life

According to a recent international study compiled by the Office for National Statistics, alongside figures from the Organisation for Economic Co-operation and Development, the UK is one of the happiest countries in terms of family relationships. More than 90 per cent of Britons said they were either very happy or fairly happy with their family life, ranking the country fourth highest in the developed world. But how has family life evolved and what makes a happy family? Social historian Juliet Gardiner and writer and teacher Anstey Spraggan join Jane to discuss the changing face of the traditional nuclear family.

Anstey Spraggan's book 'When Ali Met Honour' is out now and published by Dahlia. She writes under the pseudonym Ruth Ahmed.

Angela Merkel

The Greek government and its Eurozone creditors reached a deal yesterday after marathon all-night talks. Under the agreement Greece could receive up to 86 billion Euros over the next three years. Germany's Chancellor Angela Merkel was, as is now characteristic at these summits, amongst the last leaders standing, and the deal struck has been hailed by many as a victory for Germany and the Eurozone. We assess the German Chancellors power within Europe and on the global stage with the journalist and broadcaster Anne McElvoy and the BBC's Berlin Correspondent Jenny Hill.

Credits

| Role | Contributor |
| --- | --- |
| Presenter | Jane Garvey |
| Interviewed Guest | Sara Khan |
| Interviewed Guest | Anne McElvoy |
| Interviewed Guest | Dorothy Bohm |
| Interviewed Guest | Juliet Gardiner |
| Producer | Ruth Watts |