Main content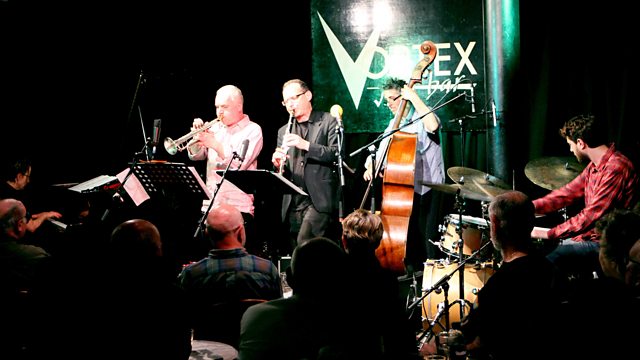 Melford, Goldberg and Batchelor Quintet
From London's Vortex, Jez Nelson presents American pianist Myra Melford and clarinettist Ben Goldberg performing in a quintet including British trumpeter Chris Batchelor.
American pianist Myra Melford and clarinettist Ben Goldberg join forces with a band of British musicians featuring trumpeter Chris Batchelor, in concert.
Known for her virtuosic approach, Myra Melford has carved a path as one of the most important players in the avant garde world since bursting onto the downtown New York scene in the early 90s. Spending formative years with mentors such as Jaki Byard, Don Pullen, and Henry Threadgill, her career has spanned a huge range of projects - two of which she draws on for this special London performance. Meeting Loose Tubes trumpeter Chris Batchelor in the band Big Air and most recently working with celebrated clarinettist Ben Goldberg in a duo project, the three share composition duties in this new grouping at the Vortex in Dalston. Bassist Steve Watts and drummer Tim Giles - both staples of the London scene - complete the transatlantic line up for a programme of ambitious new music.
Presenter: Jez Nelson
Producer: Miranda Hinkley.
Music Played
BBC Introducing at the 2015 Montreal Jazz Festival

Melford, Goldberg and Batchelor Quintet in concert at the Vortex, London on 23 April 2015

John Fordham in conversation with Myra Melford

Melford, Goldberg and Batchelor Quintet in concert at the Vortex, London on 23 April 2015
Line up:
Ben Goldberg (clarinet); Chris Batchelor (trumpet); Myra Melford (piano); Steve Watts (bass); Tim Gilles (drums)