Main content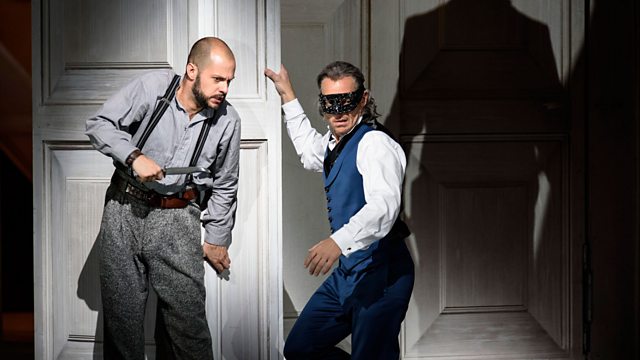 Mozart's Don Giovanni
From the Royal Opera House, Covent Garden, a performance of Mozart's comic opera Don Giovanni. With Christopher Maltman in the title role and Alex Esposito as Leporello.
Don Giovanni - seducer and charmer, ruthless and vengeful - recorded at the Royal Opera House, Covent Garden, in the first revival of a recent production by Kasper Holten. This the blackest of black comedies is enveloped by Mozart's ravishing music. The opera was first staged in 1787 and rapidly became one of the most popular in Europe. It is Mozart's second collaboration with the librettist Lorenzo da Ponte.
The plot is based on the classic Don Juan story of seduction, class division and eventual descent in hell.
The impulsive Don Giovanni travels through Europe seducing women, accompanied by his servant, Leporello. But when he commits murder, Don Giovanni unleashes a dark power beyond his control. He continues to seduce and betray but, haunted by the ghost of the murdered man, he invites him to dinner. The ghost urges him to repent - but Don Giovanni will not...
Presented by Andrew McGregor, including interviews with the conductor, director and a cast of principal singers which includes Christopher Maltman, Alex Esposito, Albina Shagimuratova, Rolando Villazón and Dorothea Röschmann.
Don Giovanni.....Christopher Maltman (Baritone)
Leporello.....Alex Esposito (Bass)
Donna Anna.....Albina Shagimuratova (Soprano)
Don Ottavio.....Rolando Villazon (Tenor)
Donna Elvira.....Dorothea Röschmann (Soprano)
Zerlina.....Julia Lezhneva (Soprano)
Masetto.....Nahuel di Pierro (Bass)
Commendatore.....Eric Halfvarson (Bass)
Royal Opera House Chorus
Royal Opera House Orchestra
Alain Altinoglu (Conductor).
Alain talks to Tom Service about connections between music & society, and handling divas.
Synopsis
ACT I
Don Giovanni, a Spanish nobleman, is renowned throughout Europe as a seducer of women; Leporello, his servant, reluctantly aids him by keeping watch. Giovanni attempts to leave the house of Donna Anna, his most recent conquest; he kills Anna's father the Commendatore when the Commendatore tries to stop him. Anna tells her fiance, Don Ottavio, that she was raped by an unknown man and they vow revenge on the murderer.
Leporello's attempts to persuade his master to reform are interrupted by Donna Elvira, a former mistress of Giovanni's, who is travelling to look for him. Giovanni leaves it to Leporello to explain the extent of his master's womanizing.
Masetto and his bride Zerlina are to be married at a peasant wedding, but Giovanni sets himself to seduce Zerlina. Elvira interrupts and foils Giovanni's attempt. Ottavio and Anna appeal to Giovanni for help in their pursuit of the murderer of Anna's father. Elvira again interrupts and warns Ottavio and Anna about Giovanni's true nature; Anna tells Ottavio that Giovanni is the man who murdered her father.
Leporello discusses with Giovanni the plans for the masque ball his master is hosting that evening. Zerlina assures Masetto that Giovanni has not touched her. Elvira joins forces with Ottavio and Anna; they are going to the ball and intend to exact vengeance on Giovanni. While everyone is dancing at the ball Giovanni attempts to ensnare Zerlina, but she rallies all behind her to try to entrap Giovanni. All accuse him, but he and
Leporello elude them once more.
ACT II
Hoping for success with Elvira's maid, Giovanni exchanges clothes with Leporello, who is instructed to lure Elvira away. Giovanni is interrupted by Masetto, who is intent on killing him, but his disguise is successful and he beats Masetto up and escapes.
Returning with Elvira, Leporello is mistaken for Giovanni by Anna, Ottavio, Zerlina and Masetto. Removing his disguise, Leporello convinces them that he is not the guilty one. Ottavio swears vengeance on Giovanni whom, in spite of everything, Elvira continues to love.
Giovanni hears the voice of the Commendatore, whom he killed, warning Giovanni of impending retribution. Giovanni orders Leporello to invite the ghost to supper. The ghost of the Commendatore accepts Don Giovanni's invitation and arrives to send him to hell.