Main content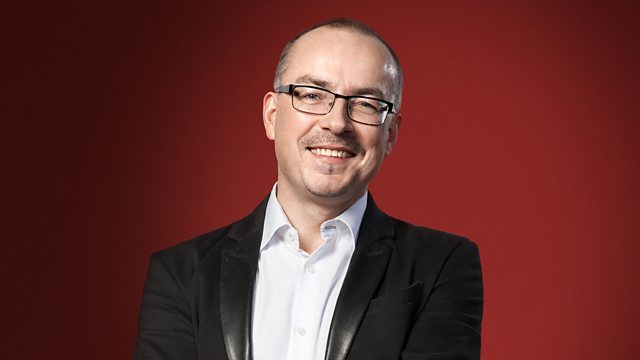 Building a Library: Brahms Cello Sonata No 2 in F, Op 99
With Andrew McGregor. Including Building a Library: Brahms Cello Sonata No 2 in F, Op 99; A new box set released by early music label SEON; Disc of the Week.
with Andrew McGregor
9.30am
Building a Library: Brahms Cello Sonata No.2 in F major, Op.99
Katy Hamilton compares recordings of the second cello sonata by Johannes Brahms, written more than twenty years after his first during a summer retreat in 1886 at Hofstetten near Lake Thun in Switzerland. Its fiery exuberant character is a world away from the brooding, nostalgic nature its predecessor. Recordings under the spotlight include those by Janos Starker and Pierre Fournier alongside more recent performances by Norbert Anger and Steven Isserlis.
10.30
Hannah French joins Andrew to talk through the 85-disc box set recently released by the legendary early music label SEON which was founded in 1969 as one of the first labels dedicated only to authentic music with a focus on recording upcoming stars such as Frans Brüggen, Anner Bylsma and Gustav Leonhardt.
11.45
Andrew chooses a fantastic new recording as his Disc of the Week.
9.00am
Antonio Caldara: Trio Sonatas
CALDARA: Sonata a 3 in B flat major Op. 1 No. 4; Sonata in G minor Op. 2, No. 4; Sonata a 3 in D minor Op. 1 No. 12; Sonata in E major Op. 2, No. 11; Sonata a tre in E minor Op. 1, No. 5; Sonata in F major Op. 2, No. 8; Sonata in C minor Op. 1, No. 6; Sonata in B flta major Op. 2, No. 2; Chiaccona in B flat major Op. 2, No. 12
Amandine Beyer (violin), Leila Schayegh (violin), Jonathan Pesek (cello), Jorg-Andreas Botticher (harpsichord, organ), Matthias Spaeter (liuto attiorbato)
GLOSSA GCD922514 (CD)
Amores Pasados
BANKS: The cypress curtain of the night
CAMPION: Follow thy fair sun; Oft have I sigh'd for him that hears me not; The cypress curtain of the night
JONES: Al son de los arroyuelos; No dormia; So ell encina
MOERAN: Oh fair enough are sky and plain
PICFORTH: In Nomine 1; In Nomine 2
STING: Bury me deep in the greenwood
WARLOCK: Sleep
John Potter (voice), Anna Maria Friman (voice, Hardanger fiddle), Ariel Abramovich, Jacob Heringman (lutes)
ECM 4811555 (CD)
Cesko
DVORAK: String Quartet No. 13 in G major Op. 106 (B192)
SCHULHOFF: String Quartet No. 1; Esquisses de jazz, WV 90
Ragazze Quartet
CHANNEL CCSSA36815 (Hybrid SACD)
Lassus: Missa super Dixit Joseph & motets
LASSUS: Confitemini Domino; Missa super Dixit Joseph; Dixit Joseph undecim fratribus suis; In me transierunt irae tuae; O Mors, quam amara; Deus, Qui Sedes; Si bona suscepimus; Deus, canticum novum; Veni dilecte mi; Fallax gratia; Timor et Tremor
Cinquecento
HYPERION CDA68064 (CD mid-price)
9.30am Building a Library
Katy Hamilton compares recordings of Brahms's second cello sonata and makes a personal recommendation.
Top Recommendation:
Brahms: Sonatas for Cello and Piano
BRAHMS: Cello Sonata No. 2 in F major Op. 99; Cello Sonata No. 1 in E Minor Op. 38
Miklos Perenyi (cello), Zoltan Kocsis (piano)
HUNGAROTON HCD12123 (DOWNLOAD ONLY)
10.20am New releases of Opera
VINCI, LEONARDO: Catone in Utica
Max Emanuel Cencic (Arbace), Franco Fagioli (Cesare), Valer Sabadus (Marzia), Martin Mitterutzner (Fulvio), Vince Yi (Emilia), Juan Sancho (Catone), Il Pomo D'oro, Riccardo Minasi (conductor)
DECCA 4788194 (3CD)
CAMPRA: Tancrede
Benoit Arnould (Tancrede), Isabelle Druet (Clorinde), Chantal Santon (Herminie), Alain Buet (Argant), Eric Martin-Bonnet (Ismenor), Les Chantres du Centre de Musique Baroque de Versailles, Orchestre Les Temps Presents, Olivier Schneebeli (conductor)
ALPHA ALPHA958 (3CD mid-price)
SALIERI: Les Danaides
Judith van Wanroij (Hypermnestre), Philippe Talbot (Lyncee), Tassis Christoyannis (Danaus), Katia Velletaz (Plancippe), Thomas Dolie (Pelagus / Officiers), Les Chantres du Centre de musique baroque de Versailles, Les Talens Lyriques, Christophe Rousset (conductor)
EDICIONES SINGULARES ES1019 (2Book + 2 x CD)
10.40am Dr Hannah French talks to Andrew about a box set of reissues celebrating the SEON early music label
SEON
DISC 1: Anonymous: Paschale Mysterium: Gregorian Chant
DISC 2: Gregorian Chant: Hymns
DISC 3: Gregorian Chant: Sequences
DISC 4: The Moosburg Gradual of 1360: Christmas Cantiones
DISC 5: Dufay: Musique sacrée & Ballades
DISC 6: Laudiamo Jesu:Laude of the 15th and 16th Centuries
DISC 7: Desprez: Missa "La Sol Fa Re Mi" & Motets
DISC 8: Stoltzer: Four German Psalms
DISC 9/10: The Legend of Orpheus
DISC 11: de Monte, de Lassus, Nörmiger, White: Sacred Music
DISC 12: Gastoldi: Balletti a 5 voci
DISC 13: Early Italian Madrigals
DISC 14: Monteverdi: Madrigals
DISC 15: Varietie of Lute-Lessons: The Renaissance Lute
DISC 16: Lawes: The Royal Consort & Lute Songs
DISC 17: Te Deum Laudamus: German Renaissance Choirs
DISC 18: Mazak: Sacred Music from Holy Cross Monastery
DISC 19: Blow: An Ode, on the Death of Mr. Henry Purcell & Songs from Am-phion Anglicus
DISC 20: Corelli: Sonatas op. 5 Nos. 7-11 & No. 12 "La Follia"
DISC 21/22: Couperin: Nouveaux Concerts from Les Goûts Réunis Nos. 5-7, Nos. 9-12 & No. 14
DISC 23: Couperin: Nouveaux Concerts from Les Goûts Réunis Nos. 8 &13 & "L'Apothéose de Corelli"
DISC 24: Couperin: Concerts Royaux Nos. 1-4
DISC 25: Couperin: Apotheosis to the memory of de Lully & Sonatas
DISC 26/27: Duphly & Forqueray: Pieces for Harpsichord
DISC 28/29: Hotteterre: Complete wind music: Suites, Sonatas, Dances
DISC 30: Vivaldi: The Four Seasons & Oboe Concertos
DISC 31: Vivaldi, Marcello, Platti: Concertos for Wind
DISC 32: Handel, Porpora, Caldara: Cantata da Camera
DISC 33: Scarlatti: Harpsichord Sonatas
DISC 34: The Baroque Lute I & II
DISC 35: The Baroque Lute III
DISC 36/37: Telemann: 12 Sonate Metodiche
DISC 38/39: Telemann: Trio Sonatas for Recorder & Transverse Flute
DISC 40/41: Handel: Complete Wind Sonatas
DISC 42: Bach: Cantatas "Kreuzstab" BWV 56 & "Ich habe genug" BWV 82
DISC 43/44: Bach: Great Organ Works
DISC 45: Bach: Inventions BWV 772-786 & Sinfonias BWV 787-801
DISC 46/47: Bach: English Suites BWV 806-811
DISC 48: Bach: French Suites BWV 812-817
DISC 49/50: Bach: Italian Concerto BWV 971, Chromatic Fantasy and Fugue BWV 903, Toccatas & Suites
DISC 51/52: Bach: Cello Suites BWV 1007-1012
DISC 53/54: Bach: Complete Sonatas & Partita for Flute
DISC 55/56: Bach: Brandenburg Concertos Nos. 1-6 BWV 1046-1051
DISC 57: Bach: Musical Offering BWV 1079
DISC 58: J.S. & C.P.E. Bach: Harpsichord Concertos in D minor
DISC 59/60: C.P.E. Bach: Sonatas, Rondos & Fantasias
DISC 61: Haydn: String Quartets op. 20 No. 2&4
DISC 62/63: Boccherini: String Quintets op. 20 Nos. 1-6 & Sonatas for Violoncello & B.c.
DISC 64/65: Mozart: Flute Concertos
DISC 66/67: Mozart: Wind Divertimentos
DISC 68/69: Mozart: Violin Concertos and Concertante Movements
DISC 70/71: Mozart: Sonatas for Piano and Violin K. 8, 26, 301, 306, 360, 454
DISC 72: Mozart: Sonatas for Piano & Violin K. 58, 304, 481
DISC 73/74: Mozart: Piano Sonatas
DISC 75/76: von Weber: Ten Scottish Melodies, Chamber Music, 28 Songs
DISC 77: Renaissance & Baroque Organs: Netherlands
DISC 78/79: Renaissance & Baroque Organs: Northern Germany
DISC 80/81: Renaissance & Baroque Organs: Alpenländler
DISC 82/83: Renaissance & Baroque Organs: Austria
DISC 84/85: Renaissance & Baroque Organs: Northern Italy
SONY 88843089382 (85CD budget)
11. 40am Disc of the Week
SCHUBERT: Symphony No. 9 in C major, D944 'The Great'
Orchestra Mozart, Claudio Abbado (conductor)
DG 4794652 (CD mid-price)