Main content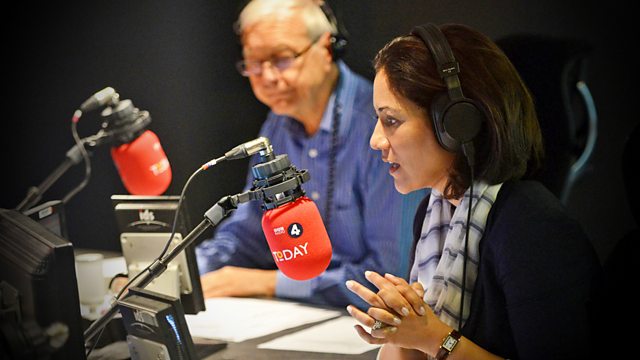 09/07/2015
Morning news and current affairs. Includes Sports Desk, Yesterday in Parliament, Weather, Thought for the Day.
Clips

Today's running order
0650
The Indian supreme court will today hear a petition to send federal investigators into the state of Madhya  Pradesh, after dozens of witnesses to an exam cheating scandal were found dead in mysterious circumstances.  Around 33 people connected to the medical degree scandal are thought to have died in mysterious circumstances.  The government says more than 1,000 corrupt medical degree admissions have been made, although whistle-blowers say the figure is much higher.  Justin Rowlatt reports.
0710
George Osborne delivered a budget yesterday that was less austere than anticipated, delaying the target for a budget surplus by a year, it spread the £12bn welfare cuts over four years rather than two and increased certain taxes.  He also made a surprise announcement of a new National Living Wage of £7.20 from next April. Chris Leslie is shadow chancellor.
0715
The Independent Inquiry into Child Sexual Abuse will formally open this morning, more than a year after it was first announced by the Home Secretary Theresa May.  The inquiry will examine potential failures of institutions to protect children.  In a speech its chairwoman, the New Zealand judge Lowell Goddard, will set out the scope and structure of the inquiry.  Graham Wilmer is founder of the Lantern Project, which provides support for survivors of sexual abuse.
0720
A senior Army officer says transgender soldiers should be allowed to serve in the British infantry. In an interview with PinkNews the Chief of Defence Personnel, Lieutenant General, Andrew Gregory, said transgender people were already serving in the armed forces. But his suggestion that transgender soldiers might be allowed to serve in the infantry appears to be at odds with the current ban on women in close combat roles. Sophy Gardener is former Wing Commander for the RAF.
0730
An open letter is published today signed by about 100 cross-faith and non-faith groups pledging to work together to fight terrorism, by sharing their expertise. The campaign is called Fight Back Starts Here and is run by a Leicester organisation called The Federation of Muslim Organisations. Mike Haines and Barbara Henning, the widow of Alan Henning who was also murdered by IS, have both given their support to the campaign. Michael Haines is brother of David Haines, the aid-worker who was killed by ISIL in September. Suleman Nagdi is a volunteer who has worked for decades bringing communities together in Leicester.
0740
The government admits there will be a negative impact on the economy as a result of the chancellor's announcement in the budget that the minimum wage will increase to £9 an hour by 2020, it was already due to be put up to £6.70 in October. The Office for Budget Responsibility predicts 60,000 jobs will be lost as a result of the wage increase by 2021. Matthew Price reports.
0750
Greek Prime Minister Alexis Tsipras has promised his government will submit "credible reform" proposals to its creditors on Thursday as the country seeks to avoid bankruptcy and stay in the Euro. The Greek government is expected to extend a bank holiday and capital controls that have been in place since the beginning of last week until the weekend, amid speculation that Greek citizens may face increased limits on the amount of cash they can withdraw.  Konstantinos Manolopoulos is chief banking analyst at the Investment Bank of Greece.
0810
The Chancellor, George Osborne, has delivered the first Conservative budget for nearly twenty years, promising that he would secure the nation's finances and security. He spoke of adopting a smoother path, delaying the target for a budget surplus by a year and spreading the twelve billion pounds of welfare cuts over four years rather than two.  There were a series of tax raising measures, including an increase on insurance premium tax and a new surcharge on banks. Mr Osborne said he wanted to support working people, and to the surprise of MPs he announced the introduction of a new National Living Wage, or an 'enhanced minimum wage'. We speak to George Osborne this morning.
0820
Even if you don't know about the Moog synthesiser, you'll more than likely recognise the sound. Invented by Dr Robert Moog in the mid-60s, it changed musical history. It allowed musicians to create and manipulate electronic sounds using changes in electrical voltage. It's ten years since Dr Moog died, and three nights of tribute performances started last night at the Barbican in London. Will Gregory is leader of the Will Gregory Moog Ensemble.
0840
China's financial markets are in meltdown. Regulators are taking fresh steps to try to quell volatility. Yesterday another 500 listed firms said they would stop trading their shares. Around 1,300 firms have halted trading, almost half of China's main shares. Carrie Gracie is China editor.
0845
Directors of two of this summer's biggest films have strongly criticised studios for giving too much away in the trailers. So do film trailers reveal too much? Anna Smith is chair of the Film Critic's Circle. Jane Crowther is editor of Total Film magazine.
0850
The Queen's 90th birthday is next year and today further celebration plans have been announced. On Sunday June 12th 2016, the Mall will be transformed for its largest ever street party to celebrate The Queen's patronage of over 600 charities and organisations. It is expected to attract 10,000 people. The event is called The Patron's Lunch. Peter Phillips is son of Princess Anne and is managing director of The Patron's Lunch Events Ltd.
All subject to change.