Main content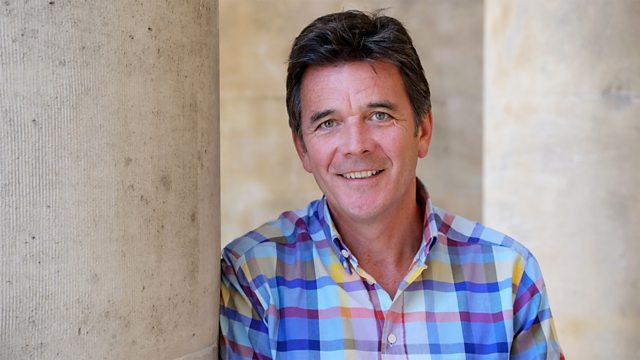 Gestational diabetes, Low-carb diets, Needle pain
Dr Mark Porter presents news on new UK guidelines on diabetes in pregnancy, which could mean many women aren't diagnosed, according to researchers at the Rosie Hospital, Cambridge.
Diabetes in pregnancy, gestational diabetes, is on the increase, and the risks to mother and baby if this condition is untreated, are very serious. Around one in fourteen pregnant women will develop GD, but the risk is much greater according to age and weight of the mother, whether there's a history of diabetes in the family and in certain ethnic groups.
Dr Mark Porter visits The Rosie Maternity Hospital in Cambridge, where Dr Helen Murphy introduces him to the specialist teams that enable 70% of the women diagnosed there to manage their diabetes through diet and exercise, rather than medication.
The UK's National Institute for Health and Care Excellence, NICE, has introduced new guidelines for diagnosing gestational diabetes which differ from international thresholds backed by the World Health Organisation.
Mark talks to researcher Dr Claire Meek from The Rosie, one of the authors of research published in the journal Diabetologia, which found that up to 4,000 women, at risk of serious birth complications, would be missed under the new UK criteria. The teams at The Rosie are shunning the new NICE guidelines and continuing to follow the WHO thresholds.
Professor Rudy Bilous, who runs the Diabetes in Pregnancy Service at the James Cook University Hospital in Middlesbrough and chaired the development group at NICE that produced the new diagnostic guidelines, tells Mark that he's confident that the thresholds, which were drawn up using the latest available evidence, are set at the right level.
Weight loss properties and low carbohydrate diets: listener Mark Robins from Southampton describes his success following a low carb diet (he lost nearly four stone in a year) and Inside Health's Dr Margaret McCartney and Susan Jebb, Professor of Diet and Population Health at the University of Oxford discuss the evidence behind weight loss and low carb diets.
The number of children who say they are afraid of injections is increasing and Dr Amy Baxter, a paediatric emergency doctor from Atlanta, Georgia and an expert in needle pain, has shown a link between the number of jabs and fear of needles. UK children have up to 15 vaccinations, with the new Meningitis B on the horizon, so managing that fear is important. Dr Baxter tells Mark what parents and health care professionals can do to help, and saying "Sit still, don't move, this will only hurt a bit", isn't recommended!
Producer: Fiona Hill.
Programme Transcript - Inside Health
Downloaded from www.bbc.co.uk/radio4
THE ATTACHED TRANSCRIPT WAS TYPED FROM A RECORDING AND NOT COPIED FROM AN ORIGINAL SCRIPT.  BECAUSE OF THE RISK OF MISHEARING AND THE DIFFICULTY IN SOME CASES OF IDENTIFYING INDIVIDUAL SPEAKERS, THE BBC CANNOT VOUCH FOR ITS COMPLETE ACCURACY.
INSIDE HEALTH Programme 5. - Gestational diabetes, Low-carb diets, Needle pain
TX:  07.07.15  2100-2130
PRESENTER:  MARK PORTER
PRODUCER:  ERIKA WRIGHT
Porter
Coming up in today's programme: 
Cutting out the carbs to lose weight - is there something special about a low carbohydrate diet? It certainly seems to have worked for this Inside Health listener:
Robbins
I used to catch my reflection in a shop window and not be able to look because I was a size with which I was unhappy.  Now if I catch my reflection I think it's my brother because he's always been slim.
Porter
More from the thinner Mark Robbins a little later.  And I will be talking to a paediatrician about how a little thought can make childhood injections less traumatic - for all concerned.
Baxter
Words like hurt, stick, pain, sting, pinch – all the words that mean something painful to a child reinforce that it's painful.  It's much better to say a booster than a jab or a shot.
Porter
But first gestational diabetes - that's diabetes that develops during pregnancy. It is an increasingly common problem. And it's an area that has attracted a fair amount of controversy recently after  the UK adopted guidelines on diagnosing the condition that are out of step with much of the rest of the world. As a result some experts now believe as many as 1 in 10 affected pregnant women could be slipping through the net, putting them, and their babies, at risk.
Around 1 in 14 pregnant women in the UK will develop gestational diabetes as the strain of the growing baby overwhelms the ability of their insulin to tightly control blood sugar levels. In a similar way to how being overweight can trigger the condition in the rest of us. Indeed the heavier a woman is the more likely she is to get gestational diabetes and it is more common in older mothers and among certain ethnic groups such as Asian and African Caribbean women.
To find out more I went to the busy Rosie Maternity Hospital in Cambridge.
Murphy
Hi Mark, my name's Dr Helen Murphy, welcome to the Rosie Maternity Clinic.  I'm in charge of the diabetes pregnancy service, so we look after, I think, about 250-300 women with gestational diabetes and about 50-100 women with pre-gestational, so with pre-existing Type 1 or Type 2 diabetes.  And with Type 2 diabetes and gestational diabetes in pregnancy there's a lot of overlap.  For example, we know that women who get gestational diabetes in their pregnancies between 50 and 70% of them will go on to develop Type 2 diabetes.
Porter
So this is a warning sign that they might well run into trouble later?
Murphy
So that may well be the most important association of a diagnosis of gestational diabetes, it's an early health warning for the woman that she's really at risk of developing Type 2 diabetes.
Vicky
My name is Vicky and I'm just back for my check after having Orla seven weeks ago.
Porter
And Orla's fast asleep and is she your first baby?
Vicky
She's my third.
Porter
Is this the first time you've had problems with sugar during the pregnancy?
Vicky
No this was the second time.
Porter
Right, so you're a bit of an expert?
Vicky
Yes.
Porter
So you sort of knew that you were going to run into trouble again did you?
Vicky
I did, I was expecting it and when I came for my blood test I already had signs and symptoms of having the diabetes.
Porter
So what did you notice yourself?
Vicky
Very thirsty, couldn't quench my thirst at all.  So that straightaway I thought I have the gestational diabetes again, so I wasn't surprised when the results came back.
Porter
So having had diabetes during pregnancy has that changed your diet and lifestyle at all in between?
Vicky
It makes me very wary of what I eat and the children as well because obviously I don't want to pass the same kind of condition down the line to them, so making sure that as much as I love my chocolate I limit it.
Porter
Well we all love chocolate.
Pearson
So my name is Carla Pearson and I'm one of the diabetes specialist dieticians and I work in diabetes in pregnancy.  The main dietary advice is surrounding carbohydrates, so carbohydrates covers all foods that are starchy and sugary because the body will break all of them down and absorb them as sugar or glucose which will then impact the blood glucose levels.  So, for example, we recommend switching to the forms of carbohydrate that are less refined and that have higher fibre, so an example of this is moving from white break over to whole grain or granary bread.  And then this helps to slow the rise of the blood glucose levels so that the ladies are much more likely to be able to manage that.
Porter
And generally I would imagine that pregnant women are pretty motivated, it's not just their healthy they're looking after…
Pearson
Absolutely, yeah most definitely.
Porter
… they've got a baby as well.  So are they very good at following the guidance?
Pearson
It's often a little bit of a shock, we do have a few ladies that find it quite difficult but once you work with them and talk through their diets they're generally really motivated.  And because they do the finger prick blood glucose test an hour after they've eaten it gives them a result so they can see how well they're doing and again I think that helps to motivate them and they become their own experts.
Porter
Because if they know if they've done something wrong they can actually see the impact on…
Pearson
They can and so they learn from that quite quickly.
Porter
Here at the Rosie with its specialist team 7 out of 10 women have their diabetes controlled by diet and exercise, only 3 out of 10 have to take medication.  Diagnosing and treating gestational diabetes reduces complications when women give birth.
Murphy
Picking up and treating gestational diabetes reduces the amount of weight that women gain during pregnancy, less gestational weight gain is then associated with less problems like blood pressure and preeclampsia in the pregnancy.  And then for the baby it's associated – if the mother has a higher blood sugar level that causes the baby to make more insulin and then babies that make more insulin grow more rapidly and become more overweight or obese themselves.  So those overweight babies are more likely to be delivered instrumentally, so they may need a forceps or a ventouse delivery or they're more likely to be delivered by caesarean section.
Porter
Well I've come upstairs to the delivery suite where Nadia in just a couple of hours will be having her second baby by caesarean section.  It's hot and a fan is working full blast to keep the room cool.
You're looking very calm.
Nadia
Yeah it's nice to kind of have a plan and something to focus on, yeah.
Porter
So you didn't have a problem with diabetes, that you know of, during the first pregnancy, it was picked up during this second pregnancy…
Nadia
That's right.
Porter
… at what stage?
Nadia
So about 28 weeks.
Porter
How did you feel about that?
Nadia
Anxious but then the penny sort of dropped because of the large baby last time round, it was a fairly traumatic delivery last time round so I wanted – if there was any way of avoiding that this time round that had to be a good thing.  And gestational diabetes is something that can increase your chance of having a big baby.
Porter
And a couple of hours after we left her Nadia had a baby boy weighing seven pounds five ounces and both mother and baby are doing well.
Hopefully for Nadia, as with most women, her gestational diabetes will disappear now that she's given birth but specialists like Helen Murphy insist that once it's gone women can't drop their guard.
Murphy
We normally remind women that when they celebrate their baby's birthday that's a really good time to have a glucose test.
Porter
And that's because the extra load put on their metabolism by the pregnancy mirrors what might happen to them later on in life anyway.
Murphy
That's exactly right, so we know they're on the trajectory, they're on the path to developing Type 2 diabetes and we also know that there's good evidence that you can intervene early in that path and prevent it.  You can reduce their risk of diabetes by 50-70% either by diet and lifestyle or by a tablet, a very easy tablet called metformin.
Porter
Are there any implications for baby's physiology, I mean once he or she is born does it matter that they've been exposed to high sugar levels?
Murphy
Very much so, so we know that babies who are either born too small or too large are themselves at risk of developing complications in later life.  And we know the government and the NHS are working really hard to tackle obesity, but it's increasingly important that we need to start that during pregnancy.
Porter
The gold standard test for gestational diabetes is typically done between 24 and 28 weeks of pregnancy, and involves measuring how a woman's blood glucose levels respond to drinking a sugary drink. But how her doctors interpret that result depends on which guidelines they follow. And the UK has been accused of being out of step with much of the rest of the world after the National Institute for Health and Care Excellence - NICE - published new guidance earlier this year using a higher threshold than the one adopted by the World Health Organisation.
And that difference in thresholds has a significant impact on the number of women identified as having a problem. New research just published by a team from The Rosie Hospital estimates that as many as 4,000 women who would have received a diagnosis of gestational diabetes under the World Health Organisation criteria, fall through the net under the new NICE rules. Dr Claire Meek was one of the authors.
Meek
Theoretically you might think these ladies would be at the milder end of the spectrum because they have blood sugar levels that might be considered borderline.  However, our recent research shows that these women actually are quite high risk, they are at risk of having babies that grow excessively large and have problems during delivery and they're also at risk of having caesarean sections rather than being able to deliver the babies normally.  One of the concerns is that these ladies are high risk but they don't know they're high risk and their care givers don't know that either.  And that removes the possibility of intervening and being able to improve outcomes in these people.
Porter
So effectively what your research showed was that 1 in 10 women with gestational diabetes in the UK currently aren't being picked up?
Meek
That's true.
Porter
Setting thresholds between what's normal and what's worrying is always difficult in medicine, but why is there this difference between what we use in this country thanks to NICE and what's being used abroad?
Meek
So the criteria that are used abroad are based on looking at women and identifying the risks of a range of complications, both complications related to the women and related to the baby.  However, the NICE guidelines actually view the cost of the whole endeavour to UK taxpayers and so the NICE guidelines are built around cost effectiveness and making sure that the money spent gets outcomes improved.
Porter
But according to your research these women are potentially high risk and therefore – I mean forgetting the human cost – there's probably quite a cost to the NHS as well.
Meek
Well we think that and actually these group are relatively understudied and so it is evident that NICE will not have had access to all that much information about them.  But that actually doesn't mean that it wouldn't be cost effective to treat these women and actually our studies show that certainly for women in our hospital we would have to treat six women to improve an outcome for one of them.  And that actually, in our view, very much worth doing.
Porter
So do you think NICE has made a mistake?
Meek
I think the NICE guidelines are a huge piece of work and they involve looking at countless medical studies.  Our research is now available and we are using it to inform our practice here in this hospital.  And certainly our plan is to remain with the international criteria for diagnosis.
Porter
And that's what you do at this clinic?
Meek
That's right.
Porter
Do you think NICE, in light of your research, do you think NICE should change their recommendation?
Meek
I think we would like to see more evidence of cost effectiveness of treating these women and if that evidence was available then I think NICE would be in a position to change their guidance.
Porter
Claire, what about the criticism that you may be over-diagnosing women with diabetes?
Meek
This is a great concern to many people involved in diabetes in pregnancy research.  However, I'm not really sure what women think about the risk of over-diagnosis and my personal view is that women would rather have the knowledge about their risk status during pregnancy and have the opportunity to do something about that.
Porter
Dr Claire Meek.
I put Claire's concerns to Professor Rudy Bilous. He runs the Diabetes in Pregnancy service at the James Cook Hospital in Middlesbrough, and chaired the development group at NICE that produced the new guidance.
Bilous
What we did at NICE was not quite as Claire describes it.  We didn't set out to limit cost, what we set out to do was to identify the risk of these adverse outcomes depending on what level of blood glucose you took in the mum.  Then we looked at randomised control trial evidence of the impact of treatment of those women and how many cases you might be able to prevent of these serious pregnancy outcomes and then we related that to the number of women we would have to screen and the cost effectiveness of preventing one of these serious outcomes.  And that came out with our thresholds of a fasting glucose of 5.6 and a two hour post-glucose load of 7.8. 
Porter
But what she did identify was that those 4,000 women, those extra 4,000 women if you like, were at quite significant risk, I mean there were some problems amongst them.
Bilous
First of all the 4,000 figure we have to be a little careful about that because in Cambridge they adopted a universal screening programme which a lot of studies, both in the US and in the UK, have not been shown to be really cost effective.  So we're not looking at the same women in the NICE guidance and the Cambridge study, so it's jolly hard to project the Cambridge findings to the overall UK population because they used a quite unique to them sampling and selection criteria.  So the 4,000 I think we have to be a little bit careful about.
Porter
What about the fact that clinics in renowned hospitals like Cambridge are using a different set of criteria, they're sticking with the international criteria instead of adopting the new NICE guidance, does that bother you?
Bilous
Well I mean that's clearly an issue for the Cambridge hospital and their commissioners and so on and if you like they're using criteria which are more stringent than the NICE criteria.  There will be a cost for that and that's something that they will have to negotiate locally.  When we looked at the data we did think long and hard about what the international implications might be of us adopting criteria which were a little bit out of step.  But you have to remember that the criteria for WHO are based upon associative outcomes, not based upon interventions or any estimate of cost benefit.  The NICE guidance is, we think, at the state of play at the moment with all of the information that we have at the present time the most cost effective definition of gestational diabetes for the UK population.
Porter
But you are confident that under the current NICE guidance a woman who has gestational diabetes that both her health and that of her child are best protected under the current guidance?
Bilous
Gestational diabetes is defined by the blood glucose threshold so if you go to Cambridge they will clearly define gestational diabetes in a different way.  We are saying that on the current best analysis, and that's looking at cost effectiveness, at clinical effectiveness, harm to the woman, safety for the woman and for the baby, at the criteria that we've adopted we think gives the best balance between risk and benefit for the mum and the baby.
Porter
Professor Rudy Bilous.  And there are links to both sets of guidelines - from NICE and the World Health Organisation - on our website. Please do get in touch if there's a health issue that's confusing you, you can e-mail us via insidehealth@bbc.co.uk or tweet me @drmarkporter
Mark Robins from Southampton e-mailed to ask about something related to the diabetes theme - namely the weight loss properties of low carb diets.
Robbins
I yo yo dieted for years and I tried many different ways – over exercising, starving myself, taking medication that reduced the uptake of fat in the gut which got a bit messy – and I started to think that this was simply how I was made and I had to just come to terms with the fact that I was unhappily large.  My son would say come and play football in the garden dad and I would say oh I can't.  So it was very frustrating.
Porter
Mark lost nearly four stone over the past year after switching to a low carb diet. He completed the Southampton half marathon in April and is now looking to enter a triathlon.
Robbins
For me the low carb way of eating means I've got my body back and I'm happy in my skin.  I used to catch my reflection in a shop window and not be able to look because I was a size with which I was unhappy.  Now if I catch my reflection I think it's my brother because he's always been slim.  And now I am too.
Porter
Well to discuss the evidence behind low carb weight loss diets, Inside Health's Dr Margaret McCartney and Susan Jebb, who's Professor of Diet and Population Health at the University of Oxford.
Jebb
Well carbohydrates account for about half of our overall diet.  They form into two broad categories, there's the things we used to call starchy carbohydrates – bread, pasta, potatoes, rice, cous cous, bulgur wheat – those sorts of things.  And then there's the simple carbohydrates, things like sugars in all the variety of different forms that they come in the diet, whether that's sugar in the sugar bowl or it's fructose in fruit or it's lactose in milk, a whole range of different kinds of sugars.
Porter
And what's the connection between the two, if I eat a starchy carbohydrate is it broken down into the simpler forms?
Jebb
That's absolutely right.  When we digest the starchy carbohydrates our bodies split them up with some enzymes which break them down in to their constituent sugars.  And for some carbohydrates, things like white bread for example, they're broken down incredibly quickly.  And so if you look at the change in your blood sugar levels after white bread versus after a sugary drink it's almost exactly the same.  But of course some types of carbohydrate are unrefined, they're the whole of the grain, so they've got all the bran in there as well, which gives them lots of extra fibre and that's a really important distinguishing characteristic.  So the high fibre types of carbohydrates, in general, tend to be rather better for our health, much more slowly digested, than the highly refined carbohydrates.
Porter
You talk about roughly half our intake, in terms of calories does that mean we should be getting around 50% of our calories from carbohydrates, is that deemed to be healthy?
Jebb
That's the recommendation which is made both in the UK and indeed by the World Health Organisation.
Porter
So what do we mean by a low carbohydrate diet, as a scientist what would you consider to be low carb?
Jebb
If you're having about 50% of your energy as carbohydrate that's going to give you around about 250 grams of carbohydrate each day.  The low carb diets, which are promoted, often recommend consuming as little as 20 grams a day of carbohydrate.  Sometimes they're a little bit more generous later on, they let you increase it slightly but it's very rare to see a low carbohydrate diet which is more than about 100 grams of carb a day, or at least that's what they recommend.
Porter
Now let's move on to the evidence.  Margaret, are you impressed by the evidence for low carb diets in terms of weight loss, I know you must have seen lots of people who've managed successfully to lose weight on it in your consulting room, I certainly have?
McCartney
A question I'm asked time and time again – what is the best diet for me, how can I lose weight.  And one of the really big problems from so many studies about diet and nutrition is that they don't tend to look in the long term, so a lot of studies will look at three months, six months, a year is a pretty long study in terms of the current literature, but you don't often get studies that are looking at three years down the line, five years down the line – what makes the difference.  So there is quite a lot of evidence around weight loss in terms of a year at least and there was a very comprehensive meta-analysis, a study that looked at all the evidence, on types of diet that was published in the Journal of the American Medical Association last year.  And it looked really to compare whether or not a low fat diet compared with a low carbohydrate diet was best.  And what they basically found was if you could stick to them they more or less worked the same, which was pretty well.
Porter
Is that your take on the evidence in general Susan?
Jebb
Absolutely, the best diet is the one you can stick to.  And actually adherence is the key feature.  And for some people it's easier just to say I'm going to cut out carbohydrates, it's one relatively simple rule to follow.  Other people actually find that far too inflexible, they want the variety in their diet that comes from eating carbohydrates and they prefer just to eat a bit less of a whole range of things.
Porter
Is there a scientific reason, a rational explanation, as to why going on a low carb diet might make weight loss easier, or is just simply calorie restriction?
Jebb
As far as we can tell it's just calorie restriction.  When you do the controlled metabolic studies where you feed people the same number of calories but you just change where those calories come from the effect on weight is pretty well identical.
McCartney
Just to pick up on Susan's point about the diet you can stick to.  There was a really super study published in the annals of Internal Medicine recently and they took a group of dieters and put them head to head, it was obese over a year, and they compared low fat diet to low carb diet and these people had regular reviews from dieticians, they had one supplementary food per day, so they wouldn't have a full meal, they would have a food supplement instead, they were coached, they were encouraged and the analysis over the year showed that as time went on people could stick to it less and less.  And that's the really important thing the diet that will work is the sensible diet that you can stick to.
Porter
Well Mark Robbins, our listener, lost four stone or nearly four stone in less than a year on a low carb diet, he's very pleased, obviously worked for him, but what about the health implications, is there a problem with following a low carb diet from a health point of view, might people get it wrong in some way?
Jebb
If people were sticking to a low carbohydrate absolutely resolutely and consuming less than 20 or 50 grams of carbohydrate a day I would start to worry that they might miss out on some of the essential vitamins and minerals that we generally get from carbohydrate rich foods.  But in particular I'd be concerned about the lack of fibre in the diet.  Cereal fibre is what really keeps our gut healthy and functioning well.  But you know the truth is that very few people stick to low carb diets quite, quite that rigorously.  Even if you're losing four stone in a year you can probably do that by having a moderate amount of carbohydrate in your diet, particularly if you're choosing those fibre rich varieties.
Porter
Because the other concern has been historically that if you're following a low carb diet – I'm thinking of the Atkins diet, that sort of diet – that you can have a massive fry up for breakfast because it hasn't got any carbs in it but it's got lots of fat and things that might not be so good for you.
Jebb
Again if you have too much saturated fat then you may well get adverse effects on your blood cholesterol levels.  But in general what's shown over the short term that these studies have been done is that the weight loss that comes probably offsets that increase in cholesterol.  But in the longer term, as Margaret says, you've got to take a much, much more holistic view.  And the fact is we need to constrain calories, not have too much saturated fat, make sure you're getting a bit of fibre in as well and that's going to give you the foundation for a healthy diet and one which will help you to lose weight too.
Porter
Is there any truth that by restricting your carbohydrate intake, which is an important source of energy for the body, that your body has to somehow work harder using other forms of energy, it's less efficient and that's why you lose weight?
Jebb
No.
Porter
No.
Professor Susan Jebb with possibly the shortest answer we've ever had on Inside Health.
Here is another question - this time it's for you.
How often have you said "Ooh it will only sting a bit" or "just a little pinch" when taking you're taking your child for their immunisations? Or, if you are a healthcare professional, when you have been injecting them? I know I have used both plenty of times. But this is exactly what we shouldn't be saying, according to new research by American paediatrician Dr Amy Baxter, who has found that not only is a fear of needles becoming more common in children, but that it is also likely to have a significant impact later in life.
Baxter
Right well what we found was that if children only got two injections at once then only 9% of them were afraid five years later but if they got four jabs on the same day 42% of them were afraid.  And then I followed them to see if they got their HPV vaccine and if they were in the severely afraid group they were two and a half times less likely to start their vaccine series, even though they were only 12 or 13 at that time.  So in theory their parents should have been the ones making the call.
Porter
What about parental behaviour, how does that influence all of this because I mean children are very good at picking up on cues from the parents?
Baxter
That's a great question and it sort of hinges on what we can do better.  Fifty percent of a child's distress is predicted by their parents' behaviour.  Warm versus cool behaviour on the part of the parents and authoritarian and firm versus wishy washy or passive.  And the children do best when they have a warm but firm parent.  So if the parent's like – Yeah I understand being worried but we're going to make this more comfortable and it's something that's going to make you healthy.  So putting it together with a firm guidance that doesn't leave any room for wiggling out of it but also is warm and understanding.
Porter
Okay looking at it from the other side of the desk, what should the doctor, nurse or healthcare professional be doing?
Baxter
Well the important thing is to realise that the pain that happens does have effects down the road.  And there are several different things that can make it better for the child.  One is just to acknowledge and work with the parent.  The parent knows their child the best.  So there's something called position of comfort, rather than holding someone down which causes my stress, more fear, encouraging the child to sit in a comfortable position on their parent's lap.  The other thing is that if you look at distress for a child it's the fear of the experience, it's what they're focused on during the experience, as well as the actual feeling or pain of the experience itself.  So nurses can give, for younger children, give the most painful injection last.  Now the UK does something that's better than in the US because you've got the five in one that was introduced in 2004 and that dramatically reduces…
Porter
Combination vaccine.
Baxter
… right, reduces the number of jabs, which seems to be the important thing.  Parents can also bring with them something to distract the child and it turns out that visual distraction like counting, finding things, is one of the most active and best ways to distract and the doctors' offices can support that by having posters or pictures that have countable items on them.
Porter
Are there some common mistakes that parents or healthcare professionals might be making at the moment that are actually making things worse inadvertently for their children?
Baxter
Right, so language has been studied and words like hurt, stick, pain, sting, pinch – all the words that mean something painful to a child reinforce that it's painful.
Porter
It's only going to be a little sting or a little pinch.
Baxter
Exactly, now you want to be honest and say well you may be getting a booster but it's much better to say a booster than a jab or a shot.  Certainly threatening – you'd better sit there and be still or this is really going to hurt is not an appropriate approach.
Porter
Dr Amy Baxter.
Just time to tell you about next week when I visit Europe's largest robotic pharmacy. And we investigate female hypoactive sexual desire disorder. What is it, and where did it come from? Is it a new diagnosis that will transform the sex lives of millions of women, or a contrivance that medicalises normality to boost drug company revenues? Join me next week to find out.