Main content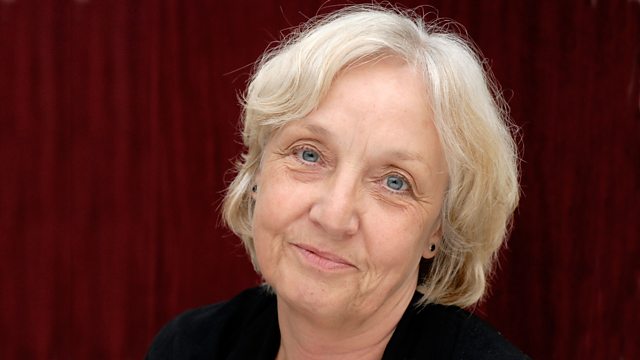 Anne Fine, Sian James, Women in local government, PTSD after birth, Seaweed
The female perspective on the world, presented by Jane Garvey. As Madame Doubtfire by Anne Fine is reissued, how have things changed for children of separating parents?
Anne Fine, the former Children's Laureate talks about the reissue of her book , Madame Doubtfire - on which the successful film Mrs Doubtfire starring Robin Williams and Sally Field was based.
Former Labour MP Sian James, immortalised in the film Pride, launches a manifesto for change in how women and girls are treated by the penal system in Wales.
A look at where women hold power in local government and how they get there. If more powers and responsibilities are devolved from central government - will they end up in the hands of a more diverse section of our population, or less?
Plus a new report suggests that there is a serious lack of awareness and knowledge of Post-traumatic stress disorder after birth . It is often not recognised and there's evidence that some women are being misdiagnosed with post-natal depression and given the wrong treatment. What needs to be done to address the problem?
And although seaweed is now all the rage, it has long been an important ingredient in Britain, even if many of us don't recognize it as such. In her new book Seaweed in the Kitchen writer and natural-food forager Fiona Bird looks at its many uses and the pioneering group of Victorian women whose shared passion for collecting it led them to some interesting biological and photographic discoveries.
Presented by Jane Garvey
Producer Beverley Purcell.
Chapters
Sian James

Duration: 09:32

Council Leaders

Duration: 10:57

PTSD after pregnancy

Duration: 10:57

Seaweed Sisters

Duration: 05:09

Anne Fine

Duration: 07:57

Post-traumatic stress disorder after birth

A new report suggests that there is a serious lack of awareness and knowledge of Post-traumatic stress disorder after birth. It is often not recognised and there's evidence that some women are being misdiagnosed with post-natal depression and given the wrong treatment. Jane Garvey talks to Professor Susan Ayers about why it's often not picked up, the consequences for both mothers and babies, and looks at what help is available.

Sian James

At this year's election Sian James, immortalised in the film Pride, stepped down as Labour MP for East Swansea to pursue other projects. Today, at the Welsh Assembly, she launches her first – a manifesto for change in how women and girls are treated by the penal system in Wales. Supported by The Howard League for Penal Reform, she is calling for Wales to stop criminalising women who she believes are victims themselves. Sian talks to Jane about why she thinks Wales has a unique opportunity to instigate change for women involved in crime.

Leaders in Local Government

We look at where women hold power in local government and how they get there. At the last count just over 14% of council leaders in England were women, a figure that's moved little in years.

As arguments for devolution hold increasing sway in UK politics we look at who makes up our local authorities. If more powers and responsibilities are devolved from central government - will they end up in the hands of a more diverse section of our population, or less? Jane is joined by Judith Blake, Leader of Leeds City Council, and Nan Sloane, Director of the Centre for Women & Democracy.

Anne Fine

Anne Fine, the former Children's Laureate talks about the reissue of her book , Madame Doubtfire - on which the successful film Mrs Doubtfire starring Robin Williams and Sally Field was based.

Seaweed Sisters

Writer and natural-food forager Fiona Bird speaks to Jane from the Hebridean Island of South Uist about the many uses of seaweed, and the pioneering group of Victorian women whose shared passion for collecting it set them apart from their peers and led them to some interesting biological and photographic discoveries.

MERMAID BISCUITS

Gutweed doesn't sound very appetising but it is also called sea grass or mermaid's hair. You could use a seaweed or fish template or cutter to make these buttery biscuits with a hint of the sea.

Makes 15 depending on size

Marine algae: 3 tsps dried sea grass (to taste) 

Additional ingredients:
125g unsalted butter
75g caster sugar 

180g plain flour 

Egg yolk

 

Set the oven to 180 °C Gas 4.
In a mixing bowl cream the butter and sugar together. 

Add the flour and sea grass and bind the mixture together with the egg yolk. 

Work the dough together and divide in half. Roll into 2 x 15cm x 3cm rolls and wrap each roll in cling film.

Refrigerate for a minimum of 20 minutes (so that it is firm to slice).

Cut 1cm slices and lay them on a non-stick-baking sheet. Bake in a pre-heated oven for about 12 minutes until the biscuits are golden. Keep a watchful eye because they'll brown quickly. Remove from the oven and leave to harden for 2-3 minutes before putting them on a cooling rack. Store in an airtight tin.

Credits

| Role | Contributor |
| --- | --- |
| Presenter | Jane Garvey |
| Interviewed Guest | Anne Fine |
| Interviewed Guest | Sian James |
| Interviewed Guest | Fiona Bird |
| Interviewed Guest | Susan Ayers |
| Interviewed Guest | Judith Blake |
| Interviewed Guest | Nan Sloane |
| Producer | Beverley Purcell |