Main content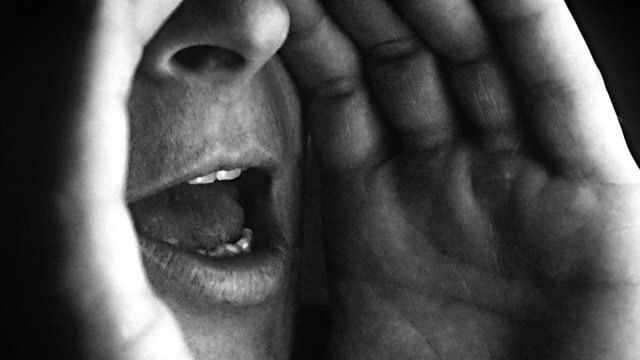 Conversations
Texts and music centring on conversations, with readers Catherine Harvey and Jamie Parker. With Socrates, Larkin and Cecil Day-Lewis, plus music by Messiaen and Telemann.
Catherine Harvey and Jamie Parker muse on Conversations from the early Socratic dialogues to Larkin's 'Talking in Bed', and Debrett's to Theodore Zeldin. There are also conversation pieces between modern and original poems, as C. Day Lewis replies poetically to Christopher Marlowe's 'The Passionate Shepherd to his Love'. Music includes Messiaen's Antienne de la conversation intérieure and Telemann's chatty Divertimento in E flat major, TWV.50:21.
Elizabeth Arno (producer).
Music Played
Timings (where shown) are from the start of the programme in hours and minutes
UNKNOWN, translated by BURTON WATSON

I just had to start a conversation, read by Catherine Harvey

D. H. LAWRENCE

Talk, read by Jamie Parker

DEBRETT'S

Conversation (extract), read by Catherine Harvey

LEONARD BACON

Afternoon Tea, read by Jamie Parker

E. E. CUMMINGS

logeorge, read by Jamie Parker

MARY ELIZABETH COLERIDGE

Winged Words, read by Catherine Harvey

MATTHEW GREEN

Sometimes I dress, with women sit, read by Jamie Parker

TOM GUNN

The Conversation of Old Men, read by Catherine Harvey

CARDUCCI, translated by EDWARD HENRY, Bishop of Exeter Bickersteth

Conversation with Trees, read by Catherine Harvey

ELIZABETH BISHOP

Conversation Poem, read by Jamie Parker

THEODORE ZELDIN

How Talk Can Change Our Lives (extract, from Conversation, read by Catherine Harvey

CHRISTOPHER MARLOWE

The Passionate Shepherd to his Love, read by Jamie Parker

C. DAY LEWIS

Song, read by Catherine Harvey

MIHANGEL MORGAN, translated from Welsh by MARTIN DAVIS

I've got a talking chair, read by Catherine Harvey

PLATO, edited by TREVOR J. SAUNDERS

Ion, extract from Early Socratic Dialogues, read by Catherine Harvey & Jamie Parker

GRAVES

Over the Brazier, read by Jamie Parker

DYLAN THOMAS

The Conversation of Prayers, read by Catherine Harvey

BOCCACCIO, translated by DANTE

Of Three Girls and of Their Talk, from the Sonnets, read by Jamie Parker

JOHN DONNE

Holy Sonnet XIV, read by Jamie Parker

MARK JARMAN

Unholy Sonnet, read by Catherine Harvey

PHILIP LARKIN

Talking in Bed, read by Catherine Harvey

Producer Note

'It's good to talk' has become a universally recognized slogan of positive thinking.  Conversation is our key to reaching out to others, to exchanging ideas and establishing relationships, and ultimately, through agreement and disagreement, to building culturally-defined societies.  The way in which we think and function within our societies today has come about largely through a conversational history of what we understand defines us. 

Conversation can change the way we each live and this programme muses over how and why we talk to each other.   It also asks how and why we should talk to each other.  The need to talk is captured at the very beginning of the programme in the unknown words, 'I just had to start a conversation', and there is a guide to the art of conversation given in Debrett's.  Talking is a spontaneous communication between two or more people and there are poems in this programme that capture the importance of conversation in many aspects of life.  The blithe conversation of youthful girls dreaming of their lovers in Boccaccio's Of three Girls and of Their Talk, the gloomy gossip of women drinking sweetened tea in Matthew Green's Sometimes I dress, with women sit, Tom Gunn's Conversation of Old Men, a group of soldiers conversing about a better tomorrow in Robert Graves' Over the Brazier, the neighbourly chat between George and Eddy about 'the boy' in E. E. Cummings 'logeorge', and the pillow talk of Philip Larkin's lovers in his poem Talking in Bed. 

The centre of the programme is the exposition of Ion, one of Plato's Early Socratic Dialogues.  This recorded conversation between Socrates and Ion, on the necessity of rhapsodes, is a crucial text in the literary history of conversations and dialogues.  These texts present philosophical ideas in the form of conversation and have influenced subsequent writers across Europe, from Galileo in 17th century Italy to Berkeley in 18th century England.  Whilst the oldest known dialogues are the Sicilian mimes, written in rhythmic prose by Sophron of Syracuse around the early 5th century BC, Plato has bequeathed to literature the first philosophic dialogues that expound the main tenets of Platonic philosophy.

This programme also contains philosophical poems that allude to nature.  Mary Elizabeth Coleridge's poem Winged Words likens our 'winged words' darting playfully over the depths of silence to swallows darting across a pool, and Giosuè Carducci tackles death in his Conversation with Trees.  The contemporary Welsh poet, Mihangel Morgan, eavesdrops on the many languages spoken by furniture, from talking chair to mirror, Dylan Thomas portrays a father and child looking over the dying mother in his introspective poem, The Conversation with Prayers.

Much of the music I have chosen to complement these texts is related either directly or tenuously to conversation.  If conversation is defined as a spontaneous communication of ideas between two or more people, then musically, the most obvious parallel to me is the duet, throwing into focus the exchange of ideas between two paired instruments.  There are duets throughout the programme, beginning with Berio's fleeting étude Piero for two  violins and including a transcription of one of Nancarrow's canonic studies for piano duet, Andreas Scholl singing in duet with himself in Wolkenstein's beguiling morning dialogue Nu rue mit sorgen,  Stravinsky's brief Lied ohne Name for two bassoons that accompanies Matthew Green's Sometimes I dress, with women sit, and the Labèque sisters playing the whistful final movement of Schubert's Fantasy in F minor for piano duet underneath Boccaccio's portrait of the three girls talking by a well of their lovers followed by one of the most beautiful love duets in opera, Pur ti miro from Monteverdi's L'incoronazione di Poppea.

I have also included some pieces that relate directly to conversations. Telemann's Divertimento in E flat major, TWV.50:21 makes specific references to the events in a princely day's hunting, which includes a gavotte movement entitled 'Conversation à la table', a courtly discourse between two flutes, two horns and strings.  This courtly movement follows neatly from Debrett's guide to good conversation.  Robert de Visée's Courante for theorbo is a musical example of seventeenth-century 'conversation', which comes from the literary example of 'artes discendi', or the art of declamation, as in the writings of Théophile de Viau.  The aim of both arts – 'conversation' in music and 'artes discendi' in literature - was to master rhetorical techniques in such a way as to enliven discourse and move the listener.  The theorbo became the symbolic instrument of musical 'conversation' in late 17th century France. 

Back to our own century, the Hungarian composer, Péter Eötvös, has placed short extracts of dialogue over a frenzied accompaniment of double-bell trumpet and ensemble in his piece, Snatches of a Conversation.  I have also created an unlikely musical conversation between Messiaen and David Sylvian as Messiaen's Antienne de la Conversation Intérieure, an antiphon of the international dialogue with the God within us, emerges seamlessly from the synthensized sound-world of David Sylvian's Conversation ending in Divorce.  Additionally, there is also music in the pogramme that simply sounds chatty like Rachmaninov's Scherzo and Ligeti's Étude Polyphonique.

I came across a lovely poetry book in making this programme called Conversation Pieces.  It is a collection of poems that talk to other poems.  I have included four of these wonderful poems in my programme.  Christopher Marlowe's famous poem The Passionate Shepherd to his Love has influenced a number of re-readings like Raleigh's The Nymph's Reply to the Shepherd and Ogden Nash's Love under the Republicans (or Democrat), thus creating an inter-poetic conversation with the original Marlowe.  I have chosen C. Day Lewis's Song, which takes the romantic shine off Marlowe's original.  Similarly, Mark Jarman's poem, Unholy Sonnet, is a reinterpretation of John Donne's Holy Sonnet XIV.  At the point in the programme when C. Day Lewis's poem converses with Marlowe, there is a parallel musical conversation around Bach.  First comes the glorious slow movement of Bach's Double Concerto, itself a dialogue between two violins, and then comes Knut Nystedt's reinterpretation of Bach's chorale, Komm, süsser Tod, 'come sweet death', words which reflect so well the sentiments of C Day Lewis's invitation to a life of strife and poverty.

Elizabeth Arno (producer)

The hidden history of plant-based diets