Main content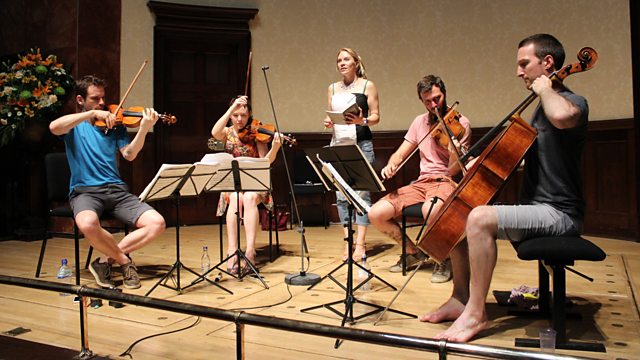 Wigmore Hall: Carolyn Sampson and the Heath Quartet
From Wigmore Hall in London, soprano Carolyn Sampson is joined by the Heath Quartet. With the world premiere of a work by John Musto plus music by Bach, Webern and Schoenberg.
In a concert recorded yesterday at Wigmore Hall in London, Carolyn Sampson and the Heath Quartet premiere American John Musto's 'Another Place', before performing Schoenberg's String Quartet No.2.
Johann Sebastian Bach
Liebster Jesu, wir sind hier BWV 731
Allein Gott in der Höh sei Ehr BWV 662
In dulci jubilo BWV 729
John Musto (b.1954)
Another Place (world première)
INTERVAL
Anton Webern
Slow Movement (Langsamer Satz)
Arnold Schoenberg
String Quartet No.2 in F sharp minor, Op.10
In the final concert of the Wigmore Hall's 'Celebrating Carolyn Sampson' series, the soprano combines with the Heath Quartet in a brilliantly conceived programme that takes them, you, and the music they play to another place. The Quartet open with three Bach organ chorale preludes shifted to strings, before Carolyn joins them in the world premiere of Brooklyn-born John Musto's 'Another Place'. After the interval comes Webern's Slow Movement (Langsamer Satz) with its lush harmonies that marked a crossroads for the composer before he embraced more atonal sounds. Schoenberg's String Quartet No.2 of 1908 is innovative in just about every way, not least because it requires a soprano in the final two movements, which set texts by Stefan George. Carolyn Sampson, so admired for her interpretations of baroque and classical music, takes on the challenge of this sometimes ethereal, sometimes intense work which took the history of music to another place.
[This concert was recorded 1st July 2015 at Wigmore Hall, London.].