Main content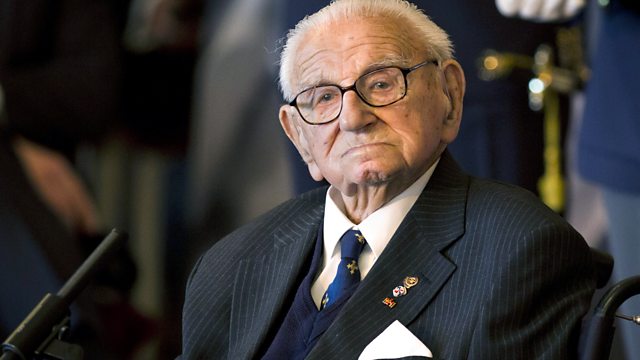 Sir Nicholas Winton, Val Doonican, Nek Chand, James Salter, Lady Rozelle Raynes
Matthew Bannister talks about humanitarian Sir Nicholas Winton, singer Val Doonican, artist Nek Chand, writer James Salter and reluctant aristocrat Lady Rozelle Raynes.
Matthew Bannister on
Sir Nicholas Winton who saved 669 children from the advancing Nazis in Czechoslovakia.
Also the Irish singer Val Doonican - known for his cardigans and rocking chair - he was sometimes called Britain's Bing Crosby.
The Indian artist Nek Chand who created the extraordinary Rock Garden of Chandigarh. Jarvis Cocker pays tribute.
The novelist and former fighter pilot James Salter
And Lady Rozelle Raynes, the daughter of an Earl who became a stoker on a tug boat during the war.
Sir Nicholas Winton (pictured)
Last Word spoke to his son, Nick Winton.
Born 19 May 1909; died 1 July 2015 aged 106. 
Val Doonican
Born 3 February 1927; died 1 July 2015 aged 88. 
Nek Chand
Last Word spoke to Jarvis Cocker who made a documentary about him and to Dr. Elaine M Goodwin of Exeter University who worked in the Rock garden and has lectured on his work.
Born 15 December 1924; died 11 June 2015 aged 90. 
James Salter
Matthew spoke to the American author and broadcaster, Michael Goldfarb.
Born 10 June 1925; died 19 June 2015 aged 90.
Lady Rozelle Raynes
Matthew spoke to her cousin, Hugh Matheson.
Born 17 November 1925; died 22 June 2015 aged 89. 
Credits
| Role | Contributor |
| --- | --- |
| Presenter | Matthew Bannister |
| Interviewed Guest | Nick Winton |
| Interviewed Guest | Jarvis Cocker |
| Interviewed Guest | Elaine Goodwin |
| Interviewed Guest | Michael Goldfarb |
| Interviewed Guest | Hugh Matheson |