Main content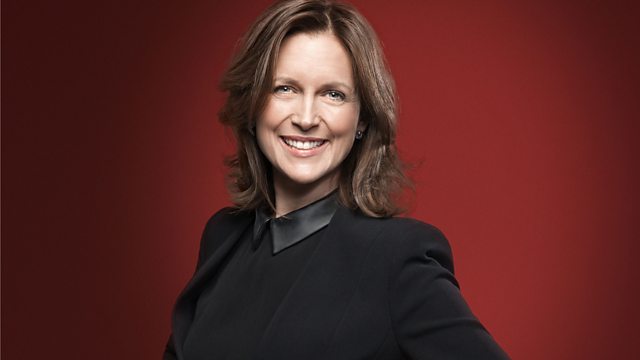 Cherubini - Medea
Katie Derham presents a performance of Cherubini's opera Medea given at the Grand Theatre in Geneva. With Alexandra Deshorties, Andrea Care and Sara Mingardo.
Katie Derham presents today's Opera Matinee - Cherubini's Medea, recorded in April at the Grand Theatre, Geneva. With Alexandra Deshorties in the title role, Andrea Carè as Jason and Sara Mingardo as Neris. Based on the classic Greek tragedy by Euripides, Medea has been abandoned by her husband Jason after helping him to steal the golden fleece, and he has taken their two sons with him. As Jason plans to re-marry Glauce, Medea seeks vengeance.
Cherubini: Medea
Jason, leader of the Argonauts ..... Andrea Carè (tenor)
Medea ..... .Alexandra Deshorties (mezzo-soprano)
Glauce ..... Grazia Doronzio (soprano)
Neris ..... Sara Mingardo (contralto)
Creon ..... Daniel Okulitch (bass-baritone)
Captain of the guard ...... Alexander Milev (bass)
Stylist ..... Johanna Rudström (mezzo-soprano)
Stylist's assistant ..... Magdalena Risberg (soprano)
Grand Théâtre Chorus
Orchestre de la Suisse Romande
Conductor Marko Letonja.
Synopsis
Before the opera begins...
Once upon a time a young Greek named Giasone sailed to faraway Colchis, to steal the fabled "Golden Fleece" from the king of that land at the very end of Europe, almost already in Asia. The "Golden Fleece" was supposed to bring its owner power, riches and good fortune. Medea. daughter of the king of Colchis, fell hopelessly in love with Giasone and assisted him in stealing nor only the Fleece but also the entire state treasure. During their escape from Colchis, they were pursued by Medea's brother, whom she then killed with her own hand. For years, the two lovers, burning with mutual passion, were doomed to wander. Two sons were born of their coupling, but after a while Giasone grew tired of living the life of an outlaw and began aspiring for social recognition.
And so he went to Corinth, to the court of King Creonte, where Medea and he were given sanctuary. There Giasone met King Creonte's young daughter Glauce and forgot Medea, the mother of his suns. King Creonte himself, dazzled by the prospect of having the owner of the "Golden Fleece" as his son in law, was quick to initiate wedding preparations. He also took Giasone's two sons into his foster care, that they should receive an education befitting their rank. Only Medea, the fratricide and poisoner, still needed to be dealt with. She now faces exile, separation from her children and from the man she loves, the man for whom she has sacrificed everything.
ACT ONE
The day before her wedding. Princess Glauce is troubled by sinister portents. She fears Medea's revenge.
During an official ceremony, as Giasone delivers his bridal price - the Golden Fleece and the treasures of Colchis he has stolen with the help of Medea -, Glauce has a terrible vision: Medea is on her way to stop the wedding and to use her magic arts to destroy Corinth - the city, its inhabitants and the whole kingdom. Giasone only manages with great difficulty to calm her down and King Creontete addresses a prayer to the gods for his kingdom and family's protection. All this puts a bit of damper on the pre nuptial celebrations.
An unknown woman is announced as a guest. It is Medea, who requests an audience with Giasone. Creontete has banished her from his kingdom but he must allow her to speak one last time with the father of her children. Medea tries once again, for the very last time, to win back Giasone. But he has made his mind up long ago to start a new life. All Medea can do now is curse him, his bride and the royal house of Corinth.
ACT TWO
 A few hours later. Night is falling. Now Medea begins to understand that they want to tear her sons away from her. Even her faithful confidante, Neris, who has been with her through all these years, is now urging her to leave Corinth. The inhabitants of Corinth have now assembled and the mob wants to chase Medea away, or indeed kill her. But Medea will not leave.
When Creontete himself comes to remind her of his order to leave the kingdom, she uses her seductive powers to convince him to allow her one more day in Corinth. The following day, the day of Giasone and Glauce's wedding, is thus given as a boon to Medea. But she does not yet know why she has asked for this last day. To say her final good byes to her children?
Neris, who knows Medea better than anyone else, has a feeling that Medea is up to something dreadful. Medea has come to the point where she is only susceptible to hate and has no space left in her for love.
Giasone himself has heard that Medea has been allowed to remain one more day at court. She begs him to allow her to see their sons one last time. He consents, In the meanwhile Neris is instructed by Medea to bring a wedding present to Glauce: a precious robe and a magnificent tiara. Neris shivers at the task.
ACT THREE
A few more hours later. Deep in the night.
Neris, as commanded, brings the children to Medea. Now she too understands her mistress' intentions. Medea wants to kill her own children, as an act of revenge against Giasone. At this point she also reveals to Neris what kind of present she has delivered to Glauce. The robe and the tiara are poisoned and will eat their way into the bride's flesh and burn into her skin. Neris brings the children safely To their mother.
 Left alone, Medea is horrified at her own gory plan. But when she hears the anguished cries of Giasone, bewailing the atrocious murder of his bride, it only encourages her to push him into deeper misery. She grabs a knife and goes to find her sons.
Giasone and the Corinthians seek the murderer of King Creontete's daughter. The King himself appears to have gone mad. At this point Giasone's only concern is the well being of his sons. Rut it is too late. Medea has killed the boys and set the entire palace ablaze.
Glauce's prophecy is fulfilled.
By Christoph Loy