Main content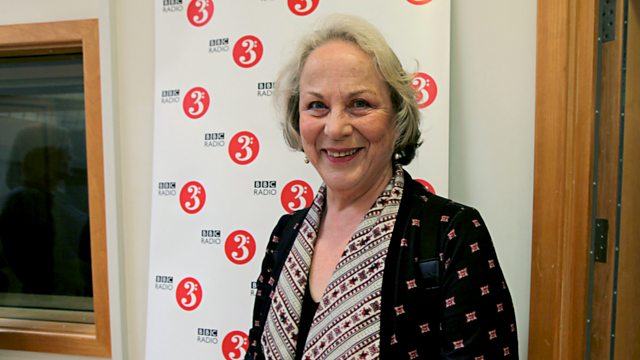 Monday - Sarah Walker with Pam Ferris
With Sarah Walker. Including Five Reasons to Love the Soprano Voice; Britten: Les Illuminations; Artist of the Week: Wilhelm Kempff, featured in Mozart's Piano Concerto No 8.
9am
A selection of music including '5 reasons to love... the soprano voice'. As part of Radio 3's Classical Voice season Sarah showcases a range of soprano styles from the lightness of tone of Lucia Popp and the power of Jessye Norman to the warmth of Elisabeth Söderström; from the pure sound of Emma Kirkby to the soothing quality of Elly Ameling.
9.30am
Take part in our daily musical challenge and identify the personal relationship that connects two pieces of music.
10am
Sarah's guest this week is the actress Pam Ferris. Pam is well known for her film roles including Miss Trunchbull in Matilda and Aunt Marge in Harry Potter and the Prisoner of Azkaban, and for starring in television series ranging from The Darling Buds of May and Rosemary and Thyme to Call the Midwife. Pam will be sharing a selection of her favourite classical music with Sarah, every day at 10am.
10.30am
Sarah features the Building a Library recommendation from last Saturday's CD review.
Britten
Les Illuminations
11am
Sarah's artist of the week is the German pianist Wilhelm Kempff. Kempff's career spanned six decades, with a core repertoire of Bach to Brahms and a particular speciality in the music of Beethoven and Schubert. His focus is always on the music rather than his own virtuosity, and his style is characterized by moderate tempi, an unerring sense of the bigger picture and astonishing melodic beauty. Sarah shares a selection of his major recordings throughout the week.
Mozart
Piano Concerto No.8 in C, K246
Wilhelm Kempff (piano)
Bamberg Symphony Orchestra
Ferdinand Leitner (conductor).
Music Played
5 reasons to love... the soprano voice

Pam Ferris' Choice No. 1

Pam Ferris' Choice No. 2
Relative Values
The composers were teacher and pupil Messiaen and Stockhausen.

The music played:
Messiaen 
O sacrum convivium
RIAS Chamber Choir 
Daniel Reuss (director) 
Stockhausen 
Stimmung: Model 2 
Theatre of Voices 
Pail Hillier (director)
Enter the Essential Classics Proms Competition 2019!