Main content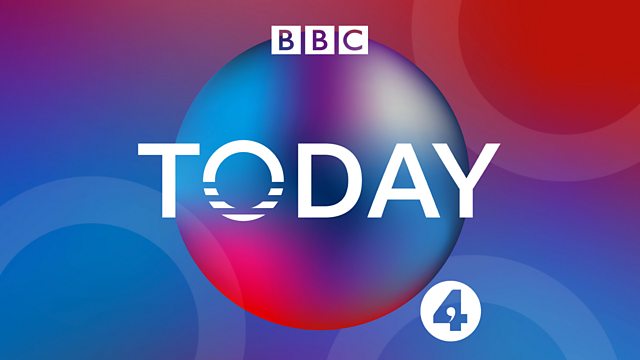 03/07/2015
Morning news and current affairs. Includes Sports Desk, Yesterday in Parliament, Weather, Thought for the Day.
Last on
Today's running order
0650
9 out of 10 acute hospital trusts in England are forecasting deficits by the end of this year, according to a respected health think tank, far more than last year. The King's Fund is warning that unless more funding is made available in next week's budget, patients are likely to face increased waiting times for treatment. Professor Chris Ham is chief executive of the King's Fund.
0710
The government will give MPs from English constituencies a new "veto" over laws affecting England only. Commons Leader Chris Grayling said the change, also applying in some cases to Welsh MPs, would bring "real fairness to our constitutional arrangements". SNP leader Nicola Sturgeon called the plan "staggering in the extent... of its hypocrisy and incoherence". Labour said it was an "outrage" that ministers wanted to rush into making "profound constitutional change". Chris Grayling is leader of the House of Commons.
0715
Women who had received faulty breast implants made by the French firm PIP could be forced to pay back compensation awarded to them following a ruling yesterday in a French court. Jan Spivey is one of the women who may now have to pay back compensation.
0720
A landmark study published today may offer new hope for people living with Cystic Fibrosis. For the first time, researchers successfully used a gene altering treatment to stabilise and improve the lung function of Cystic Fibrosis patients, leading to modest but significant gains. Debbie Bondonno is the mother of 16 year old Mary, who took part in the trial. Eric Alton, of Imperial College, is co-ordinator of the study.
0730
Greece's Finance Minister, Yanis Varoufakis, says he'll resign if the "yes" vote wins in Sunday's referendum on the country's bailout. However, Mr Varoufakis said he expected Greeks to follow the government's recommendation and vote against the creditor's proposals. He also said he wouldn't sign a deal with creditors without a restructuring of the country's debt. Angel Gurria is secretary-general of the OECD.
0740
The long-running question of how to pronounce the name of Shropshire's county town was the focus of a charity debate hosted by University Centre Shrewsbury. Historians argued for each side.  Is it 'Shroosbury' or 'Shrowsbury'… the nation needs to know! Prof Tim Jenkins and Doctor James Pardoe are both historians at the University Centre Shrewsbury.
0750
The charity Kids Company will not get any more public funding unless its chief executive Camila Batmanghelidjh is replaced.  An report on last night's BBC's Newsnight programme and the Buzzfeed website has revealed that officials at the Cabinet Office have concerns about the charity's financial management and are withholding £3million until it is satisfied Kids Company is running itself properly. Camilla Batmanghhelidjh is founder and chief executive of Kids Company.
0810
How effective is the Prevent Strategy? It has come under criticism in recent months, from Muslim groups and former police officers, for not properly tackling radicalisation and Islamic fundamentalism. Sir Peter Fahy, chief constable of Greater Manchester Police & National Policing lead on Prevent.
0820
Files just released at the National Archives appear to show how in 1983 officials briefly considered the idea of moving the entire population of Hong Kong, 5 and a half million people, to Northern Ireland. The territory was due to be handed back to China in 1997, and its inhabitants' future was uncertain. But it turns out it was a spoof. David Snoxall wrote one of the spoof documents in the Hong Kong/Northern Ireland file.
0830
There have been three new cases of Ebola confirmed in Liberia in the past week, a blow to a country which has been free of the virus for the last two months. Ebola is stubbornly clinging on in Sierra Leone and Guinea, with small but continued numbers of new cases every week. Tulip Mazumdar is BBC Global Health Correspondent. David Nabarro is the UN Special Envoy on Ebola.
0835
The Port of Calais reopened yesterday, having been shut due to a strike by French ferry workers.  However gridlock remains with thousands of lorries stuck in queues on the M20, and Highways England predicting it will take until Monday to clear the backlog. Richard Burnett is chief executive of the Road Haulage Association.
0840
George Osborne is expected to use next week's Budget to lay out how he would cut in work benefits to help save £12bn from the welfare bill. Steve Hilton, David Cameron's former strategy director, has said in his recent book, More Human, it is madness for taxpayers to subsidise cheap wages paid by supermarkets. But weren't tax credits designed to enhance the incomes of people on low pay? Steve Hilton is former strategy director for David Cameron. John Munro is from the British Retail Consortium.
0845
The government will give MPs from English constituencies a new "veto" over laws affecting England only. Commons Leader Chris Grayling said the change, also applying in some cases to Welsh MPs, would bring "real fairness to our constitutional arrangements". Pete Wishart is SNP shadow leader of the Commons.
0850
A new exhibition opens today at Aspley House, showcasing paintings recently discovered to be by the Italian painter Titian. The collection has a fascinating back-story, and involves some curatorial detective work. Joseph Bonaparte was trying to smuggle out of Spain in 1813, after his defeat to the Duke of Wellington. When British soldiers discovered them rolled up in Bonaparte's coach, a grateful King Ferdinand VII gifted them to Wellington. The history of them then got a bit lost and it has taken conservators years to uncover their heritage again. Josephine Oxley is keeper of the Wellington Collection at English Heritage's Apsley House and Wellington Arch. Christopher Joll is a military historian and author.
All subject to change.
Broadcast