Main content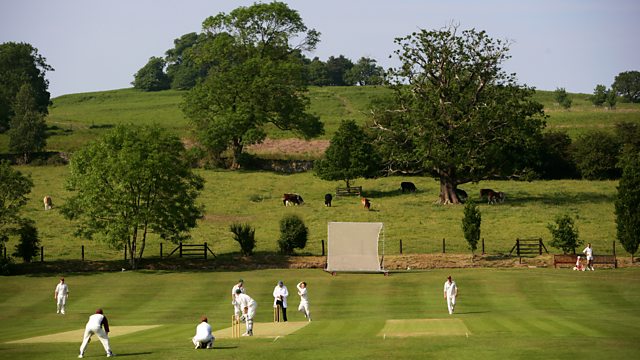 Summer Sports
Texts and music celebrating Britain's summer sports. With Shakespeare, Milton, Wodehouse and Betjeman, plus music from Warlock, Weber, Carl Davis and William Alwyn.
Words and Music enjoys the British summer sporting calendar from the optimism of April and the Grand National through the three-jerseyed days of the early cricket season into the warmth of Wimbledon, the heat of the British Open Golf and the elegance of Henley to the first rough encounters of the Rugby season. The readers are Robert Powell and Pippa Bennett-Warner
Music from Warlock, Weber, Carl Davis and William Alwyn blends with the sometimes surprising words of Shakespeare, Milton and the many writers on sport from the heyday of Edwardian endeavour to the 20th-century frivolity of PG Wodehouse and John Betjeman and on to the enthusiasms of Alison Uttley and the beautiful reflections of the very best cricket writers like Neville Cardus and all-rounder Simon Barnes, with poetry from Roger McGough and John Arlott.
Producer: Tom Alban.
Music Played
Timings (where shown) are from the start of the programme in hours and minutes
John Milton

From Paradise Lost Book 2 Line 506 read by Pippa Bennett-Warner

Simon Barnes

The Times: 28th July 2014 read by Robert Powell

Hugh McIlvanney

The Saga of Red Rum from McIlvanney on Horseracing, read by Robert Powell

Alan Ross

From Stanley Matthews, read by Robert Powell

anon

From a Gravestone at Llanfair church, South Wales read by Robert Powell and Pippa Bennett-Warner

Alison Uttley

From "Carts and Candlesticks, read by Pippa Bennett-Warner

Neville Cardus

Cardus Celebrant of Beauty, a Memoir by Robin Daniels read by Robert Powell

CLR James

From 'Beyond a Boundary, read by Robert Powell

William Shakespeare

Henry V, Act I sc 2, read by Robert Powell

E.M.Forster

from A Room With A View - Chapter 15, read by Pippa Bennett-Warner

John Betjeman

from A Subaltern's Love Song, read by Robert Powell

Steve Fairbairn

The Oarsman's Song from "The Complete Steve Fairbairn" read by Pippa Bennett-Warner

John Betjeman

Seaside Golf, read by Robert Powell

Roger McGough

The Railings, read by Robert Powell

John Arlott

On a Great Batsman, read by Robert Powell

Alison Uttley

From "Carts and Candlesticks read by Pippa Bennett-Warner

A E Houseman

To An Athlete Dying Young read by Pippa Bennett-Warner and Robert Powell

Producer's Notes

Words and Music:  Summer Sports 

That Culture and Sport should belong in the same ministerial portfolio has always seemed rather strange to me.  The separation between one and the other is a significant factor in early school life.   However this edition of Words and Music takes as its hero the current England Test cricket captain.  As he glides a short ball through the vacant third slip area and jogs through for yet another century it should always be remembered that Alastair Cook was once a choirboy.  I like to believe that in that balanced figure at the crease is a man who knows as much about William Byrd's choral writing as he does of the late in-swinging yorker.

 

However, our journey through the British summer of sport starts with the gainsayers, and none more poetic than Milton for whom Sport was evidently a devilish pastime. 

After Satan's decision to head for earth and disrupt God's earthly plans in book two of Paradise Lost the great demonic consult breaks up.  Seeking truce for their restless thoughts Milton has his fallen angels heading out to play.  Some go hunting, others appear to organise a cross between Giant Polo and Quidditch, with rocks and hills for balls or bludgers.  Arthur Honneger's musical evocation of Rugby, Mouvement Symphonique, seemed a perfect match for the hellish combat.

 

Out of that dark overture we arrive at Spring with the words of Simon Barnes from his very last piece as Chief Sports writer for The Times.  Here, as in almost everything he ever writes about sport, there's a sense of its limitations and therefore its infinite possibilities.

And so our summer starts early with The Grand National.  Mixing equine heroes we have first Carl Davis' surging soundtrack to the film Champions which celebrated the triumph in adversity of the horse Aldaniti and the jockey Bob Champion.  The horse recovered from a career threatening injury and the jockey from cancer before going on to win the National in 1981.  That's the soundtrack.  The words are those of Hugh McIlvanney seeking to make sense of the extraordinary national feeling for another multiple National winner, Red Rum.

 

May brings us to the last knockings of the Football season in the form of the FA Cup Final.  The FA Cup was once the greatest of all our national sporting events.  The game has struggled of late with its 'beautiful' image and its capacity to inspire.  Many traditions lie in tatters which makes it both extraordinary and wonderful that the FA Cup hymn,  'Abide with Me'  beloved by Gandhi and Alex Ferguson alike, should survive.  The poet Alan Ross captures another kind of music which seemed to be happening in the mind and therefore leading the footwork of Sir Stanley Mathews.  For younger listeners he was the Lionel Messi of his age and in a memorable Final in 1953 he transformed the fortunes of his Blackpool side, propelling them to what seemed an unlikely victory.  The crude observation would be that he danced to a different tune.  How much better to have him overhearing 'a private music... to whose slowly emerging theme / he rehearses steps, soloist in the compulsions of a dream.  One nil to the poet.

 

A stark gravestone warning from Llanfair church in South Wales brings us to the dominant theme of Summer sport - Cricket.  In this Psalm setting cricket enthusiasts The London Quartet demonstrate a vital ingredient of the game, a sense of its own ludicrousness.

 

And yet, and yet....  Alison Uttley, remembers the magic that surrounds the game, and more particularly its paraphenalia. 

 

Peter Warlock is in next and demonstrating a classic ease of phrase and harmony he puts a melody to 'The Cricketers of Hambledon' which is sodden with Edwardian nostalgia and none the worse for that.

Neville Cardus would have delighted in the exploits of Alastair Cook, making a golden career for himself as a writer and critic of both music and cricket.  Here he is recalling his youth working as a school coach.  He captures a bucolic summer scene as gently as Vivaldi.

 

Cricket is really about people and there are few better cricketing portraits than those drawn by the Caribbean writer and scholar C L R James.  Here, from 'Beyond a Boundary' where he coined the question ' What do they know of Cricket who only cricket know?'  we have Matthew Bondman. Reflecting Matthew's brilliance at the crease is a bit of Caribbean flamboyance from the Steel Band The Renegades.  The Renegades, like CLR James, are Trinidadians and the subject of this piece is another - the world record breaking batsman Brian Lara.

 

In the post war years the West Indies cricketers and their supporters brought something new and vibrant to the culture of British summer sport.  In spite of the fears at the time it didn't replace but merely added to the variety.  The regal Ascot Gavotte from 'My Fair Lady' describes one manifestation of that variety, the Blaydon Races quite another.   Sheila Armstrong and Thomas Allen are in their element and if there's ever debate about the music of the Geordie accent it should be silenced on hearing this performance with the Sinfonia Chorus.

 

As well as the flat race meetings of June there's also tennis.  It should be said at this point that the actor Robert Powell is a fine cricketer and the perfect man for this project but he is also part of a very elite band who knows and has played the real tennis of which Shakespeare wrote in Henry V.  Pippa Bennett-Warner also advertised herself for this edition by an enormous enthusiasm for sport that she shares with a remarkable number of her acting colleagues. 

 

The tennis continues after another racing interlude, this time provided by William Alwyn's Derby Day Overture.  It comes from E.M.Forster's 'A Room with a View' and Lucy Honeychurch's realisation that a game, and the manner in which it is played, can tell you a great deal about a potential partner.

The tennis extract from Erik Satie's 'Sports et Divertissements' is altogether more ironic and cartoon-like, leading us into the first of John Betjeman's two contributions to this programme.  'A Subaltern's Love Song' needs no introduction or observation other than to mourn the passing of the wooden tennis racquet's need for a press.

Henry Pether's 'A Game of Tennis' is another gentle Victorian spin on the developing enthusiasm for all things sporting.

 

The next piece has transcended its sport and indeed its school.  The Band of the Life Guards takes us out on the river for the Eton Boating song.  The poem comes from an Aussie by the name of Steve Fairbairn whose name survives in a boating competition amongst Cambridge Colleges.  You can also bump into a bust of the man if you walk the southern side of the Thames bank from Putney to Mortlake.  Back in the 1930s he coached my Uncle Charlie Searle and once harangued him from a bridge.  It appeared that Charlie's eye and mind weren't on the task in hand.  "Stop dreaming, Searle" he bellowed through his old-fashioned loud-hailer as the boat passed under him.  Many years later Charlie went to see his old coach who was close to death in a hospital bed.  The weary eyes opened for a second, saw Charlie and closed again.  There was a pause before, eyes closed, he muttered: "Still dreaming Charlie". 

 

Satie again, this time describing golf leads us to the second of Betjeman's contributions - 'Seaside Golf'.  Perhaps one for those who have suffered the vicissitudes of the game, this includes the best use I know of the word 'unprecedented'.

Rachel Portman's music for the golfing film Bagger Vance serves both golf and the gem of this collection, Roger McGough's tale of Class and fatherhood and love - 'The Railings'.

 

And so to August and the final events of the summer sporting season, well it used to be before they tried to squeeze more cricket into September.

The inclusion here of Beethoven, and in particular a Beethoven String Quartet is a tribute to another England Captain, Mike Brearley.  Look him up on the BBC Desert Island Discs website and you'll find that he chose a Beethoven quartet for his solitude, but there's another story that he used to hum the opening 'cello theme of a particular quartet while facing the menacingly quick bowlers of Australia and the West Indies.  Those were the days before helmets and grills.  It speaks volumes for batsman and composer alike.

 

Another England captain, Denis Compton, is captured by poet and commentator John Arlott. This is as good a point as any to remember the late David Rayvern Allen, John's biographer, without whom I couldn't have begun to make many of these selections.  He certainly put me in the way of Alison Uttley's cricketing memories.  I'm sure he'd have enjoyed Adrian Johnston's depiction of a cricket match from the film 'Becoming Jane'.  He's certainly uppermost in my mind at the moment when I hear Roy Harper's 'When an Old Cricketer Leaves the Crease'.

 

Of course sport girds its loins for autumn and winter with renewed enthusiasm but for the purposes of this edition there's a need for an ending, supplied by A E Housman.  The music, which we heard at the start and which returns with an echo of something glorious and never quite gone, is a long atmospheric piece by Vangelis written for the film 'Chariots of Fire'.  It anticipated the famous theme tune that came at the very last minute.

 

Tom Alban

 

 

 

 

The hidden history of plant-based diets