Main content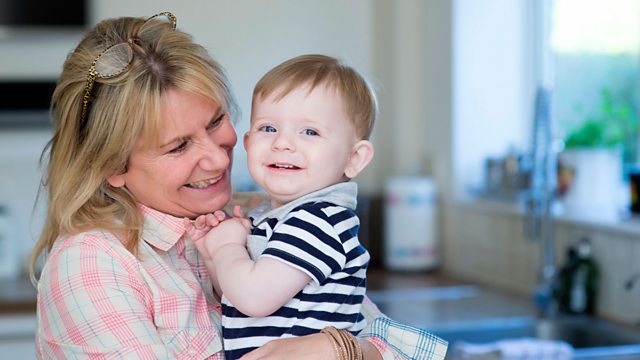 Documentary series. This episode follows four-month-old Jesse, from when he first comes into foster care to a meeting where his long-term future is decided.
The second episode follows four-month-old Jesse from when he comes into emergency foster care until his first birthday.
When Jesse is moved to a new placement he meets Dawn and Keith, experienced foster carers. We follow their story as they juggle giving Jesse the love he needs, whilst also encouraging his bond with his mum Natasha to strengthen as he may eventually go home to her.
Birth mum Natasha has been struggling with post-natal depression and found the challenge of looking after two children too much too soon after Jesse's birth. But she hasn't given up on him and has weekly contact.
Dawn is acutely aware that the longer he stays the harder it'll be to say goodbye, a process that Keith says 'nearly destroyed her in the past.'
As the months progress, Jesse grows his first tooth, learns to sit and then crawl. As his first Christmas approaches, all the professionals need to decide whether it's in the child's best interests to return to mum, and his mum has an important decision to make too.
With privileged access to Dorset's Children and Family Services and the emotional worlds of both the foster family and the birth family, the film concludes at a meeting where Jesse's long-term future is decided.
Credits
| Role | Contributor |
| --- | --- |
| Director | Launa Kennett |
| Series Producer | Kirsty Cunningham |
| Executive Producer | Sacha Mirzoeff |
| Foster Carer | Dawn |
| Foster Carer | Keith |
| Child of Foster Carer | Aiden |
| Son of Foster Carer | Gregg |
| Son of Foster Carer | Ryan |
| Foster Carer | Becky |
| Daughter of Foster Carer | Emily |
| Daughter of Foster Carer | Georgie |
| Foster Child Baby | Jesse |
| Mum of Jesse | Natasha |
| Fostering Social Worker | Nikki |
| CRW | Marian |
| Childcare Social Worker | Sarah |
| IRO Independent Reviewing | David |