Main content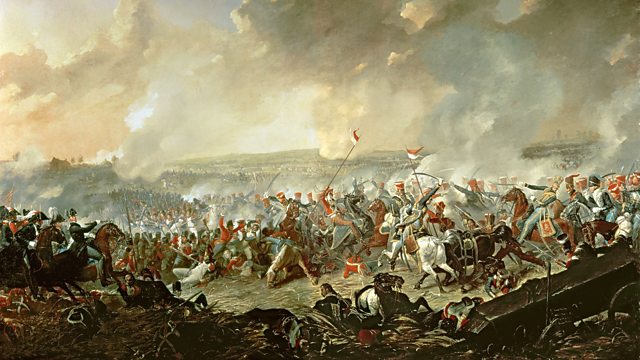 The Scots at Waterloo
Docudrama telling the story of the Battle of Waterloo as seen through the eyes of four Scottish soldiers on the front line and one extraordinary army wife.
On the 200th anniversary of Waterloo, one of history's bloodiest and most decisive battles, this docudrama reveals the front line action through the eyes of four Scottish soldiers - and one Extraordinary army wife.
In Wellington's army of 1815, a quarter of British officers, and many crack regiments were Scottish - far out of proportion to the size of their nation. Highland regiments, kilted, and played into action by the pipes, were the most distinctive sight to friend and foe alike.
At Quatre Bras, the siege of Hougoumont, the Royal Scots Greys cavalry charge, the capture of the French Eagle of the 45th and the British squares, Scottish regiments and men were in the thick of the action.
These Scots at Waterloo were not only fighters - many of them also became writers. Scotland was the most literate nation in Europe, and the ordinary 'Jocks' left terrifying vivid accounts of being directly in the line of fire. Our Waterloo Scots represent officers and enlisted men, Highlanders and Lowlanders, veterans and rookies - and even a remarkable woman who was on the
battlefield with a six-month-old baby.
These Scottish stories unfold, through gritty and realistic dramatic re-enactments, over the course of the campaign and the extraordinary day of 18th June 1815 when 50,000 died and Wellington nearly lost, and Napoleon nearly won, the colossal struggle that was Waterloo.
A closer look at the lives of the five Scots characters, before and after the battle.
Clips

Credits
| Role | Contributor |
| --- | --- |
| Narrator | David Hayman |
| Writer | Les Wilson |
| Producer | Seona Robertson |
| Producer | Stephen Rooke |
| Director | Ruan Magan |