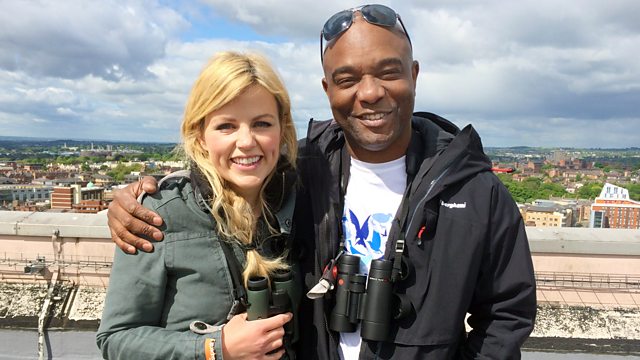 Nottinghamshire
Matt and Ellie are in Nottinghamshire, where Matt visits the village where they farm just as they did in the Middle Ages. This year being the 800th anniversary of Magna Carta, he also visits the tree in Sherwood Forest where King John held early parliaments, and goes hunting for ancient trees as part of the Woodland Trust's Tree of the Year campaign.
Ellie goes bird spotting in Nottingham city centre with urban birder David Lindo and is surprised when a falcon chick literally falls at her feet. And she gets a lesson in horse anatomy with nothing but a tin of paint and a paintbrush.
Joe Crowley takes a look at the first new pylon design in 90 years before donning the hard hat to scale one of the traditional types. Adam meets the young warden with the most dangerous job in farming. 24-year-old Ellie Crossley has just taken charge of the Chillingham herd - the last truly wild herd of cattle on earth.
And Tom looks at rural crime and a nationwide survey that aims to examine the extent of the problem.
Last on
Laxton medieval farming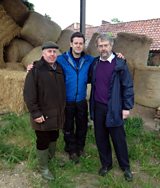 It's 800 years since Magna Carta and Matt Baker takes a trip back in time to a place where they farm just like they did in the  Middle Ages. Laxton in Nottinghamshire has the only remaining medieval 'open field' farming system in Europe, and plays host to a group of passionate farmers determined to keep its historic practices alive. After joining farmer Stuart Rose to see the strips of farmland that make up Laxton's unique agricultural landscape, Matt meets Professor John Beckett, who explains the impact  Magna Carta had on rural life.  Finally, Matt joins the farmers at the traditional Court Leet and Jury – an ancient legal session that's survived since the Middle Ages. For latecomer Matt there's a price to pay for breaking Court rules.
Find out why Laxton has stood the test of time against modern farming practices
Chillingham cattle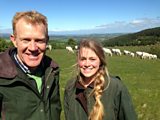 The Chillingham Herd are the last remaining herd of wild cattle in the UK. Penned within the Chillingham Park estate the beasts are completely untamed and remain untouched since the medieval ages. As a result their behaviour is entirely natural and can give us unique insight into the behaviour of our ancestral wild cattle. Adam Henson's travelled up to Northumberland to see these rare unpredictable animals face to face and to meet some of the people tasked with preserving their legacy.
Urban birding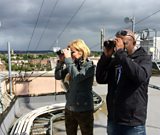 How many species of wild bird can you spot in your town or city?  You might surprise yourself – if you know where to look.  Ellie Harrison is in Nottingham with David Lindo, who calls himself The Urban Birder. He's on a mission to show people you don't have to go into the country to see birds.  Towns and cities can provide habitats for a wide variety of species.  Ellie goes on a tour of city locations but there's a surprise for the bird watchers when a juvenile peregrine falcon flies from its 9th story nest - and lands on a busy pavement.
See the Nottingham peregrine falcons on live webcam and find out more about these fascinating birds
Rural Crime Survey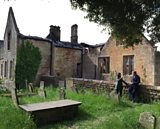 Fly tipping, hare coursing, poaching, badger baiting and break-ins are just some of the crimes that happen in the countryside. But until recently there's been no way of recording the sheer amount of offences that occur outside UK cities. North Yorkshire's Police and Crime Commissioner Julia Mulligan talks to Tom Heap about a new survey set up by the National Rural Crime Network aimed at changing the chronic under reporting of crimes and targeting resources better.
Pylons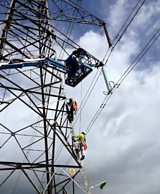 Love them or loathe them, electricity pylons have been part of the British landscape for almost 90 years.  But now there's a new look on the horizon with the first new pylon design in decades.  Joe Crowley visits the National Grid Training Centre to see the prototype 'T-Pylons'.  Leaner, cleaner and less intrusive,  they could revolutionise how we receive our power.   Whilst there Joe joins overhead lines specialist, Matt Murphy, to get an electricity engineers eye view of Nottinghamshire.  He then joins 'T-Pylon' project leader Alan Lodge, for a first-hand look at the innovative new design.
See what other designs were submitted in the search for Britain's new pylon
Tree of the year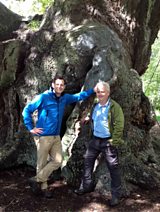 Battle lines are being drawn in all four corners of the UK as Countryfile helps launch the Woodland Trust's annual 'Tree of the Year' competition. The competition aims to find our favourite trees and Matt takes a look at some likely contenders.  He meets Chris Hickman from the Woodland Trust at the Major Oak, of Robin Hood fame, and learns more about the competition. Entries are being sought from right across the UK; with England, Scotland, Wales and for the first time Northern Ireland each having an individual contest. Any tree is eligible. Matt then joins ancient tree hunter  Rob McBride in searching out more candidates deep in Sherwood Forest.
Find out more about the Woodland Trust's Tree of the Year completion and cast your vote
Horses inside out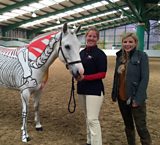 Have you ever wanted to know how horses work? Then watch Ellie as she grabs a brush and helps to paint bones and muscles on the side of a horse.  It's a technique developed by Equine physical therapist Gillian Higgins to teach people how horse's bones and muscles flex and stretch when they are being ridden. Ellie joins Gillian at Nottingham Trent University's Equine Studies Centre and sees for herself how Gillian's techniques are helping horse riders gain a better understanding of how sitting in the saddle affects horse posture. Ellie gets in the saddle herself for a close up look during a series of simple riding exercises and Gillian shows how some simple tricks with a carrot can help a horse to limber up.
'Forest Charter' and bodging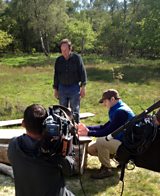 Whilst in Sherwood's ancient forest, Matt finds out about Magna Carta's largely unknown cousin, "The Charter of the Forest". Sherwood Forest Trust's Ian Major explains that while Magna Carta spoke mainly of the rights of the barons, the 1217 Forest Charter addressed the rights of ordinary people. This not only allowed men to access the royal forests but gave them the right to collect firewood and graze animals in them. The Charter's legacy was also that craftsmen could work in the forest without fear of reprisal. Matt meets chainsaw miller Patrick Turk and traditional bodger Bryan Eskriett, two very different craftsmen who owe their trade to these ancient rights. 
See what events are taking place near you for Magna Carta's 800th anniversary this year
Credits
| Role | Contributor |
| --- | --- |
| Presenter | Matt Baker |
| Presenter | Ellie Harrison |
| Presenter | Adam Henson |
| Presenter | Tom Heap |
| Presenter | Joe Crowley |
| Executive Producer | William Lyons |
| Series Producer | Joanna Brame |