Main content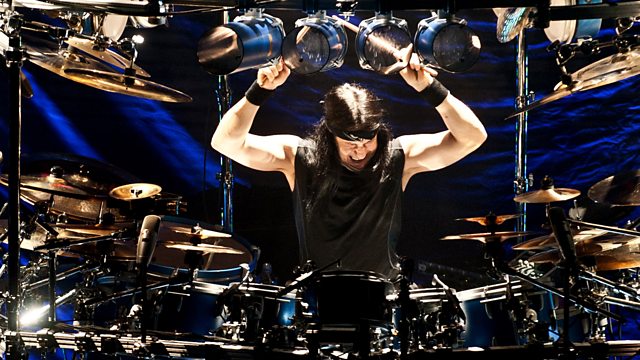 Fast and Furioso
Rainer Hersch meets musicians who are among the leading virtuosos of the day, from classical pianists and trumpeters to guitar shredders and record-breaking drummers.
The 21st century is producing musicians whose technical ability is dazzling today's audiences, and conductor and writer Rainer Hersch comes face to face with virtuosos from very different musical worlds.
He meets Mike Mangini who won the title of World's Fastest Drummer by hitting a drumpad at over 20 beats a second for a full minute.
There's the high octane guitar shredder The Great Kat who reckons on saving classical music for the Youtube generation who want their music fast and furious. She obliges by playing Beethoven's 5th Symphony in 1 minute 14 seconds.
A different point of view comes from pianist Marc-Andre Hamelin and trumpeter Alistair Mackie, who use their virtuosity to bring the most challenging music to their public, whether it's the rippling trumpet solos in Maxwell Davies Trumpet Concerto, or Godowsky's arrangement of Chopin's Revolutionary Etude for left hand alone.
Rainer talks to them about how and why they learn such difficult pieces. For 18 year old student Dominic Doutney, it's the slow, painstaking practice of Chopin's Minute Waltz that enables him to speed through it in 57 seconds. Drummer Mike Mangini reckons that his ability to play fast equips him with the skills to deal with any complicated rhythms. He gives Rainer a demonstration of his control by setting his metronome app at one beat per second and increasing the number of beats over the minute tight up to twenty 20 per second - beating his chest with his ever speeding hands!
Producer: Richard Bannerman
A Far Shoreline production for BBC Radio 4.
Last on
Broadcasts