Main content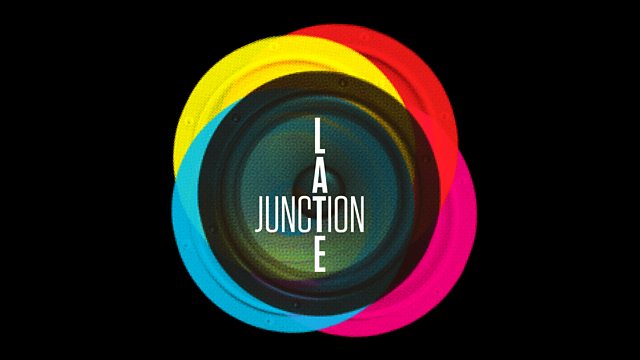 Marcus Hamblett, James Holden, Mark Holub
Max Reinhardt's varied musical selection includes a session from Marcus Hamblett, James Holden and Mark Holub. Plus music by Fennesz and OZmotic, Mariem Hassan and Blick Bassy.
Max Reinhardt with another box of delights, including this month's Late Junction Session, featuring 3 musicians recording together for the first time: Marcus Hamblett on guitar & cornet, James Holden on home-made synthesizer, and drummer Mark Holub. Plus music on CD: glitchy joy from the Fennesz/OZmotic duo, Saharwi Rock from Mariem Hassan, a movement from John Harbison's String Trio and some Cameroonian Blues from Blick Bassy.
Last on
Music Played
Ornette Coleman

Beauty Is A Rare Thing

Beauty Is A Rare Thing: The Complete Atlantic Recordings.
Rhino Records.
3.

Richard Thompson

Broken Doll

Mariem Hassan

Shauda

Baila Sahara Baila.
Nubenegra.
1.

John Harbison

String Trio - Allegro Moderato

Performer: Camerata Pacifica.

John HARBISON: String Trio, Four Songs of Solitude, Songs America Loves to Sing.
Harmonia Mundi.
1.

Ozmotic & Fennesz

LiquidMrkt

AirEffect.
Shaping Sound / Folk Wisdom.
5.

James Holden

,

Marcus Hamblett

&

Mark Holub

Posterity Measures

James Holden

,

Marcus Hamblett

&

Mark Holub

Lonely Female

Henry Kaiser & Wadada Leo Smith

Big Fun/Hollywuud

Hannah Dilkes

Fly, Like Beasts

Performer: Rhiannon Jeffreys.

Jim O'Rourke

I'm Happy

I'm Happy, And I'm Singing, And A 1, 2, 3, 4.
Mego.
2.

Tom Waits

We're All Mad Here

Hannah Dilkes

White Lightening

Performer: Vanessa Ritchie-Suarez. Performer: Nick Armstrong. Performer: Hannah Dilkes. Performer: Anna Brown. Performer: Graham Lee. Performer: Maddie Dowdeswell. Performer: Ross Lumbard.

James Holden

,

Marcus Hamblett

&

Mark Holub

Brain Helmet

Bobby BeauSoleil

Fourth Movement

Performer: Bobby BeauSoleil. Performer: The Freedom Orchestra.

Lucifer Rising.
M.O.D..
4.

King Tubby

Confinement Dub

Dub Forever.
Delta Blue.
13.
Broadcast