Main content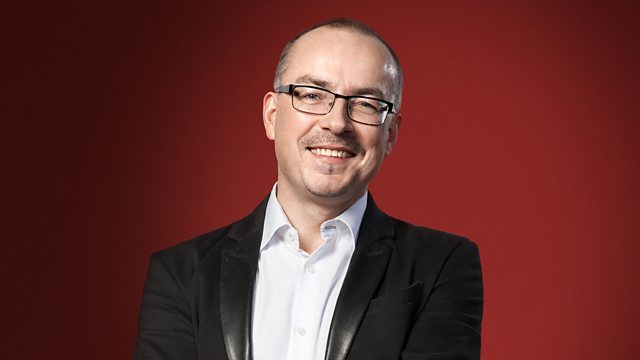 Building a Library: Wagner: Die Meistersinger von Nurnberg;
With Andrew McGregor. Including Building a Library: Wagner: Die Meistersinger von Nurnberg; New vocal releases including Birtwistle and Max Kowalski; Disc of the Week.
with Andrew McGregor
9.30am
Building a Library: Wagner's Die Meistersinger von Nürnberg
For Classical Voice, Nicholas Baragwanath considers the available recordings of Wagner's opera, Die Meistersinger about the Mastersingers of Nuremberg, who have a great tradition of composing songs but have become stultified by their petty rules. A young knight openly questions their traditions, and with the help of the wise and humane cobbler, Hans Sachs he not only wins the singing competition but also the heart of the young Eva. There is a strong field to choose from, including performances from Karajan, Kubelick and Jochum.
10.30
Vocal experts Natasha Loges and Hilary Finch join Andrew live to discuss recent releases of vocal repertoire as part of Radio 3's Classical Voice season including songs by Harrison Birtwistle and Max Kowalski
11.45
Andrew chooses a fantastic new recording as his Disc of the Week.
9.00am
Karg-Elert: Wagner Operas for Harmonium
Transcriptions for harmonium and piano from Wagner's Tannhäuser, Lohengrin, Der fliegende Holländer, Parsifal, Die Meistersinger von Nürnberg, Die Walküre, Götterdämerung and Tristan und Isolde
Jan Hennig (art harmonium, Victor Mustel, 1928), Ernst Breidenbach (piano)
PAN CLASSICS PC10335 (CD)
Praetorius: Pablo Heras-Casado
PRAETORIUS, H: Magnificat quarti toni; Quam pulchra es amica mea; Surge propera amica mea; Tota pulchra es; O quam pulchra es; Vulnerasti cor meum
PRAETORIUS, JACOB: Veni in Hortum Meum a 8; Quam Pulchra es a 5; Indica Mihi a 6
PRAETORIUS, M: Magnificat per omnes versus super ut re mi fa sol la; Nigra sum sed formosa
Balthasar-Neumann-Chor-und-Ensemble, Pablo Heras-Casado (conductor)
DG ARCHIV 4794522 (CD)
R. Strauss: Symphonia Domestica & Die Tageszeiten
STRAUSS, R: Symphonia Domestica Op. 53; Die Tageszeiten Op. 76
Rundfunk-Sinfonieorchester Berlin, Rundfunkchor Berlin, Marek Janowski (conductor)
PENTATONE PTC5186507 (Hybrid SACD)
BACH, J S: Cello Suites Nos. 1-6, BWV1007-1012
David Watkin (cello)
RESONUS CLASSICS RES10147 (2CD mid-price)
Le Livre de Notre-Dame
ROBIN, Jean-Baptiste: En Clara Vox; DUCOL, Bruno: Une Aube en Clair-Obscur; LEGUAY, Jean-Pierre: Du Fond de L'Abime; CHARPY, Pierre-Adrien: Voici le Sacred du Royaume; MARCOT, Caroline: Alleluia, Lapis Revolutus Est; CANAT DE CHIZY, Édith: Kyrie; ESCAICH, Thierry: Sanctus; BACRI, Nicolas: Agnus Dei; BOUCHOT, Vincent: Tantum Ergo Sacramentum; LEBRUN, Éric: Aujourd'hui, Le Créateur des Jours; MENUT, Benoit: Un Grand Vent S'est Levé; PAULET, Vincent: De Fructu Operum; REVERDY, Michèle: Femme Revetue de Soileil; LACOTE, Thomas: Sancta Et Immaculata; CASTAGENT, Yves: O Notre-Dame du Soir
Maitrise Notre-Dame de Paris (choir), Denis Comtet (organ), Émilie Fleury (conductor)
Maitrise Notre-Dame de Paris 005 (CD)
09.30am Building a Library
Top recommendation:
WAGNER: Die Meistersinger von Nurnberg
Thomas Stewart (Hans Sachs), Sandor Konya (Walther von Stolzing), Gundula Janowitz (Eva), Thomas Hemsley (Beckmesser), Gerhard Unger (David), Brigitte Fassbaender (Magdalene), Brigitte Fassbaender (Nachtwachter), Franz Crass (Pogner), Chor des Bayerischen Rundfunks, Symphonieorchester des Bayerischen Rundfunks, Rafael Kubelik (conductor)
ARTS 430202 (4CD mid-price)
10.20am Berlin Schubert from Harnoncourt
Nikolaus Harnoncourt conducts Schubert
SCHUBERT: Symphony No. 1 in D major, D82; Symphony No. 2 in B flat major, D125; Symphony No. 3 in D major, D200; Symphony No. 4 in C minor, D417 'Tragic'; Symphony No. 5 in B flat major, D485; Symphony No. 6 in C major, D589; Symphony No. 8 in B minor, D759 'Unfinished'; Symphony No. 9 in C major, D944 'The Great'; Mass No. 5 in A flat major, D678; Mass No. 6 in E flat major, D950; Alfonso und Estrella, D732
Rundfunkchor Berlin, Christian Elsner (tenor), Bernarda Fink (mezzo), Christian Gerhaher (baritone), Jonas Kaufmann (tenor), Hanno Muller-Brachmann (bass-baritone), Luba Orgonašova (soprano), Birgit Remmert (contralto), Dorothea Roschmann (soprano), Jochen Schmeckenbecher (bass-baritone), Kurt Streit (tenor), Berliner Philharmoniker, Nikolaus Harnoncourt (conductor)
BERLINER PHILHARMONIKER BPHR150061 (9 CDs + Blu-ray Audio Disc – Mid-Price)
10.50am Live Song Panel, with Hilary Finch and Natasha Loges
Vocal experts Natasha Loges and Hilary Finch join Andrew live to discuss recent releases of vocal repertoire as part of Radio 3's Classical Voice season including songs by Harrison Birtwistle and Max Kowalski
Lieder by Max Kowalski
KOWALSKI: Lieder (8) auf Gedichte von Hafis; Ein schoner Stern geht auf in meiner Nacht; Der Fru¨hling; Nachtgra¨usche; Reifefreuden; Pierrot Lunaire; Ernste Stunde; Immer wieder; Der Panther; Liebeslied
Wolfgang Holzmair (baritone), Therese Lindquist (piano)
BRIDGE BRIDGE9431 (CD)
Tomašek: Songs
TOMASEK: Mailied Op. 53 No. 3; Schafers Klagelied Op. 56 No. 1; Rastlose Liebe Op. 58 No. 1; Die Nacht Op. 55 No. 5; Auf dem See; An die Entfernte Op. 55 No. 1; Wanderers Nachtlied Op. 58 No. 4; Erlkonig Op. 59 No. 1; Heidenroslein; Das Geheimnis Op. 58 No. 3; Die Sprode Op. 54 No. 2; Die Bekehrte Op. 54 No. 3; Sorge Op. 57 No. 4; Am Flusse Op. 55 No. 3; Die Spinnerin Op. 55 No. 2; Sechs Bohmische Lieder von Vaclav Hanka Op. 71; Des Greises Trauerlied Op. 69 No. 1; Es ist so angenehm, so suss Op. 37 No. 2; Lied eines Alpenmadchens Op. 96 No. 3; Standchen Op. 107 No. 3; Drei Gesange Op. 92
Renata Pokupic (mezzo), Roger Vignoles (piano)
HYPERION CDA67966 (CD)
Birtwistle: Songs 1970–2006
BIRTWISTLE: Nenia: The Death Of Orpheus; Orpheus Elegies; Fantasia III; Nine Settings for Lorine Niedecker for Soprano and cello; Frieze I; Lullaby; Songs by Myself; Cantus Iambeus
Alice Rossi (soprano), Das Neue Ensemble, Kuss Quartet, Soloists of the Hochschule fur Musik, Theater und Medien Hannover, Stefan Asbury (conductor)
TOCCATA CLASSICS TOCC0281 (CD)
L'heure exquise: Alice Coote
BACHELET: Chere nuit
BERLIOZ: Le Spectre de la rose (from Les nuits d'ete Op. 7)
CHABRIER: Toutes les fleurs; L'ile heureuse
CHAUSSON: Le temps des lilas
DEBUSSY: La Grotte
FAURE: Le secret Op. 23 No. 3; Fleur jetee Op. 39 No. 2
GOUNOD: Serenade; Au printemps
HAHN, R: L'heure exquise; Les etoiles (No. 9 of Douze Rondels); Fumee; La Chere Blessure
KOECHLIN:    Novembre Op. 22 No. 2
POULENC: Les chemins de l'amour; Voyage a Paris; Hotel; La grenouillere Op. 5; Voyage
SAINT-SAENS: Aimons-nous; Soiree En Mer
SATIE: Je te veux
Alice Coote (mezzo), Graham Johnson (piano)
HYPERION CDA67962 (CD)
11.55am Disc of the Week
J Bach, JC Bach & JM Bach: Motetten
BACH, J: Motet 'Sei nun wieder zufrieden, meine Seele'; Weint nicht um meinem Tod
BACH, J C'PH: Motet 'Der Gerechte, ob er gleich zu zeitlich stirbt''; Der Mensch, vom Weibe geboren; Sei getreu bis in den Tod; Aria 'Mit Weinen hebt sichs an'; Motet 'Lieber Herr Gott, wecke uns auf'; Merk auf, mein Herz, und sieh dorthin; Motet 'Herr, nun lassest du deinen Diener...'; Motet 'Unseres Herzens Freude'; Aria 'Es ist nun aus mit meinem Leben'
BACH, J M I: Halt, was du hast; Herr, wenn ich nur dich habe; Herr, ich warte auf dein Heil; Herr, du lassest mich erfahren; Dem Menschen ist gesetzt, einmal zu sterben; Motet 'Das Blut Jesu Christi'; Motet 'Nun hab ich uberwunden'; Furchtet euch nicht; Ehre sei Gott in der Hohe; Sei, lieber Tag, willkommen; Nun treten wir ins neue Jahr
BACH, J S: Motet BWV Anh. 159 'Ich lasse dich nicht'
Vox Luminis, Scorpio Collectief, Lionel Meunier
RICERCAR RIC347 (2CD mid-price)