Main content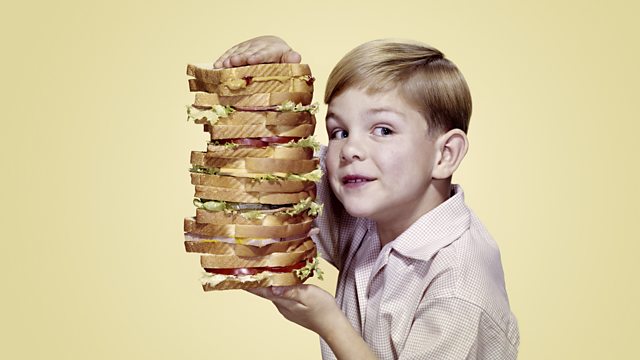 Fantastic Fiction and Fabulous Feasts
Midnight feasts, picnics and fantastic factories have fostered an excitement about food in children's books. Sheila Dillon looks at how they have impacted people into adulthood.
Close your eyes and think for a moment about the books you read as a child and those that talked about food. A vivid description of a flavour can spark the imagination and the taste buds but a secret midnight feast at Malory Towers, the elaborate Hogwarts feasts in Harry Potter or picnics in Wind in the Willows can instil an air of excitement about food that lasts into adulthood.
Sheila Dillon asks why some scenes can be so powerful they remain with us for decades. She meets those who changed their careers due to the power of the stories they read, she travels to a secret restaurant fantasy land and meets the schoolchildren for whom taste is being brought alive through descriptions of food and flavour.
Presented by Sheila Dillon and Produced by Anne-Marie Bullock.
My Mum's Lemonade
From Diana Henry's 'Salt Sugar Smoke', published by Mitchell Beazley. 
My mum used to make this every summer – in really big batches – and it would keep us going for ages. It's really a lemon cordial which you dilute, and is much nicer than anything similar you could buy. It's also unbelievably economical. Citric acid is available in chemists.
Fills 3 x 1 litre (1 ¾ pint) bottles
2 organic oranges
12 unwaxed lemons
1.3kg (3lb) granulated sugar
55g (2oz) citric acid
1) Finely grate the zest of the oranges and lemons and put into a bowl with the sugar. Add 1.7 litres (3 pints) of boiling water and leave overnight.
2) The next day, squeeze the juice from the citrus fruits and add that with the citric acid. Mix well. Strain and pour into sterilized bottles. Use it like squash, adding water (still or sparkling) to taste. It will keep for two months; refrigerate once opened.
Raspberry Liqueur
From Diana Henry's 'Salt Sugar Smoke', published by Mitchell Beazley. 
Raspberry Liqueur is the liqueur I use the most. It is very satisfying – and easy – to make your own. I think brandy is better than gin, but use what you have (or can afford). You can make crème de mures (with blackberries) and crème de cassis (with blackcurrants) in the same way.
Fills 1 x 750ml (1¼  pint) bottle
500g (1lb 2oz) raspberries, stalks removed, washed
600ml (1 pint) brandy or gin
about 275g (9 ¾ oz) caster sugar
1) Put the raspberries into a large jar with a lid. Crush the berries (I use a flat-ended rolling pin to do this, as if muddling ingredients for a cocktail). Pour on the alcohol and cover tightly. Leave in a cool, dark place for two months.
2) Strain the spirit through a nylon sieve into a measuring jug. For every 600ml (1 pint) of liquid, add 175g (6oz) of sugar. Mix well, cover and leave for two days, stirring occasionally to dissolve the sugar.
3) Line a nylon sieve with muslin and strain into a bottle. Seal and leave for six months before using. This keeps for a year.
Credits
| Role | Contributor |
| --- | --- |
| Presenter | Sheila Dillon |
| Producer | Anne-Marie Bullock |