Main content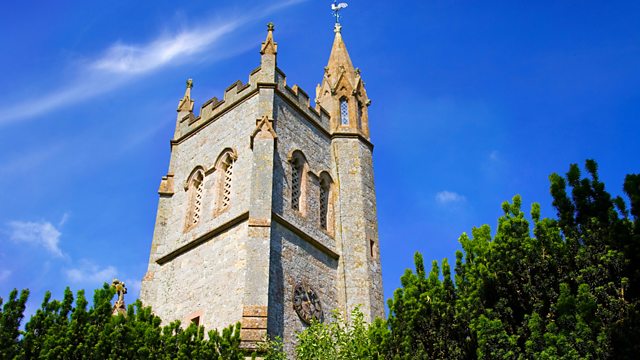 The Battle that Changed the World
Live from Wellington College as this famous public school marks the 200th anniversary of the battle which made the Duke of Wellington a national hero.
Live from Wellington College as the school marks the 200th anniversary of the battle which made the Duke of Wellington a national hero and brought peace to Europe for nearly forty years. This great national boarding school was founded as a charitable educational institution 'for the orphans of army officers' by Queen Victoria and Prince Albert in memory of the great Duke. This morning pupils and staff gather to celebrate the spirit of Waterloo and the heritage it has given them. Director of Music, Sean Farrell. Producer, Philip Billson.
Script
Please note:
This script cannot exactly reflect the transmission, as it was prepared before the service was broadcast. It may include editorial notes prepared by the producer, and minor spelling and other errors that were corrected before the radio broadcast.
It may contain gaps to be filled in at the time so that prayers may reflect the needs of the world, and changes may also be made at the last minute for timing reasons, or to reflect current events.
Opening Announcement from BBC Radio 4
BBC Radio 4, Time now for Sunday Worship which comes live from Wellington College in Berkshire and celebrates the 200th anniversary of the Battle of Waterloo last Thursday. The preacher is the College's Senior Chaplain Father Tim Novis. The service is led  by students of the college, and is introduced by Phoebe Parvin.

PHOEBE PARVIN 
Good morning. 'Fortune Favours the Brave'. That's our school motto here at Wellington College, and also the family motto of the Field Marshall  Queen Victoria referred to as, 'the greatest man this country has ever produced.' Arthur Wellesley, the Duke of Wellington. This College upholds the values of the Iron Duke, and chief among those is courage, as reflected in that school motto. Wellington College was founded as a living memorial to the victor at Waterloo,
Alexander Bridges: 
One outstanding example of bravery from the Battle of Waterloo came from Lord Uxbridge, who later became 1st Marquess of Anglesey. One of the last cannon shots fired on 18 June 1815 hit his right leg, leading to its amputation above the knee.  As the story goes, he was close to the Duke of Wellington when he was hit, and is reputed to have said, "By God, sir, I've lost my leg!", to which Wellington replied "By God, sir, so you have!"
PHOEBE PARVIN 
[Almost 37,000 soldiers fought in the British Army during the Waterloo Campaign, and for the first time every soldier, regardless of rank or role, was awarded a campaign medal. This service asks, how is it that we are to do our duty in this 21st century? And of course, it's never about simply earning a campaign medal, it's about making the world a better place for our having been in it, and to the honour and glory of God who loves Creation. So] today our special commemorative service here is Wellington College Chapel will reflect upon these qualities of bravery and courage in their many facets, spiritually, and in civic society, as well as celebrating the bravery of those who continue to defend our values of freedom and democracy. As reflected in our opening hymn, we do not labour alone, but it is God who accompanies and galvanises us on the way.
Hymn: God is our strength and refuge
READER:
EdmundWheatley, a British officer in The King's German Legion, is at La Haye Sainte. I felt the ardour of the fight increase very much within me, from the uncommon fury of the engagement . . . I fired a slain soldier's musket until my shoulder was nearly jellied and my mouth was begrimed with gunpowder to such a degree that I champed the gritty composition unknowingly. Nothing could equal the splendour and terror of the scene. . . .The clashing of swords, the clattering of musketry, the hissing of balls, and shouts and clamours produced a sound, jarring and confounding the senses, as if hell and the Devil were in evil contention. Charge met charge and all was pell-mell. The rays of the sun glittered on . . . the two opposing bodies closed in fearful combat
Amy Martin:
Recently, Jane Wellesley, a direct descendent of the Duke of Wellington, gave a vivid description of her ancestor at the battle: 'On the day, his presence on the battleground was electrifying, as he galloped from one scene of action to another, giving orders, rallying and reassuring his men. In life, as on the battlefield, he rarely let go of the reins.'
PHOEBE PARVIN 
The collect of the Foundation of Wellington College is led by Sir Anthony Seldon the Master of Wellington College:
Anthony Seldon/Flora Macangus : Collect of the Foundation
Let us pray:
We give Thee humble and hearty thanks, O most merciful Father, for the memory and good example of ARTHUR, DUKE OF WELLINGTON, and for all our Governors and Benefactors, by whose benefit this whole College is brought up to godliness and good learning; and we beseech Thee to give us grace to use Thy blessings to the glory of Thy holy Name, that we may answer the good intent of our religious Founders, and become profitable members of the Church and Commonwealth, and at last be partakers of the immortal glory of the Resurrection; through our Lord and Saviour, Jesus Christ.
ALL: Amen
PHOEBE PARVIN  
Our second hymn – O praise ye the Lord, sets verses from Psalms 148 and 150, but first as our Saviour Christ taught us we are bold to say:
ALL:  OUR Father, who art in heaven, Hallowed be thy Name. Thy kingdom come. Thy will be done, On earth as it is in heaven. Give us this day our daily bread. And forgive us our trespasses, As we forgive those who trespass against us. And lead us not into temptation, But deliver us from evil. For thine is the kingdom, and the power, and the glory, for ever and ever. Amen.
Hymn – O praise ye the Lord: (Laudate Dominum)
Voice 1: Alexis Sakellaris
A reading from Ecclesiasticus Chapter 44:
 
1 Let us now praise famous men, and our fathers that begat us.
2 The Lord hath wrought great glory by them through his great power from the beginning.
Voice 2: Amy Martin
3 Such as did bear rule in their kingdoms, men renowned for their power,
Voice 1: Alexis Sakellaris
giving counsel by their understanding,
Voice 2: Amy Martin
and declaring prophecies:
Voice 1: Alexis Sakellaris
6 Rich men furnished with ability, living peaceably in their habitations:
Voice 2: Amy Martin
7 All these were honoured in their generations, and were the glory of their times.
Voice 1: Alexis Sakellaris
8 There be of them, that have left a name behind them, that their praises might be reported.
Voice 2: Amy Martin
9 And some there be, which have no memorial; who are perished, as though they had never been; and are become as though they had never been born; and their children after them.]
Voice 1: Alexis Sakellaris
10 But these were merciful men, whose righteousness hath not been forgotten.
Voice 2: Amy Martin
11 With their seed shall continually remain a good inheritance, and their children are within the covenant.]
Voice 1: Alexis Sakellaris
14 Their bodies are buried in peace; but their name liveth for evermore.
Voice 2: Amy Martin
15 The people will tell of their wisdom, and the congregation will shew forth their praise.
Voice 1 and Voice 2:
Thanks be to God.
PHOEBE PARVIN 
The choir sings an extract from Handel's oratorio: Israel in Egypt. As was the custom, at Arthur Wellesley's funeral in St Paul's Cathedral the words from Ecclesiasticus were adapted to honour the great Duke: His body is buried in peace.
 
Choir: His body is buried in peace (Handel) (first half)
Katherine Grigg:
A reading from the Gospel according to Mark Chapter 4 beginning at verse 26 (30):
Jesus said, ['The kingdom of God is as if someone would scatter seed on the ground, and would sleep and rise night and day, and the seed would sprout and grow, he does not know how. The earth produces of itself, first the stalk, then the head, then the full grain in the head. But when the grain is ripe, at once he goes in with his sickle, because the harvest has come.'
 He also said,] 'With what can we compare the kingdom of God, or what parable will we use for it? It is like a mustard seed, which, when sown upon the ground, is the smallest of all the seeds on earth; yet when it is sown it grows up and becomes the greatest of all shrubs, and puts forth large branches, so that the birds of the air can make nests in its shade.'
33Thanks be to God.

Choir and congregation: Jubilate (Stanford in B flat)
Sermon: Part A :
Father Novis
From the cowardice that fears truth, from the laziness content with half-truth, and from the arrogance that believes it knows all truth, O God of truth, deliver us. Amen.
As you do during the half-term breaks, you take the family to the cinema and subject yourself to your teenage sons' choice of a film.  Little did I know that in seeing the recently released Disney show 'Tomorrow Land' all of my earlier preparations for this sermon to you today would chime so well with the movie's moral message.  Starring George Cluney and Hugh Laurie, it really is worth a watch if you are at all concerned about the future of this planet, if you feel some degree of sadness over the kind of world to be inherited by our grandchildren, and if, theologically, you see all of this as a kind of anthropic letting down of our end of the bargain with a God of abundance and boundless generosity who creates us in his image – concerns deeply expressed no doubt in Pope Francis's Encyclical on the Environment published just this week.
Not to spoil the film for you, it is worth every ounce of our effort now to change what could be a dire environmental future, according to the film. [Whatever we think about that proposition, in every area of life, we resign ourselves to the worst possible outcome if we simply take the easy way out and embrace apathy, giving up all hope and saying to each other that any attempts at change are futile.]
But if we look to the lessons found in our two scripture passages this morning, we can remind ourselves that indeed, just as is said in the school motto of Wellington College: 'Virtutis Fortuna Comes' – Fortune favours the Brave.  It's not by embracing apathy that we can do great things, but by being brave enough to shout down the voices telling us that all is futile – so don't even bother.

Katie Dennison:
A story is told of a business conference where the keynote speaker rose and began his talk in the Convention Centre.  'The problem with our world today', he began, 'is apathy'.  A voice from the back was heard to utter, impetuously, 'Who cares?'

Father Novis:
But we have to care.  As students, parents, grand-parents, as fellow travellers spinning through space and time on this fragile planet earth, our island-home, we have to care, or we throw back into the face of an astronomically generous Creator-God, this creative gift we share with Him called our now and our future. As Pope Francis tweeted recently 'There is no room for the globalization of indifference.'
Next year, 2016 is the 100th  Anniversary of the Battle of the Somme – that mindless and possibly pointless conflagration in which such a stunningly large number of young men of all backgrounds, including Old Wellingtonians lost their lives. In their memory the Lutyen's Memorial stands in this Chapel, with the inscription at the base seen on every such monument, as prescribed by the Commonwealth War Graves Commission. They are Rudyard Kipling's choice of words – his son Jack was a pupil here - taken from our reading from Ecclesiasticus today, 'Their name liveth forevermore.'
So, indeed, as we also heard read from the Book of Ecclesiasticus, 'Let us now praise famous men, and our fathers that begat us.' Our ancestors who gave their today for our tomorrow took to heart both our own and another version, really, of the Wellington College motto: ('Fortune favours the brave'). That's the motto of the British Special Air Service (the SAS) 'Who dares wins'. Current Old Wellingtonian connections are official secrets but it is known that Richard Williams (a boarder here from 1980-84) was later a Commanding Officer and awarded the Military Cross whilst leading his Squadron on offensive operations in Afghanistan in 2001. 
Fortune favours the brave.  Who dares wins.
Jesus' parable of the Mustard Seed teaches us that whatever brave deed to which we commit ourselves in faith, it is the Holy Spirit who will enliven our endeavours and ensure a successful outcome.  This glorious worship space was consecrated as 'the Chapel of the Holy Spirit,' and our anthem this morning has been specially commissioned in celebration of its 150th anniversary – 'Come, O creator Spirit, by Alan Bullard.
Music: Come, O creator Spirit (Alan Bullard)
Sermon: Part B
READER:
Bivouacked in front of Waterloo, Private Charles O'Neil of the 28th (North Gloucester) Regiment is in a reflective mood: "I was just endeavouring to compose myself to sleep, when my comrade spoke to me,saying that it was deeply impressed on his mind that he should not survive the morrow; and that he wished to make an arrangement with me, that if he should die and I should survive, I should inform his friends of the circumstances of his death, and that he would do the same for me . . . We then exchanged the last letters we had received from home, so that each should have the address of the other's parents. I endeavoured to conceal my own feelings, and cheer his, by reminding him that it was far better to die on the field of glory than from fear . . . Perhaps I may as well mention here, that we had not been in the action twenty-five minutes when he was shot down by my side."
Father Novis:
The concealment of feelings – the absolute terror on the eve of any battle. How do we ourselves respond to this call to courage – to the challenge of the Wellington motto? Perhaps we feel we would be unable to show courage? Perhaps we feel we would be utter cowards in the face of odds stacked against us? Our new testament reading reminds us that "the Kingdom of God is like a mustard seed, which, when sown upon the ground, is the smallest of all the seeds on earth; yet when it is sown it grows up and becomes the greatest of all shrubs, and puts forth large branches, so that the birds of the air can make nests in its shade". So it is too with courage. We can only start with the little we have, and follow our consciences, serving others as best we can.
Sometimes the showing of real courage almost just happens, seemingly despite ourselves. What of a young 17 year old Afghan girl, the same age as many of you studying here at this college, who in 2012 in the face of Taliban who attempted to kill her, spoke out for girls' education. Probably she couldn't help herself! But she showed great courage in the consequences. Malala Yousafzai, is the youngest ever winner of the Nobel Peace Prize.  Indeed, as celebratory posters in her honour say: 'One child, one teacher, one book, one pen, can change the world.'
We could also take inspiration from an old Wellingtonian  Mukesh Kapila CBE. [Professor of Global Health and Humanitarian Affairs at the University of Manchester, Special Representative of the Aegis Trust for the prevention of crimes against humanity, and Chair of Minority Rights Group International, Professor Kapila has initiated several NGOs of international significance]. In 2013, he received the "I Witness" award for his work on human rights.
As  head of the United Nations in Sudan he was witness to the humanitarian crisis in Darfur and witnessed the shocking depths of evil plumbed by those who designed and orchestrated 'the final solution' there. Here's a snatch of his personal story, an account he gave to the Holocaust Memorial Day Trust:
Recording to be played into chapel
IN:   We knew from day one (0'13" in)
OUT:   those who stick the knife in or pull the trigger.
DUR:   1'14"
Father Novis:
Yet no one in the diplomatic world seemed to want to know, and it was only through engaging with the international media that these mass killings were brought to the attention of the world. Kapila's story reminds us of the courage of someone who risks all for a truly righteous end.
As Theodore Roosevelt said: Some men are born great, others have greatness thrust upon them. The same is true of Courage.
And so as we mark this important anniversary of the Battle of Waterloo both for our nation and for this great public school of Wellington College today, let there be an underlying and undoubtable sounding bass note of hope that we need not be condemned to a grim future, that all our brave little acts of greatness, alone or combined, are not futile, and instead may we remember today the Ancient Greek proverb: 'a society grows when old men plant trees in whose shade they know they will never sit.'
We end with some wise words of Alfred Lord Tennyson from his Ode On The Death Of The great  Duke .
Alexis Sakellaris:
Yea, let all good things await 
Him who cares not to be great, 
But as he saves or serves the state. 
Not once or twice in our rough island-story, 
The path of duty was the way to glory: 
He that walks it, only thirsting 
For the right, and learns to deaden 
Love of self, before his journey closes, 
He shall find the stubborn thistle bursting 
Into glossy purples, which outredden 
All voluptuous garden-roses. 
Not once or twice in our fair island-story, 
The path of duty was the way to glory: 
HANDEL:  But his name liveth evermore (0'45")
Alexander Bridges:
Let us pray for peace in the world:
For statesmen and rulers,
That they may have wisdom to know and courage to do what is right.
For all who work to improve international relationships,
That they may find the true way to reconcile people of different race and creed…
And for men and women the world over,
That they may have justice and freedom, and live in security and peace…
 [SHORT PAUSE]
Lord in your mercy
ALL: Hear our prayer
Most gracious God and Father,
In whose will is our peace:
Turn our hearts and the hearts of all to yourself,
That by the power of your Spirit
The peace which is founded on righteousness
May be established throughout the whole world;
Through Jesus Christ our Lord.
ALL: Amen.

Let us pray for all who suffer as a result of war:
For the injured and others left with health conditions or impairments,
For the mentally distressed,
And for those whose faith in God and man has been weakened or destroyed…
For the homeless and refugees,
For those who are hungry,
And for all who have lost their livelihood and security…
For those who mourn their dead,
Those who have lost partner, children or parents,
And especially those who lack the comfort and hope of faith to sustain them in their grief.
 [SHORT PAUSE]
Lord in your mercy
ALL: Hear our prayer
Almighty God, our heavenly Father,
Infinite in wisdom, love and power:
Have compassion on those for whom we pray;
And help us to use all suffering
In the cause of your Kingdom;
Through him who gave himself for us on the cross,
Jesus Christ your Son, our Lord.
ALL: Amen
Father Novis:
May your journey through the universal questions of life bring you to a new moment of awareness. May it be an enlightening one. May you find embedded in the past, like all those students of life before you, the answers you are seeking now. May they awaken that in you which is deeper than fact, truer than fiction, and full of faith.  And the blessing of God Almighty, the Father, the Son, and the Holy Spirit be with you always.
Amen.
Closing hymn: Christ triumphant (Guiting Power)
Organ voluntary: Fantaisie in E flat (Saint-Saens)