Main content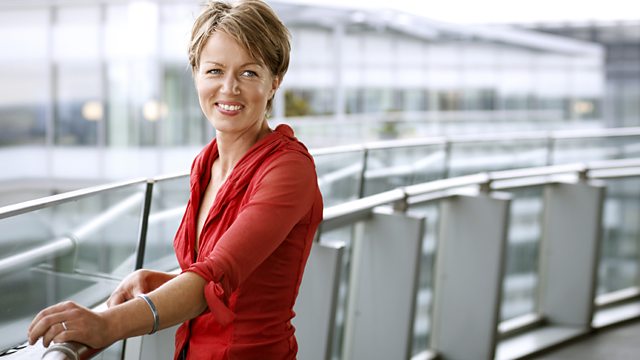 Rufus Wainwright - Prima Donna
For Radio 3's Classical Voice season, Verity Sharp presents singer-songwriter Rufus Wainwright's opera Prima Donna, about an ageing opera singer preparing her comeback.
For the Classical Voice season on Radio 3, today's Thursday Opera Matinee is Prima Donna by the singer-songwriter Rufus Wainwright, who first developed an interest in opera as a teenager. It centres on a day in the life of an ageing opera singer who is anxiously preparing for her comeback in 1970s Paris. Once a soprano with a powerhouse voice and a reputation to match, she's been discarded - disdained by critics and forgotten by audiences. But the diva is determined to prove her doubters wrong: all she asks is a chance to reprise the role that made her reputation all those years ago. Presented by Verity Sharp.
Composer: Rufus Wainwright
Libretto: Rufus Wainwright and Bernadette Columine
2pm:
Rufus Wainwright: Prima Donna
Régine St Laurent ..... Janis Kelly (soprano)
Marie ..... Kathryn Guthrie (soprano)
Philippe ..... Richard Morrison (baritone)
André Le Tourner ..... Antonio Figueroa (tenor)
BBC Symphony Orchestra
Jayce Ogren (conductor).
Synopsis
Act 1
Following a night of endless nightmares, Régine Saint Laurent is awake unusually early, and surprisingly shows interest in talking with her new maid, Marie, when she arrives for work. Marie is only too happy to unload her latest complains about her drunken and tempestuous husband upon Madame, who in turn starts sharing about her doubts and anxiety-filled terrors of returning to the stage after a six-year hiatus.
Madame tells Marie of the stage role of her life, Aliénor d'Aquitaine, the strong, powerful and culture-loving woman who became queen of both France and England, an opera written for her at the peak of her career. These two women, from opposite walk of life, form a strong bond with each other in the midst of their heart-to-heart exchange.
Philippe, Régine's butler and confidante, enters with Francois, the local flower shop delivery boy. Philippe is upset to see Madame and Marie in a casual and friendly situation, instead of Madame preparing for the interview with a journalist, André Letourneur, a rendezvous that she has forgotten.
Philippe instructs Francois to arrange the flowers around the apartment for the journalist's imminent arrival. Philippe starts ranting about the golden days when Madame was the Queen of Paris until the opening night of Aliénor six years ago, when, after a triumphant Premiere, she lost her voice during the duet on the second night, after which Madame never sang again. Lost in his nostalgia and slowly going into a rage-like state, Philippe swears that he and Madame will not make the same mistakes this time.
The doorbell rings and the journalist arrives. Philippe obsequiously welcomes André into the glamorous world of Régine Saint Laurent, who makes her grand entrance.
The interview turns out to be more than Régine or André had imagined. The pressing questions of André about Madame's last performance of Aliénor trigger an emotional response from Régine who gets overwhelmed by memories rushing back, showing how traumatizing that evening was for her. André himself seems to remind her of someone involved in the hurtful and disturbing memory. She refuses to answer that line of questioning.
André sees more than the legend he has adored since his days at the conservatory where he himself studies to be a tenor. He takes advantage of Régine's state of confusion and prompts her to go to the piano and they end up singing the iconic love duet from Aliénor. As the passionate duet reach a climax, Régine's voice breaks down.
Philippe leaps in to save the day, Madame is put to rest under Marie's care. Everyone attempts to comfort Régine as she tries to recover her senses. Philippe reschedules the interview with André for later in the evening. Andre agrees and leaves. Madame is left resting in the darkened room. Andre comes back to retrieve the partition he had brought over and left at the piano. Régine sees him and beckons to him. He goes to her. They kiss. Marie comes in, sees them and leaves.
Act 2
Later that same evening.
As Marie is setting the table, she gets homesick and tells the simple life in her home of Picardie. She nostalgically compares it to the love-crazed and materialistic life of Paris.
Marie confronts Philippe about his plans to have the journalist return that evening to continue the interview over dinner and the Bastille Day fireworks. Philippe erupts at Marie and reminds her of her place in his household.
Régine warms her voice and tries to understand why it failed her in front of the journalist. While she can sing the precious high note in isolation, each time she tries to put words and meaning into the music, she is again unable to reach the climactic note. Madame realizes that she must confront the recording of that glorious, tragic evening six years ago, a recording she could never bring herself to listen to, if she is ever to sing Aliénor, or any opera, ever again. She reflects on her fearless youth and on her past and present struggles with confidence and anxiety. Her youth is forever gone and she has to now face a new reality. She finally plays the legendary recording of her opening night, her mind carries her back in time to her original performance of that very same love duet.
Henry, the King of England, portrayed by André, enters the garden and professes his love to his glorious Aliénor. Régine becomes Aliénor, and flawlessly performs the magical scene.
Régine wakens from her reverie and declares her refusal to return to the stage. Philippe explodes and unleashes his resentment through a violent rage. Marie comes to Madame's rescue. There is no turning back and Philippe musters every ounce of his remaining pride and makes his final exit from Madame's life forever - just as the doorbell rings for the journalist's return.
The journalist, however, has an unpleasant surprise for Régine; once again forced to confront her new circumstances, she wishes him and his fiancée well with utter grace and generosity
André asks Régine for one last gesture before he leaves; would she sign his original album of Aliénor? Régine does so, and she announces the end of her career to the journalist. But just before he goes, she realizes that she would like the precious souvenir to be for someone closer to her heart – Marie.
La Prima Donna signs her last autograph.
Left alone in her apartment, Régine steps onto the balcony to watch the Bastille Day fireworks.
Credit
| Role | Contributor |
| --- | --- |
| Performer | BBC Symphony Orchestra |