Main content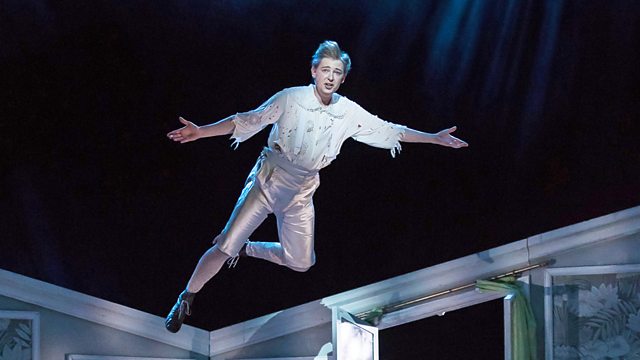 Richard Ayres's Peter Pan
From the Wales Millennium Centre in Cardiff, Erik Nielsen conducts the British premiere of an opera based on JM Barrie's most famous creation, Peter Pan.
Richard Ayres and Lavinia Greenlaw's new opera on JM Barrie's most famous creation, Peter Pan. Erik Nielsen conducts the British premiere at Wales Millennium Centre.
Faithful to JM Barrie's original tale, Welsh National Opera's new production by director Keith Warner is set in Edwardian London. The Darling family are struggling to make ends meet. When the mysterious figure of Peter Pan and his friend Tinkerbell appear at the Darlings' nursery window a fantasy adventure quickly unfolds. To the consternation of their faithful nursemaid, a Newfoundland dog, Nana, Peter Pan invites the children to fly to his home in Neverland where he lives with his cohorts the Lost Boys in a magical world of fairies, red Indians and swashbuckling pirates. After a battle, their leader, Captain Hook confronts his nemesis, a crocodile who's swallowed a clock.
Worn out with the demands of being surrogate mother to Peter and the Lost Boys, Wendy and her brothers return home. As the Darling family happily reunite, now considerably enlarged by the arrival of the Lost Boys, it is Peter Pan alone who remains "the Boy who would not grow up".
In the UK premiere broadcast, Peter Pan is Iestyn Morris, Marie Arnet takes the role of Wendy, Ashley Holland doubles as Mr. Darling and Captain Hook and Hilary Summers sings Mrs. Darling and Tiger-Lily, Aidan Smith is Nana. Presented by Christopher Cook, including interviews with the conductor, director, and principal singers.
Peter Pan... Iestyn Morris (Counter-tenor)
Wendy..... Marie Arnet (Soprano)
Mr Darling / Captain Hook..... Ashley Holland (Baritone)
Mrs Darling / Tiger Lily.....Hilary Summers (Contralto)
John.... Nicholas Sharratt (Tenor)
Michael...Rebecca Bottone (Soprano)
Smee....Mark le Brocq (Tenor)
Nana.....Aidan Smith (Baritone)
Orchestra and Chorus of Welsh National Opera
Erik Nielsen (conductor).
Synopsis
Act One
Edwardian London
Late one night, while their parents are out, Wendy, Michael and John Darling, receive a visit from a strange boy called Peter Pan and the feisty fairy Tinker Bell. Peter has flown through the open window of their London home from a magical place called Neverland, an island full of pirates, red Indians, mermaids, enchanted creatures and mysterious forests. It doesn't take much for Peter to persuade the children to leave their family home, and join him on his return. With a sprinkle of fairy dust, they take flight over the London skyline, to the horror of Mrs Darling, who rushes back to the house, but is too late: the children's beds are empty.
Act Two
Neverland
The Lost Boys of Neverland impatiently await the return of their leader, Peter. Tinker Bell has become jealous of Wendy's friendship with Peter, and flying ahead of the group, she shows her wicked side when she persuades the Neverland youngsters to try and shoot her rival down. Wendy falls to the ground, and when Peter arrives with John and Michael, he is outraged to discover Tinker Bell's evil plan. Fortunately, Wendy revives, and she plays the role mother to the lost boys, who like Peter, have no family to call their own.
All is not peaceful in Neverland. The dastardly Captain Hook and his hoard of pirates seek revenge against Peter Pan, for chopping off his hand and feeding it to a crocodile. Hook is paranoid that the crocodile will devour him, and so constantly listens out for the tick-tock of his wrist watch that echoes from the belly of the beast. The Lost Boys are safe, for now.
Far from home, Wendy is becoming exhausted from the pressures of motherhood, and she, Michael and John are struggling to remember their parents. Meanwhile, Peter's friend, the island native Tiger Lily, is kidnapped by the pirates, unleashing a bloody battle on the island, as the Lost Boys and the Darling children fight to rescue her. They succeed, although as Tinker Belle gleefully observes, Wendy becomes jealous of Peter's admiration of Tiger Lily, and tensions in the children's burrow are running high. As night falls, the homesick Darling children reminisce about their home, to the fascination of the Lost Boys. The mystery of Peter's background deepens. He describes how he flew away from home, and returned many moons later to find another child sleeping in his bed. Unlike the lost boys, he does not want a family, and refuses to leave Neverland. Sulking Peter is left behind as they leave the house one by one, unaware that the pirates are waiting for them upstairs.
Captain Hook sneaks into the house, secretly poisoning Peter's medicine while he sleeps. When Peter wakes, Tinker Belle tells him that his friends have been kidnapped. In order to save Peter from drinking the poisoned medicine before he flies off to the rescue, she drinks it herself, nearly dying in the process. Tinker Bell rallies round and together they fly to the pirate ship.
On the pirate ship
Hook is outraged that Peter has confounded his poisoning plan, and the two of them fight a dazzling duel. Hook realises he has met his match, and listens out for the 'tick-tock' of the crocodile before jumping into the sea to escape Peter. Little does he know, the watch has ceased to tick, and he leaps straight into its awaiting jaws. With this victory, all the children except Peter fly back to London.
London
Mr and Mrs Darling, and Nana the dog have almost lost hope of their children returning, and are full of remorse. At first they don't believe that their children have come back, but are overwhelmed with joy when they realise Wendy, John and Michael are sleeping soundly in their beds once again. They welcome the Lost Boys into their family, giving them the family they have longed for. Peter Pan is left far behind, and looking out into the dark London sky one last time, Mrs Darling wonders if she will see the boy who never grew up.