Main content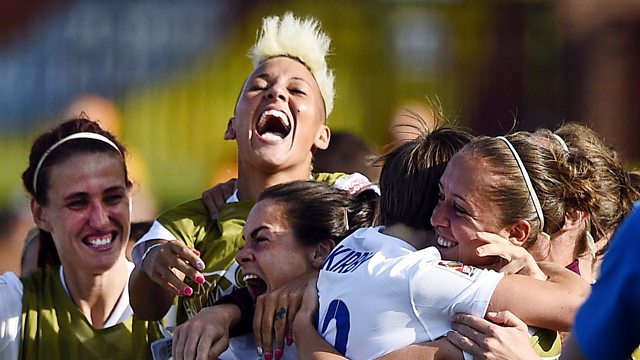 Women's World Cup; New Curbs on FGM; Influential Women in the UK Music Industry
Will England get through to the next round of the Women's World Cup? And new regulations to help fight female genital mutilation in the UK. With Jane Garvey.
Will England get through to the next round of the Women's World Cup? Jacqui Oatley gives her predictions and discusses the state of the women's game. New regulations have been introduced to help fight female genital mutilation in the UK and Nigeria has now banned the practice. We look at these measures and pioneering anti FGM work in Bristol schools - will they work? Adesewa Josh a journalist based in Lagos and Naana Otoo-Oyortey, founded of the anti FGM charity Forward discuss. How are the influential women - in and front of the mic and behind the mixing desk in the UK music industry. And are you dreading a summer of weddings? How to enjoy being a guest without breaking the bank.
Last on
Chapters
New FGM Rulings

Duration: 18:48

Women's World Cup

Duration: 05:48

Powerlist - Influencial Women in Music

Duration: 06:46

Surviving Wedding Season

Duration: 05:31

Woman's Hour 2015 Power List: Influencers - the Music Industry

For this year's Woman's Hour Power List, we are looking at the women who influence the way we live our lives. In the run up to the announcement of the top influencers in July, today we look at the music industry. How much influence do artists have over us? Who are the women behind the scenes influencing their success? And how did they all come to be so influential? How do they work together to make a piece of music really big? To discuss, Jane is joined by Alison Wenham, the Chief Executive of the Association of Independent Music

Who would you like to see on the list? You can influence the judges by getting in touch with your suggestions on email or on twitter @BBCWomansHour #whpowerlist

Surviving Wedding Season

Summer is here, and if you're between the ages of 25 and 35 that means one thing – weddings and hen dos. You love your friends, and you're happy for them, but when every weekend in the summer is taken up by weddings it can all be a bit much, particularly if the thought of getting done up to the nines and making small talk over your canapé fills you with dread, and you just know you'll get put on the singles table - again. It's an expensive business too; according to new figures it now costs on average £640 to attend a wedding. We talk to

wedding planner

Louise Harris and Aleisha McCormack from

Save the Date Podcast

who gives us their advice on surviving wedding season, both for your self-esteem and your wallet.

New FGM laws in the UK as Nigeria bans the practice

The UK government has announced new measures designed to prevent schoolgirls being taken abroad for female genital mutilation (FGM) over the summer. Although banned in the UK in 1985, there have yet to be any prosecution for FGM.  The Nigerian Senate have issued a nationwide ban on FGM.   Adesewa Josh a journalist based in Lagos and  Naana Otoo-Oyortey, executive director of FORWARD, the anti-FGM charity founded in 1983 in the UK, join Jane to discuss.

 

The Bristol Clinical Commissioning Group has been training young volunteers from local charities to do FGM awareness in schools and to run workshops for teachers to help them use their influence in the classroom to combat FGM.  We report from a workshop run by the BCCG and Integrate Bristol for teachers at the City Academy.

 

Women's World cup - the latest

As England prepare to take on Columbia in the Women's World Cup  we look at their performance so far and assess whether or not they've got the players that can take them all the way to the Final. Plus a look at what impact the tournament is having on the women's game as a whole with sports broadcaster and commentator Jacqui Oatley.

Credits

| Role | Contributor |
| --- | --- |
| Presenter | Jane Garvey |
| Producer | Eleanor Garland |
| Interviewed Guest | Jacqui Oatley |
| Interviewed Guest | Adesewa Josh |
| Interviewed Guest | Naana Otoo-Oyortey |
| Interviewed Guest | Alison Wenham |
| Interviewed Guest | Louise Harris |
| Interviewed Guest | Aleisha McCormack |

Broadcast
Podcast
Women's voices and women's lives - topical conversations to inform, challenge and inspire.