Main content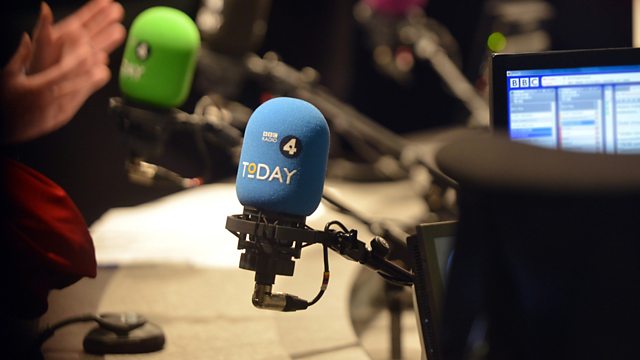 17/06/2015
Morning news and current affairs. Includes Sports Desk, Yesterday in Parliament, Weather, Thought for the Day.
Last on

Today's running order
0710
The number of sex crimes against children reported to police in England and Wales has gone up by more than a third, according to research by the NSPCC. The charity says police are recording 85 child sex crimes every day. The figures for 2013/14 are drawn from Freedom of Information requests sent out to the 43 police forces in England and Wales. Jon Brown is from the NSPCC.
0715
We'll get an update from the European Space Agency on what's happening with their Philae probe after it started sending messages back from the comet it landed on in November. The last progress update from the ESA said Philae made three short contacts of about 10 seconds each at roughly 2130 GMT on Sunday. Elsa Montagnon is the European Space Agency Deputy Rosetta flight director.
0720
Chris Evans is to be the new lead presenter of the BBC's Top Gear programme.  He takes on the role from Jeremy Clarkson, who was sacked earlier this year after hitting a producer. Lorraine Heggessey is former BBC One controller.
0730
Relations between the Greek government and its international creditors are becoming more acrimonious as time runs outs on securing a deal to end the latest crisis over Greece's debts. The European Commission president Jean-Claude Juncker has accused the Greek government of misleading voters, while the Greek Prime Minister, Alexis Tsipras, has said its creditors are trying to "humiliate" the country. James Reynolds is the BBC's correspondent in Athens. Peter Spiegel is the Brussels Bureau Chief for the Financial Times.
0740
We speak to Jimmy Page, of the rock band Led Zeppelin. More details to follow.
0750
The first independent anti-slavery commissioner has told this programme that clamping down on Nigerians being trafficked to the UK for prostitution or forced labour is a main priority.  Kevin Hyland, who's only been post for six months, says he is extremely concerned about the hundreds of Nigerian people who are brought to the country every year to be exploited. We hear from him this morning.
0810
The husbands of three women who are believed to have travelled to Syria with their children are hoping an emotional appeal they made yesterday afternoon will lead them to making contact. The men, from Bradford say there were completely unaware their wives would not return from a pilgrimage to Saudi Arabia. Dal Babu is former Chief Superintendent with the Metropolitan Police. Mark Burns-Williamson is West Yorkshire Police and Crime Commissioner.
0820
Philip Larkin is to be commemorated with a memorial in Poets' Corner in Westminster Abbey. A stone will be unveiled in the floor of the Abbey next year, close to that of Ted Hughes, the last poet to receive the accolade. Philip Larkin, who died in 1985, was once voted the nation's best loved poet. But, as our arts correspondent Rebecca Jones reports, for some, he's a controversial figure.
0830
The Parliamentary and Health Service Ombudsman, has published summaries of the 618 complaints it completed investigating in October and November last year, most of them about the NHS. One of them is the case of a patient with dementia who was left on a trolley in a hospital Accident and Emergency Department for more than 33 hours. Julie Mellor is Parliamentary and Health Service Ombudsman. Sheila Phillips' had dementia and was left on a trolley in A&E for 33 hours.
0840
On the eve of the 200th anniversary of the Battle of Waterloo, Prince Charles will dedicate a new memorial at one of the key features of the battlefield. Hougoumont Farm was an Allied strongpoint and saw some of the fiercest fighting. British troops defending it managed to resist all attempts by Napoleon to capture it and helped pave the way for Wellington's victory. Nick Higham reports.
0845
In the run-up to Ramadan, several imams and medical specialists in the West Midlands are trying to persuade more Muslims in the UK to sign up as organ donors. The rate of organ donation by Muslims in the UK remains low and in Britain last year, 70 kidney patients of Asian origin died waiting for a transplant. The Queen Elizabeth Hospital in Birmingham has been spearheading the drive for donors, alongside Kidney Research UK. Our religious affairs correspondent Caroline Wyatt reports.
0850
We hear a recording of Philip Larkin reading his poems.
0855
US First Lady Michelle Obama has told pupils at a girls' school in east London that education is the "ultimate key" to their success.  Mrs Obama, wife of President Barack, told pupils at Mulberry School for Girls their "amazing education" gave them all they needed to succeed. She also launched the Let Girls Learn initiative to boost education globally for adolescent girls. June Sarpong is a British TV presenter now living in the US. Dreda Say Mitchell is a journalist and freelance education consultant.
All subject to change.
Broadcast