Main content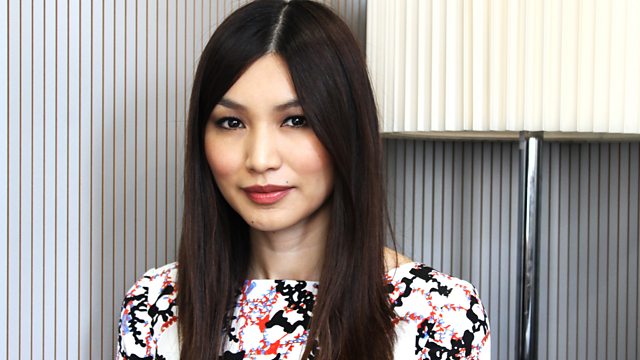 Weekend Woman's Hour: Gemma Chan, Marguerite Patten
Gemma Chan on her role in Humans, celebrating the life of Marguerite Patten, helping vulnerable girls avoid prison, Eliza Kennedy on her novel I Take You, and Souad Massi sings.
Gemma Chan on her role as a robot in Channel 4's new series, Humans. We celebrate the life of Marguerite Patten the home economist and one of the earliest celebrity chefs.
Are women who drink to excess more harshly judged than men? Sally Marlow and Lucy Rocca discuss. Eliza Kennedy talks about her new novel, I Take You, which explores monogamy, female sexuality and the realities of happily ever after.
Juliet Lyon of the Prison Reform Trust and Lin Hinnigan from the Youth Justice Board talk about support for vulnerable young women in the care system so they can avoid prison.
Historian, Amanda Vickery on Lat Traviata. Should infertility be discussed as part of Sex and Relationships Education? And we have music from one of the most successful female singer songwriters in the Arabic speaking world - Souad Massi.
Gemma Chan
Gemma Chan is one of the stars of the new Channel 4 series Humans which starts this weekend.  It explores what makes us human? And whether a synthetic creation can ever think and feel. She talks to Jenni about her role, equality, and why she wants to see more colour-blind casting for film and TV.
Celebrating Marguerite Patten
A celebration of the life and achievements of cookery writer Marguerite Patten who has died aged 99, including a recording of Jane Garvey's last interview with Marguerite at her home in Brighton. Author of over 170 books, Marguerite began teaching the British to cook when she joined the Ministry of Food during the Second World War. As a host of the BBC's Kitchen Front, she helped the nation to make the most of wartime rations. She made her first television appearance in 1947 and was a regular guest on both Masterchef and Ready Steady Cook, but always refused the title of celebrity chef preferring the term "home economist". She was made a CBE for services to the art of cookery in 2010.
Attitudes to women and alcohol
Why are our attitudes to women drinking and to those who seem to have a problematic relationship with alcohol so harsh and judgemental compared to our attitudes to men who booze? How and why are women's relationships with alcohol viewed differently from that of men? And how are female and male relationships with booze very different?
Eliza Kennedy
Eliza Kennedy's first novel, I Take You, stars feisty litigator Lily in the run up to her wedding. Lily lives in New York but is heading home to Key West to get married. The problem is Lily likes nothing better than drinking to excess and hooking up with random men, because, as she says, "I like men. A lot.  I like sex.  A hell of a lot".  She has not told her fiancé, Will, the truth about herself. Eliza talks to Jane about how she balanced writing a very funny novel about a free-spirited woman with more serious questions about monogamy, female sexuality and realities of happily-ever after. I Take You by Eliza Kennedy is published by Jonathan Cape
Do vulnerable girls get the support they need?
Recently the Prison Reform Trust produced figures that said that looked after children make up 33% of boys and 61% of girls in custody, despite fewer than 1% of all children in England being in care.  We hear from Natalie Rollock, a practise manager of targeted youth support services for Hertfordshire County Council, who runs a support group for vulnerable girls aged 13-17. She and Danielle, who attended the weekly meetings, explain why that provision has been vital. Lin Hinnigan, Chief Executive of the Youth Justice Board and Juliet Lyon, Director of the Prison Reform Trust join Jane to discuss how to better support vulnerable girls.
Credits
| Role | Contributor |
| --- | --- |
| Presenter | Jenni Murray |
| Interviewed Guest | Gemma Chan |
| Interviewed Guest | Lucy Rocca |
| Interviewed Guest | Sally Marlow |
| Interviewed Guest | Eliza Kennedy |
| Interviewed Guest | Juliet Lyon |
| Interviewed Guest | Lin Hinnigan |
| Interviewed Guest | Natalie Rollock |
| Interviewed Guest | Amanda Vickery |
| Interviewed Guest | Geeta Nargund |
| Interviewed Guest | Jane Lees |
| Interviewed Guest | Harriet Minter |
| Interviewed Guest | Souad Massi |
| Producer | Rabeka Nurmahomed |