Main content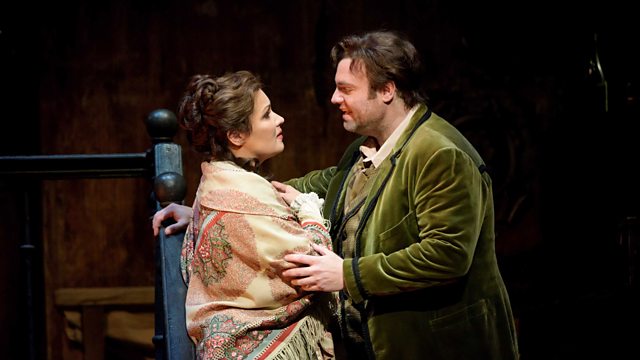 Puccini's La boheme
Live from the Royal Opera House, Covent Garden, a performance of Puccini's La boheme, with Anna Netrebko as Mimi and Joseph Calleja as Rodolfo. Dan Ettinger conducts.
Live from the Royal Opera House, Covent Garden, one of opera's most endearing love stories: Puccini's La bohème with Anna Netrebko bringing to London her celebrated portrayal of Mimi opposite Joseph Calleja as Rodolfo. Dan Ettinger conducts a starry cast and the Royal Opera House orchestra and chorus in the final run of John Copley's classic production, recreating the struggles of young bohemians in 19th-century Paris. Presented by Martin Handley.
Mimi ..... Anna Netrebko (soprano)
Rodolfo ..... Joseph Calleja (tenor)
Marcello ..... Lucas Meachem (baritone)
Musetta ..... Jennifer Rowley (soprano)
Schaunard ..... Simone Del Savio (bass-baritone)
Colline ..... Marco Vinco (bass)
Benoit ..... Jeremy White (bass)
Alcindoro ..... Ryland Davies (tenor)
Parpignol ..... Luke Price (tenor)
Royal Opera House Chorus
Royal Opera House Orchestra
Dan Ettinger, conductor.
Last on

Music Played
Extended Interview between Martin Handley and John Copley
Synopsis
The opera is set in Paris, around 1830
ACT I
An attic in the Latin Quarter, Christmas Eve
Rodolfo and Marcello complain of the bitter cold. They need to light their stove: Marcello suggests using a chair, but Rodolfo offers the manuscript of the play he is writing and they banter ironically as they enjoy the fleeting warmth. Colline returns and the remaining acts of the play are burnt.
Some children arrive carrying wood, food and wine,  followed by Schaunard. He explains that an Englishman engaged him to play his violin incessantly, to hasten the death of a neighbour's noisy parrot; after three days he had the bird poisoned. The friends decide to go and eat in the Latin Quarter but are interrupted by Benoît, their landlord, who has come for the rent. They ply him with wine until he boasts of his amorous conquests: he prefers plump women to skinny ones like his wife. The bohemians pretend outrage at Benoît's infidelity and push him out.
They prepare to leave for the Café Momus, but Rodolfo says he will stay behind to finish writing an article. There is a knock at the door. It is a girl who timidly asks for a light for her candle. She seems to feel faint from climbing the stairs. As she is leaving, her candle flickers out again and she realizes she has lost her key. Rodolfo's candle goes out too as he helps her. He takes her icy hand (Che gelida manina) and tells her of his life as a poet. She says her name is Mimì and describes her simple life as a flower embroiderer (Mi chiamano Mimì). The voices of Rodolfo's friends are heard, telling him to hurry. He answers and turns to find Mimì bathed in moonlight (O soave fanciulla). They declare their love for each other. Mimì asks if she may join the four friends in the Café Momus. Rodolfo at first wants to stay, but eventually they wander out slowly, singing of love.
ACT II
The Café Momus in the Latin Quarter
It is a bustling Christmas scene; hawkers and traders cry their wares; Rodolfo and Mimì wander through the crowd. They sit down and order dinner, Rodolfo introducing Mimì to his friends. Parpignol, a toyseller, passes, followed by a crowd of children.
When Mimì shows her new friends the bonnet Rodolfo has bought her, it saddens Marcello: he thinks of his faithless Musetta.  As they propose a toast Musetta appears, accompanied by Alcindoro, an admirer whom she is tormenting. Musetta, increasingly agitated at being ignored by Marcello, determines to win him back. She launches into a song (Quando me'n vo') in which he eventually joins. She complains of a painful foot and dispatches Alcindoro to buy new shoes. The bill for supper appears and no one has any money. Musetta saves the situation by placing the bill on Alcindoro's plate. The friends leave as a band marches through the square; Alcindoro returns, finds the bill, and sinks dumbfounded into a chair.
ACT III
Outside the Barrière d'Enfer; several weeks later
Sweepers shout to be let through the gate. From inside the tavern comes the voice of Musetta. Mimì enters, ill and racked with coughing. She asks for Marcello. He tells her that he and Musetta have been living at the inn and that Rodolfo is now with them.Mimì explains that Rodolfo's jealousy is destroying their relationship and that last night he left her. Marcello advises Mimì to go, but instead she hides nearby. Rodolfo comes out of the tavern and says he must break with Mimì: her flirting has driven him mad. Eventually, however, he reveals the real reason: she is so ill that his miserable poverty offers her nothing but the prospect of death. Mimì breaks down, weeping and coughing. As Rodolfo hurries to her, Musetta's laughter is heard and Marcello goes to see what she is up to. Mimì says farewell to Rodolfo (Donde lieta uscì): all she asks is that he send her possessions, but if he wishes he may keep the pink bonnet. Marcello and Musetta, quarrelling, separate acrimoniously. Rodolfo and Mimì move slowly away, resolving to postpone their separation until the spring.
ACT IV
The attic, some months later
Marcello and Rodolfo, trying to work, are discussing their loves. Rodolfo has seen Musetta in a fine carriage; Marcello has seen Mimì dressed like a queen. Rodolfo takes out Mimì's bonnet and Marcello pulls some of Musetta's ribbons from his pocket; they both indulge in a nostalgic recollection of times past (O Mimì, tu più non torni). Schaunard and Colline arrive with bread and a herring and the four eat and clown around.
Suddenly Musetta enters. She has brought Mimì, who is desperately ill. Rodolfo carries Mimì in and she is helped to bed. Musetta explains that she met Mimì in the street and that Mimì, sensing she was dying, begged to be taken to Rodolfo. Mimì rallies and greets her friends. Musetta instructs Marcello to sell her earrings to pay for medicine and a doctor. Colline leaves to pawn his beloved old coat (Vecchia zimarra). Mimì expresses her boundless love for Rodolfo. They find the bonnet and, reconciled, reminisce about their first meeting. Mimì is overwhelmed by a coughing fit. The others return with a muff and medicine. But it is too late: Mimì dies unnoticed while they are preparing her medicine.
Broadcast