Main content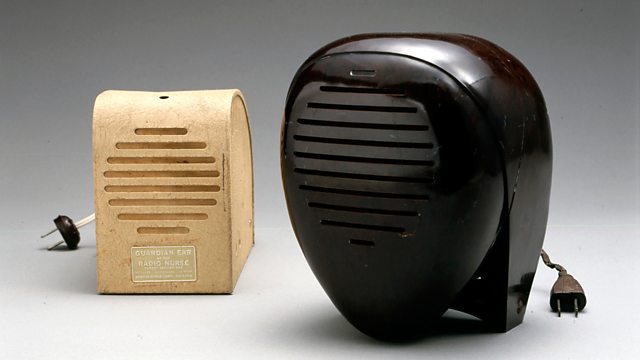 Wake Up Baby
An exploration of the sometimes unsettling world of 'reassuring' baby monitors and surveillance technology. With contributions from David Hart, Ashley Stanley and Renate Simpson.
A baby sleeps.
A man in another room watches her on a screen.
Her loving father?
No.
This man does not know this baby. He's in another country, thousands of miles away. And, each night, he watches a different baby.
Wake Up, Baby! is an atmospheric journey into the sometimes unsettling world of "reassuring" technology.
The media storm that surrounded the 1932 'baby Lindbergh kidnap', and the subsequent trial, planted the fear of child abduction into the public imagination. In 1937, Zenith produced the Radio Nurse, the world's first baby monitor, designed to fit well into an elegant sitting room, with a transmitting unit in baby's nursery.
The Radio Nurse was a tiny private radio station, casting baby's cries onto the electromagnetic seas. To feel the presence of baby in whichever room you occupied while she stayed safe in the nursery was a kind of magic - wonderfully reassuring to a couple in their big house. But it was prone to interference. You might hear things other than baby: a police radio, a pilot preparing to land, or even someone else's baby, picked up from a similar device nearby.
The problem of stray interference went away in the digital age. The baby monitor, now with pictures as well as sound, became wi-fi-enabled. In recent years, there have been several well-reported cases of devices being hacked. A couple in Ohio heard "Wake up, baby. Wake up, baby! screaming from their baby's monitor. Someone had taken control of the wi-fi device across the internet.
With contributions from:
Dakin Hart, senior curator, Noguchi Museum, New York
Ashley Stanley, victim of widely-reported webcam hack in Texas
Renate Samson, Chief Executive, Big Brother Watch
Produced by Peregrine Andrews.
A Falling Tree production for BBC Radio 3.